2015 Fantasy Baseball: Week 22 Two-Start Pitchers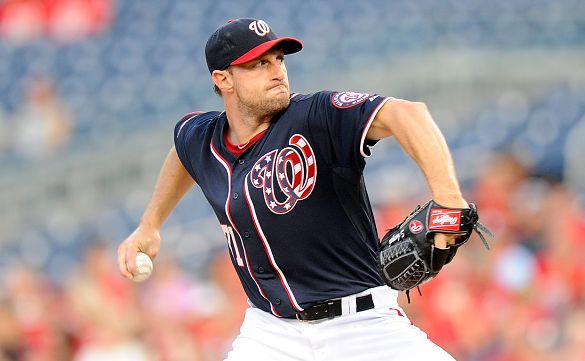 A fantasy owner's best friend is the waiver wire—where finding value can make the difference between a great week and a very disappointing week. Most pitchers see the mound once a week, but if you want to maximize the number of starts per week, it's important to look for pitchers pitching twice and exploit favorable matchups if they exist. With that being said, let's take a look at some pitchers you should be starting this week, and some you should just leave on your bench.
Elite
Max Scherzer | Washington Nationals
Opponents: Jonathon Niese (NYM), Justin Nicolino (MIA)
Scherzer hasn't been himself over the last month, giving up three or more earned runs in six of his last seven starts while seeing his ERA increase from 2.22 to 2.89. With the Nationals completely falling apart, this week is really a make or break week for the team. The 31-year-old gets the Mets on Monday and the Marlins on Sunday. Their series with the Mets is crucial—essentially a must-sweep for them—and I expect Scherzer to be at his best. As for the Marlins, well, they aren't that good. Their season is all but over and Scherzer could easily rack up double-digit strikeouts by the time it's all said and done. Despite he recent struggles, the Nationals ace is my top play of the week.
Zack Greinke | Los Angeles Dodgers
Opponents: TBD (LAA), Patrick Corbin (ARI)
Greinke was expected to make two starts last week, but the Dodgers opted to start Mike Bolsinger on Friday, thus pushing Greinke's start back a day. He (hopefully) gets two starts this week because both his starts are very appealing. The 31-year-old gets the Angels on Monday, followed by the Diamondbacks on Sunday. The righty has been unstoppable this season, and there's no indication that he is slowing down. He's the ace of that Dodgers rotation (Kershaw is still very good) and should have no problem dominating hitters in both his starts
Chris Sale |Chicago White Sox
Opponents: Trevor Bauer (CLE), Tommy Milone (MIN)
Sale is coming off a rough outing against the Twins on Tuesday, but the southpaw is still a dominant pitcher that can win a game by himself. He's averaged 11.5 strikeouts over his last four starts and should be a lock on every fantasy team down the stretch. The Twins lead the league in strikeouts so far in September (47), while the Indians are hitting .203 in four games this month. The White Sox have nothing left to play for this season, but Sale will continue to deliver every time he takes the field.
Other must start pitchers: Cole Hamels, Michael Wacha, Francisco Liriano.
Mediocre
Masahiro Tanaka | New York Yankees
Opponenets: Kevin Gausman (BAL), R.A Dickey (TOR)
Tanaka is the best pitcher in the Yankees rotation, but he has a tough matchup against the red hot Blue Jays on Sunday, a matchup that I'm not thrilled about. His last three starts have been average, but his start on August 15 in Toronto was spectacular. He gave up one run in a complete game win and was in control from start to finish. It may be naive to expect Tanaka to repeat that outing, but who says he can't do it again? It's a risky start, but at this point of the year, fantasy owners who are looking to make the playoffs need to take some risks, and starting Tanaka is a risk I'm willing to take.
Yordano Ventura | Kansas City Royals
Opponents: Tommy Milone (MIN), Wei-Yin Chen (BAL)
Ventura seems to have found his swagger that was missing at the beginning of the season. The 24-year-old has been lights out since August 11th, giving up four earned runs in 32 innings. He's striking out just under nine batters an outing and has given up just one home run in the last five games. I'd like to say Ventura is a must-start, but I'm still not certain that he's turned the corner. Regardless, he's an excellent start this week, and fantasy owners shouldn't hesitate to plug him into their lineups.
Other pitchers to consider: Michael Pineda, Jason Hammel, Mike Fiers, Yovani Gallardo, Ian Kennedy, R.A Dickey, Marco Estrada, Aaron Nola
Bench
Rick Porcello | Boston Red Sox
Opponents: Marco Estrada (TOR), Drew Smyly (TB)
Porcello has been dominant over his last two starts, giving up just one earned run in 15 innings of work. His last start was probably his best start as a Red Sock, as the righty struck out a season-high 13 hitters in eight innings. He's been good, but that won't last. The New Jersey native has an impossible matchup with the Blue Jays on Monday and another tough matchup with the Rays on Sunday. Last time Porcello faced the Jays, he lasted just two innings and gave up seven runs. His start before that against Tampa Bay was better, but he still gave up three runs on nine hits. Fantasy owners may be tempted to add him, but I'll need to see a lot more from the Red Sox starter before I add him on any of my teams.
Randy Wolf | Detroit Tigers
Opponents: Drew Smyly (TB), Trevor Bauer (CLE)
Remember Randy Wolf? Well the 39-year-old veteran is back in the big leagues. In three starts this season, Wolf hasn't exactly wowed anybody with his below average stuff, sporting an ugly 6.11 ERA and a 1.53 WHIP. His last start was a stinker, giving up eight runs on eight hits in just 3.2 innings. The Rays and Indians aren't exactly powerhouse hitting teams, but despite that, Wolf shouldn't be an option this week, regardless of how much pitching help you need.
Other pitchers to avoid: Jeff Locke, Roenis Ellias, Kyle Kendrick, Tommy Milone, Matt Boyd, Patrick Corbin, Colin Rea, Cody Martin, Williams Perez.
Stats and references provided by www.MLB.com and www.ESPN.com