2015 Fantasy Baseball Week 8 Waiver Wire: 3 to Catch, 3 to Cut, 3 to Keep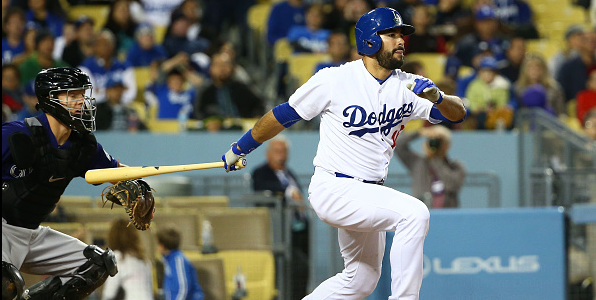 In the Week 8 edition of fantasy baseball 3×3, we're giving appreciating Andre Ethier, pumping the brakes on Ian Kennedy, and wringing our hands over Matt Kemp.
There are plenty of waiver wire columns out there that provide an exhaustive list of the most added players in fantasy leagues. This isn't one of them. Here, we'll run down a few of the most interesting players for fantasy owners, with perspective on who deserves your attention, who deserves your patience, and who deserves to go straight to bed without dessert.
Any questions, thoughts? Hit me in the comments or on Twitter.
3 TO CATCH
Players to be picked up; available in most standard leagues
Andre Ethier | Los Angeles Dodgers | OF
Finally given another chance at regular playing time, Andre Ethier is having an excellent season, slashing .304/.397/.518 with five homers. Over the last 30 days (which generally corresponds with the time Either's been an everyday player), the only outfielders to outpace his .410 wOBA are Bryce Harper, Nelson Cruz, Michael Brantley, and Ryan Braun. His walk rate sits at a career-best 12.2% and his 16.0% strikeout rate is his best since 2008. Ethier continues to spray the ball to all fields, but he's severely cut his groundball rate and increased his ISO to .220, his best mark since 2009, when he popped 31 home runs. He hasn't quite reached the 300-plus foot average fly ball distance he posted that season, but his 2015 mark of just over 280 feet is a positive trend; he's been mired in the 270's in recent seasons, per Baseball Heat Maps.
I can't say that Either's going to return to his prime levels, but everything he's done this season is within the bounds of what he's accomplished before. Nothing seems overly lucky or fluky; it has all the trimmings of a legitimate rebound. As long as he's playing, I think he can keep up something close to this level of production. The power will come and go, but if you're in need of batting average or OBP, he's a fantastic addition.
To pick him up, I'd drop: Nick Markakis, Adam Eaton, Michael Cuddyer
Brad Ziegler | Arizona Diamondbacks | RP
Brad Ziegler is the Arizona Diamondbacks' closer. His manager said as much last week:
"I would say the number one guy right now for us to close a game is (Brad) Ziegler."
We've espoused Ziegler's virtues in this space before, so I won't belabor the point on how his risk-averse, ground-balling style, while abnormal for a closer, is actually an excellent fit for the role. And though his strikeout rate hasn't shown it yet, Ziegler is getting better at missing bats; his chase rate, contact rate, and swinging strike rate are all career bests, according to FanGraphs.
Addison Reed may very well get another shot to win his job back, but Ziegler isn't going to go quietly. He is an exceptionally (and uniquely) talented pitcher who's plenty capable of holding the closer gig for the rest of the season. He should be owned everywhere.
To pick him up, I'd drop: John Axford, Tyler Clippard, A.J. Ramos
I know he's currently sporting a sub-Mendoza batting average, but I can't quite understand why Luis Valbuena isn't owned in more leagues. Middle infield-eligible hitters with 20-homer power don't grow on trees, ya know. Valbuena has already cranked ten bombs this season and seems a lock for another ten or so the rest of the way. He's been lucky on a couple of them, and though distance-wise, they are certainly "lucky" shots, there's nothing unsustainable about targeting the Crawford boxes in Houston. And when he yanks the ball to the pull field, Valbuena proves that his power his legit.
Sure, the .199 average is tough to stomach, but Valbuena is making more contact this season and thumping the ball when he does. He still doesn't profile as a batting title contender, but he can hit .240 once his obvious BABIP misfortunes fade away.
Valbuena's hitting just .125 on grounders, tied for 11th-worst in baseball among hitters with at least 30 PAs that ended in a ground ball. Things haven't been much better on flies, he's BABIPing just .063 on fly balls, which ranks 20th-worst in the league. When those numbers start to turn around, his batting average will be much easier for owners to stomach. Jump on him now before demand spikes.
To pick him up, I'd drop: Aramis Ramirez, Brett Lawrie, Jimmy Paredes
3 TO CUT
Players to be traded or dropped, depending on the depth of your league
Matt Kemp | San Diego Padres | OF
Time will tell as to whether A.J. Preller's offseason fireworks were anything more than something pretty to look at, but early returns on Matt Kemp look like somebody stepped on the fuse. He's working on career worsts up and down his slash line, sporting a .250/.284/.343 mark that makes Padres fans yearn for the good old days when power hitting outfielders like Will Venable ruled Petco Park.
Even great hitters slump, but the way that Kemp is struggling makes this slump particularly concerning. From the way he's beating the ball into the ground, as well as his inability yank pitches to left field with any kind of authority, it looks like he's losing bat speed. His groundball rate has hiked above 50% for the first time in his career, according to FanGraphs; his current 51.5% rate is nearly ten percentage points above his career average. He's also making less hard contact overall; his 33.8% hard contact rate is his lowest in five seasons.
But the thing that has me most worried is the way pitchers seem to fear him less. Kemp has earned a reputation as a guy who can pound fastballs; he has a career .238 ISO and and .556 slugging percentage against hard pitches, per Brooks Baseball. Yet Kemp is seeing more heaters this season than ever before.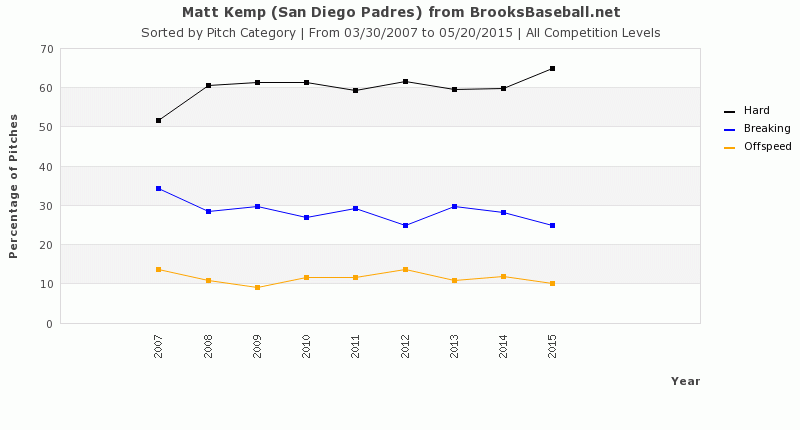 You'd think this would be a great development, but Kemp has apparently lost his appetite for fastballs. His overall contact rates look fine, so it's not a matter of him completely whiffing on hard stuff, but his average fly ball ball distance is down to just 268 feet, trailing last year's mark by more than 30 feet, according to Baseball Heat Maps. He just can't seem to get around on the fastball enough to drive it. Check out the blue line in the chart below. It shows that this season, Kemp is pulling fly balls less often than he ever has before.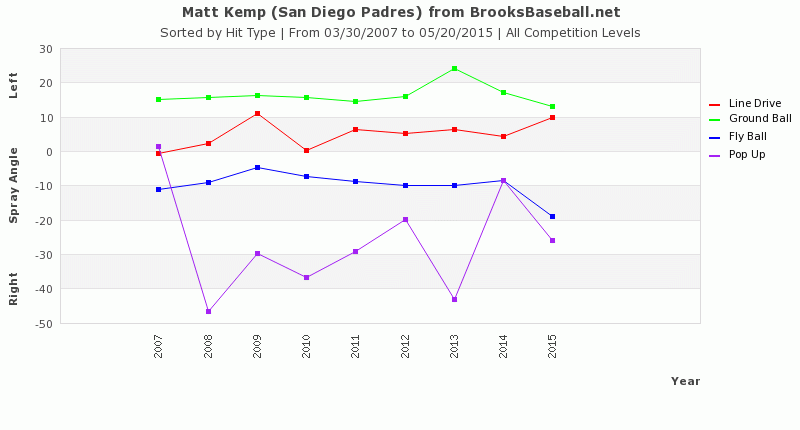 Now, he doesn't hit his homers exclusively to the pull field, but there was a pretty big cluster there last season.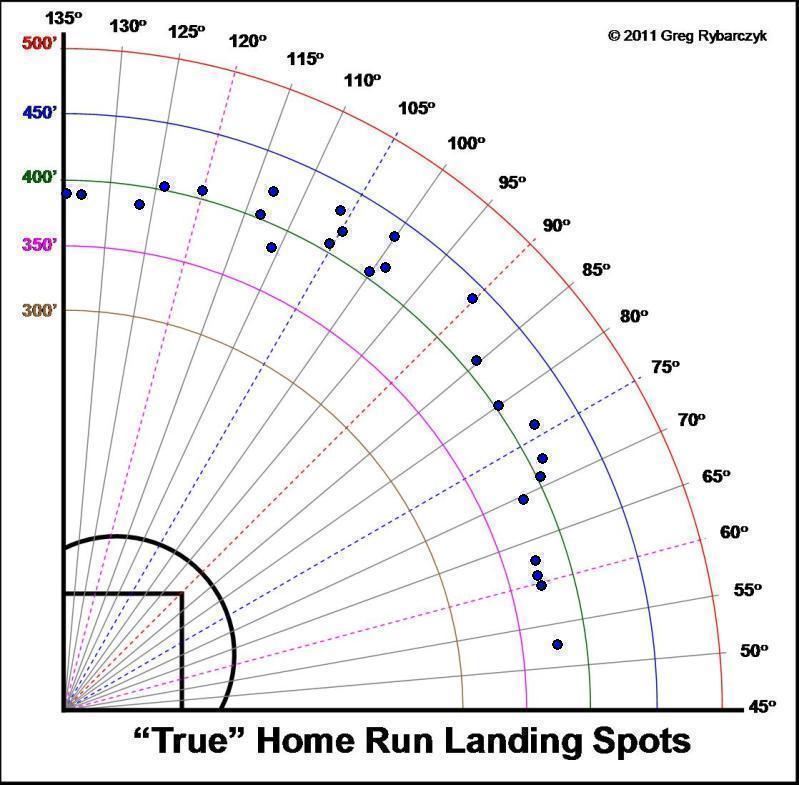 Hitting for power the other way is generally coveted skill, but not for a righty who plays half his games in San Diego. According to ESPN's Home Run Tracker, Petco Park allowed the fewest home runs per game in the NL last season, and right field might as well be renamed "Hotel California"; it looks like a lovely place, but it just won't let those baseballs leave.
He hasn't yet turned 31, so it doesn't seem likely that age is the culprit here. Kemp could be hiding an injury, but that's just speculation on my part. In any case, these trends are worrisome. He'll likely rebound a bit, but I'm not anticipating a full bounceback; trade him for change on the dollar if you can.
I'd trade/drop him for: Charlie Blackmon, Joc Pederson, Jason Heyward
This is less a recommendation to cut David Wright and more a recommendation to aggressively seek out a replacement. Wright's fantasy value is on life support after he was diagnosed with spinal stenosis, which will push his rehab from the hamstring injury that initially put him on the disabled list back by at least another week. I don't doubt that the Mets are telling reporters that Wright will be back only a week later than expected, but given his history of nagging injuries, I'll be floored if that actually happens.
Wright has put himself of the Mets' Mount Rushmore, but the same fearless dedication and unrelenting toughness that's gotten him there has also sapped his ability to perform late on in his career. These kinds of nicks and bruises aren't going away anytime soon… or ever. He's not what he used to me, and he'll probably never get close again.
Wright had a spectacular season in 2013, but that was the first time since 2010 that he'd finished the year with an ISO better than .200, something he did in six of his first seven years in the league. His ISO dropped to only .105 last season and sat at just .091 when he hit the DL this year. Just as a point of comparison, Billy Hamilton's career ISO is .106.
Wright's stolen base production has actually been fairly consistent as he's aged, but given the nature of his most recent injuries, I can't expect that we'll see him running much after he returns this season. Anything the Mets could gain from Wright stealing a singular base in a singular game is far outweighed by the long term impact of playing the rest of the year without him.
Unless you're in a league with this guy, Wright probably doesn't have enough name value to garner anything in a trade until he proves he's healthy. He's worth holding if you can stash him on the DL, but if he's competing for that spot with somebody like Corey Dickerson, I'd be fine with dropping Wright outright.
I'd trade/drop him for: Alex Rodriguez, Yasmany Tomas, Daniel Murphy
Yunel Escobar | Washington Nationals | 3B/SS
Yunel Escobar has been found money for fantasy owners this season, but with Anthony Rendon's return inching closer and closer, it's time to for this magical run to end. Escobar has been spectacular, but Rendon's comeback will squeeze his playing time and even when he does play, Escobar's ceiling for fantasy production is lower than I think his owners realize.
In his career-best season, which came all the way back in 2009, he hit .299 with 14 home runs and 89 runs scored. That'd be fine, but Escobar is six years older now and hasn't come particularly close to reaching any of those marks in subsequent seasons. In the last five seasons, he's never scored more than 77 runs, only hit double-digit homers once, and finished with a batting average between .253 and .258 four times. We know exactly who Yunel Escobar is, even if he's seemed to forget during the first two months of this season.
Escobar has been a blooper machine, riding a .358 BABIP that's more than 50 points over his career average and more than 80 points better than his average over the last three seasons, despite the fact that his hard contact rate ranks 137th among qualified hitters, according to FanGraphs. When his batting average inevitably tanks, there's not really anything of value left in Escobar's stat line. He's not a threat to run and has only average power for his position. He's recently been hitting near the top of the Nats' order, but you'd expect Rendon to displace him there when he returns.
Though he looks like it right now, Escobar is not special. In mixed leagues, there are at least one or two Yunel Escobars on the waiver wire at any given time. If you can get anything of value for him in a trade, pull the trigger.
I'd trade/drop him for: Andrelton Simmons, Jean Segura, Carlos Correa
3 TO KEEP
Players to hold or trade for; owned in most standard leagues
Ian Kennedy | San Diego Padres | SP
I'm beginning to learn that I've got a bit of a soft spot for pitchers like Ian Kennedy, but he really has pitched much better than both his 6.11 ERA and 5.82 FIP would indicate. His strikeout and walk rates are almost dead even with his excellent career averages and might even improve; Kennedy currently sports a career-best 11.3% swinging strike rate, according to FanGraphs. His batted ball numbers look even better than his career norms, especially his career low fly ball rate. He's learning to allow damaging contact less often, though you wouldn't know it from his line this season. I do believe that Kennedy is making fewer mistakes this season, but the mistakes he has made have been disproportionately punished. There's just too much weirdness in his situational splits.
Despite the cavernous dimensions of his home ballpark, his HR/FB rate has jumped to 35.3% at Petco. It was 9.7% there last season and 10.8% the year before. Similarly, his HR/FB rate is 31.3% with men on base, more than triple his career average of 10.3% in those situations. If he's able to strand a few of the runners who've trotted home on round trippers or actually take advantage of pitching in a gigantic ballpark, his ERA would be a lot less scary.
If all of this damage was happening on just one pitch, I'd be worried, but the devastation has been widespread. Every single one of Kennedy's offerings has allowed an elevated ISO this season.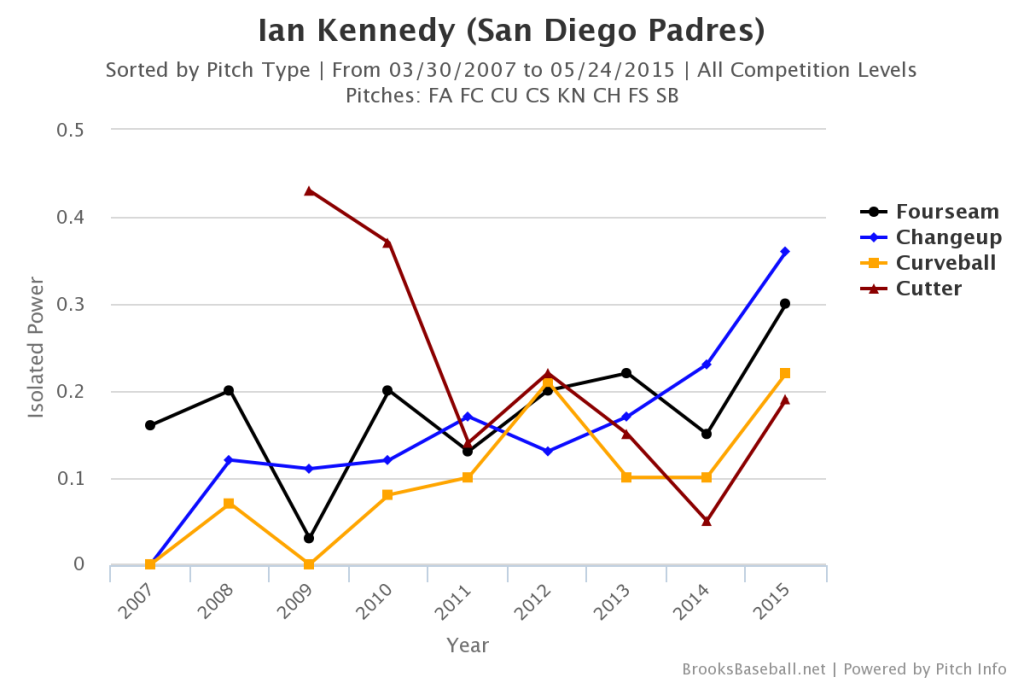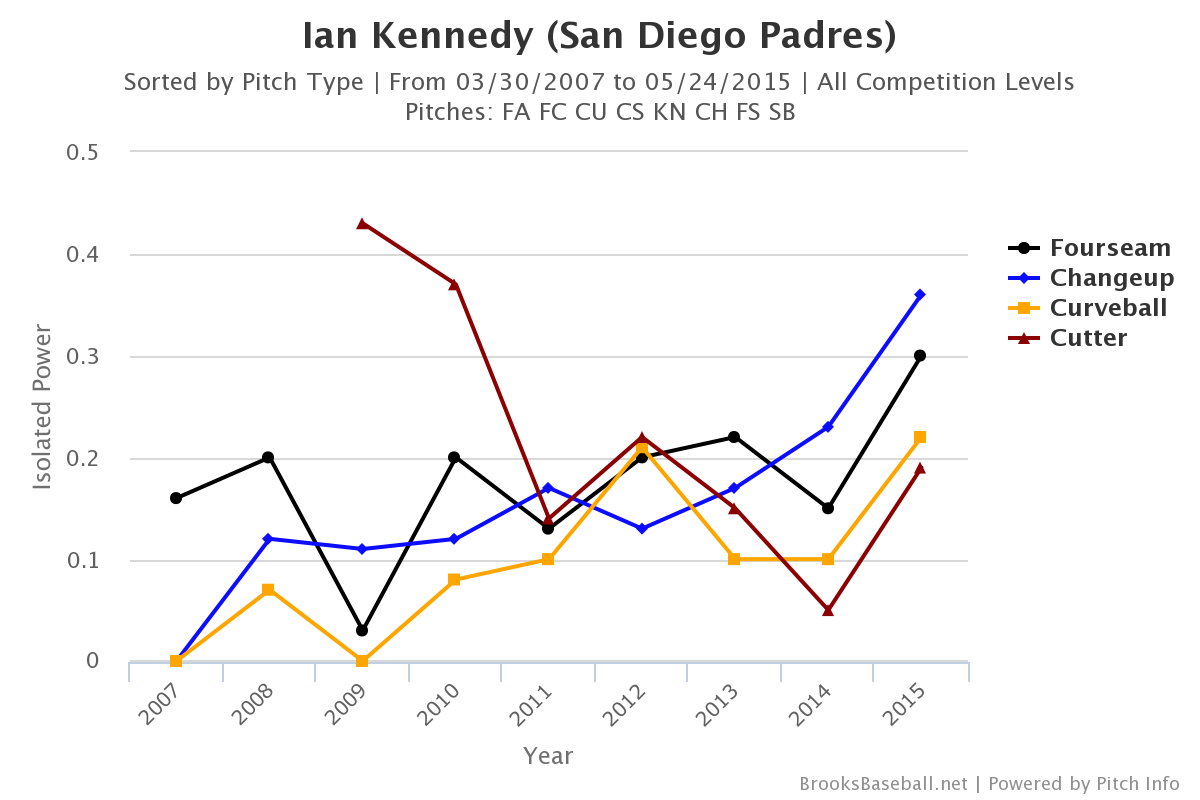 There are really only two possible conclusions to be drawn here. Either Kennedy is completely broken, or this is just some small sample noise. His strikeout, walk, and batted ball numbers would seem to refute the former option, so the latter must be true. He's an outstanding buy low option right now.
I wouldn't trade/drop him for: Jered Weaver, Rick Porcello, Phil Hughes
For many of the same reasons, Kennedy's teammate offers an even better, if slightly tougher to execute, buy low opportunity. James Shields sports a solid, if unspectacular 3.86 ERA, but teams it with a concerning 4.59 FIP. The reason for the gap is obvious. Entering Sunday's start, Shields had allowed over a quarter of fly balls to find the seats. After serving up just 23 homers in 227 innings last season, he's allowed 15 in his first 61 innings with the Padres.
Certainly, this ridiculous pace cannot continue.
Usually, players with bad luck this obvious aren't so easy to acquire, but in Shields case, I think the buy low opportunity comes from people not quite realizing how much better he's been this season than in the recent past. Entering Sunday's action, Shields ranked third among starters with a 25.1% K-BB% and was tied for the league lead with a 14.8% swinging strike rate.
Every single one of his pitches has been more effective this season, especially the curveball, which he's throwing with more regularity than ever before and more movement that he's had in recent seasons. By whiffs/swing, it's been every bit as effective as Shield's fabled changeup.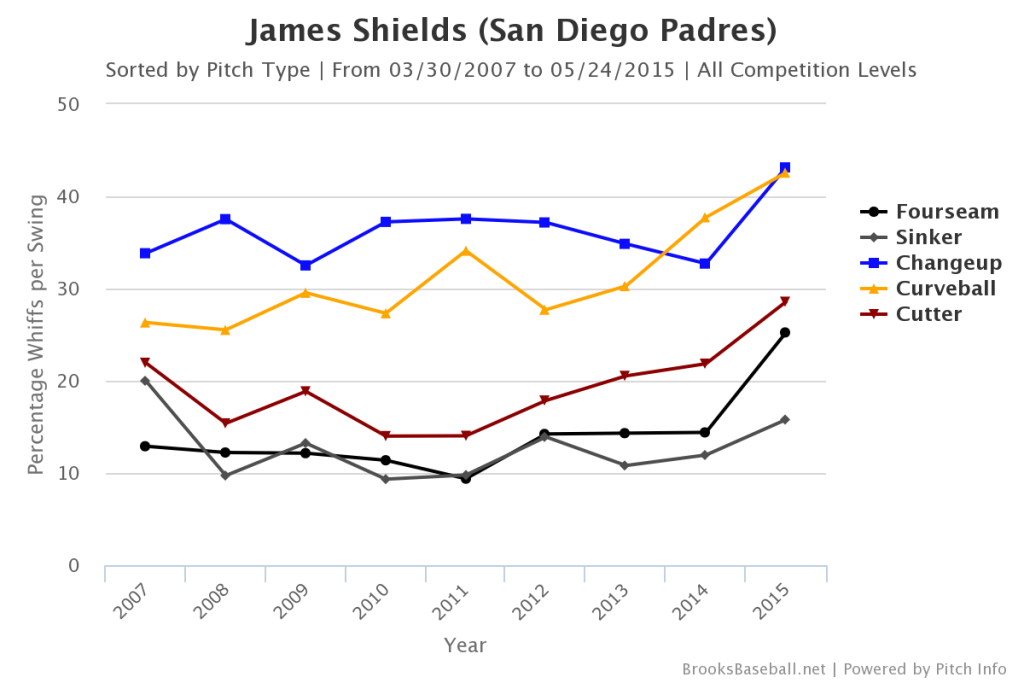 According to Baseball Prospectus' PITCHf/x leaderboards, Shields is one of only two pitchers to feature both a curveball and a changeup that rank in the top six in whiff/swing rate. With both outstanding pitches in his arsenal, he's able to execute unique plans of attack against hitters from both sides of the plate.
Against righties, he's replacing changeups with curveballs and seeing great success. Right-handed hitters have come up empty on half of their swings against Shields' bender and have managed only a .367 slugging percentage when they do make contact, according to Brooks Baseball. For lefties, he's continuing to lean on his changeup as a complement to his fastball, and it's been devastatingly effective, getting more fouls, more whiffs, and more grounders than his already excellent career averages.
Shields has been dominant and deserves to be considered at least on the fringes of the top ten or fifteen fantasy pitchers. If you can get him for anything less than that, make the deal.
I wouldn't trade/drop him for: David Price, Jordan Zimmermann, Johnny Cueto
It's been a rough few weeks for Nolan Arenado. Prior to Sunday's rebound game, he'd only homered once since May 3 and has slashed .177/.250/.274 during that stretch. Not a great look for a guy trying to earn a long-term place in the cleanup spot.
But Arenado is going to be fine. He's struggled to make contact lately, but that'll happen to uber-aggressive hitters from time to time. His strikeout rate has spiked a bit during his recent slump, but only to about 20%, which is high for Arenado, but not really a big red flag.
His struggles haven't made him significantly more aggressive, and that display of (relative) patience makes me feel better about his ability to bounce back. He's not pressing too much, which is impressive for a young player leading a scuffling team. When he makes contact, he's still elevating balls to the pull field, which bodes well for his continued power production.
It's a slump, but not a particularly concerning one. Arenado is still a top third baseman.
I wouldn't trade/drop him for: Evan Longoria, Adrian Beltre, Kyle Seager