2015 Fantasy Baseball: Week Five Two-Start Pitchers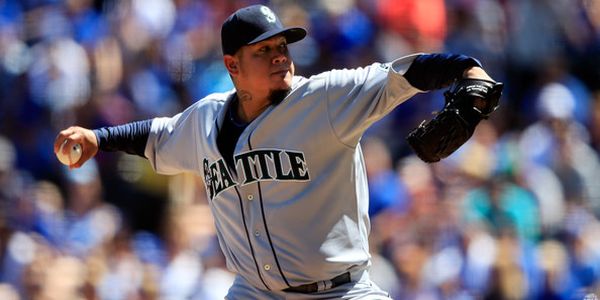 A fantasy owner's best friend is the waiver wire—where finding value can make the difference between a great week and a very disappointing week. Most pitchers see the mound once a week, but if you want to maximize the number of starts per week, it's important to look for pitchers pitching twice and exploit favorable matchups if they exist. With that, let's take a look at some pitchers you should be starting this week and some you should just leave on your bench.
Elite
Felix Hernandez | Seattle Mariners
Opponents: Matt Shoemaker (LAA), Jesse Chavez (OAK)

If you followed my advice from last week— I'm sorry. My must start pitcher of the week this week defiantly won't let anyone down (I hope!). Hernandez wasn't himself last time out— going only 6.1 innings, allowing two runs on five hits while striking out four. That's not a terrible line to finish with, but Felix owners want to see him be the strikeout machine we know him to be, and should return to that form this week. His first matchup against the Angels is a good one. As a team, they are hitting a combined .229 (26th in MLB) and are striking out just over seven times a game. As for Oakland, they are an above-average team that should make "The King" work for his win, but Jesse Chavez has lost both his starts this season, and Nelson Cruz might single-handedly make his start a living nightmare. Start the five-time All-Star with confidence.
Clayton Kershaw | Los Angeles Dodgers
Opponents: Kyle Lohse (MIL), Tyler Matzek (COL)
Evertime Kershaw takes the mound twice in a week, you start him. The lefty gets the Brewers first, in a battle that may seem almost unfair. As a team, Milwaukee has struck out a total of 201 in 24 games (8.3 K/GP), and Kershaw has struck out 8-plus batters in four of his fist five starts. The southpaw should be able to pick the Brewers lineup apart for an easy win.
I'm usually not a big fan of pitchers pitching at Coors Field, but if i was going to put my money on one player who could keep the Rockies in check at home, it's Kershaw. Colorado has the fourth-best team batting average in baseball (.276), but that's mostly because they play at home, and I'm willing to take the risk on the 27-year-old to come out victorious. The Rockies have some big power bats in their lineup, but his curveball is nasty, and I'm not sure guys like Tulo or Cargo will be able to make contact with it–  let alone anyone else on that team. I like Kershaw a lot, and so should the fantasy world.
Carlos Martinez | St. Louis Cardinals
Opponents: Travis Wood (CHC), Vance Worley (PIT)
I wasn't sure who Martinez was till about two weeks ago. The kid has been outstanding so far this season— posting a 4-0 record, with a 1.73 ERA and a 1.04 WHIP. The rookie gets the Cubs in his first matchup, who are striking out as a team almost ten times per game!!! He's allowed only five runs in his first four starts, and I expect the strikeout-friendly Cubs to help Martinez hit his first 10K game of the season. Safe to say that Monday is not the day you want to stack the Cubs (sorry @LHitch09).
It's pretty much the same story for Martinez against the Pirates. Clint Hurdle's team is hitting .232 collectively, and are striking out 8.5 times per game. Outside of Andrew McCutchen— who's hitting .198 on the season— the Pirates lineup doesn't scare me one bit. I expect the 23-year-old to have a big week for both DFS, and season-long fantasy player.
Other Must Start Pitchers: Madison Bumgarner, Zac Greinke, Dallas Keuchel, Garrett Richards.

Mediocre
Michael Pineda | New York Yankees
Opponents: Marco Estrada (TOR), Bud Norris (BAL)
Pineda has a tough matchup on the road in Toronto, and at home against the Orioles. Usually I would try and stay away from Rogers Centre, but the righty is off to a 3-0 start this season, and has an impressive 32:2 K:BB ratio. The Blue Jays are an above-average hitting team (.252 team batting average), but they also like to strikeout a lot (7.7 K/GP). If Pineda is able to locate his pitches and get his fastball by hitters, he should be able to walk out of Toronto with a win.
Baltimore on the other hand is a much more disciplined team at the plate. His last outing against the Orioles wasn't a great one— pitching 6.1 innings, giving up five runs on nine hits while striking out nine. The O's are the second best hitting team in the league (.277 team batting average), and pitching at Yankee Stadium isn't ideal, but I'm confident Pineda will be able to pick up a QS and possibly a win too.
Andrew Cashner | San Diego Padres
Opponents: Ryan Vogelsong (SF), Josh Collmenter (ARI)
Don't let Cashner's record fool you. The Padres pitcher may be 1-4, but his team hasn't been able to produce any runs when he takes the mound. The Padres are taking on Ryan Vogelsong Tuesday, so they should be able to score some runs against the 37-year-old who has an ERA of 9.31. Cashner for his part, is face a Giants team that is in the middle of the pack when it comes to hitting. AT&T park is a great place for pitcher to pitch, so if the 28-year-old can continue his success like he's had so far this  season, he should pick up his second win of the season.
The Diamondbacks will be a tougher challenge for Cashner and the Padres. Arizona is an above-average hitting team (11th in team batting average), but are ranked near the bottom of the league in extra-base hits (25th with 15). Collmenter pitched well his last outing— striking out six hitters in eight innings against the Rockies— so Cashner may once again not get very much help from his hitters. He still remains a good play for the week in all formats.
Other Two-Start Pitchers to Consider: Jordan Zimmerman, Jake Odorizzi, Alex Wood, Aaron Harang, Jeff Samardzija
Bench
Matt Shoemaker | Los Angeles Angels
Opponents: Felix Hernandez (SEA), Dallas Keuchel (HOU)
I'm a big fan of Shoemaker, but this week is not a good week to start him. The righty has an ERA of 6.00, and is averaging just over four strikeouts per game. The Astros are probably the hottest team in baseball right now, and Seattle's Nelson Cruz is the hottest player in the majors right now, so i don't feel good about rating him against either team.I'm a Shoemaker owner, and trust me when i say I don't want to bench him, but the reality is right now he's not that good, and if you go with another option this week, you'll be glad you did come sunday.
Shane Greene | Detroit Tigers
Opponents: Jeff Samardzija (CWS), Jeremy Guthrie (KC)
Greene started off the season exceptionally well, than everything just came to a crashing halt. In his last two starts, the Florida native has given up a whopping 15 runs on 18 hits in 8.1 innings. Greene gets the Royals in his second start— who currently sport the best team batting averaging in the league (.300), and strikeout the least amount of times per game ( 5.5 K/GP).
The White Sox for their part are a below average team, and  are currently on a four game losing streak. They have a perfect opportunity to take advantage of a pitcher struggling of late, and i expect them to come out swinging Tuesday. The Tigers have the bats to help support their starters with some runs, but I'm not sure they'll be able to get many against an above-average pitcher like Samardzija. I'll be leaving Greene on my bench, and so should all fantasy owners.
Bud Norris | Baltimore Orioles
Opponents: Bartolo Colon (NYM), Michael Pineda (NYY)
If you were thinking of starting Bud Norris this week in your league, you're probably 0-4 by now. Apart from the fact that Norris has a 12.18 ERA and a 2.00 WHIP, he's also averaging just three strikeouts per game and is averaging only four innings per outing. All his games so far this season have been against A.L East opponents, and having to face both NY teams isn't going to help his ERA go down. The 30-year-old isn't worth a roster spot right now, and he should continue to stay on the waiver wire until he manages to find his game again.
Other Pitchers to Avoid: Matt Garza, Kyle Lohse, R.A Dickey, Jesse Hahn, Trevor May, Josh Collmenter.
Stats and references provided by www.MLB.com and www.ESPN.com