2016 Fantasy Baseball: AL Starting Pitchers Projections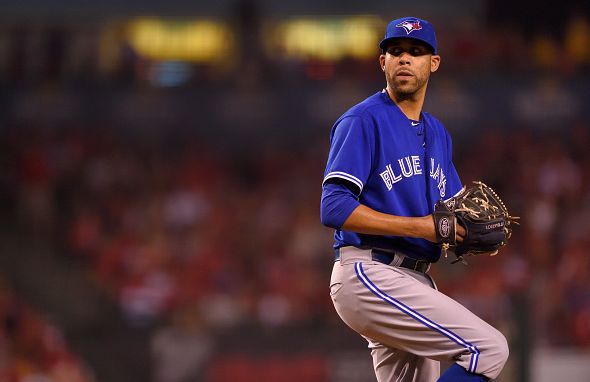 Rating the other positions was relatively easy. Runs above replacement tends to work pretty well and you only needed 20 players at each position. Grading out pitchers is considerably more difficult. Additionally, most teams carry at least five starters, and when you add in the standard 12- team league you have yourself 60 starters. That seemed a little unwieldy, so I decided to break them up into AL and NL starters. They are all still part of the same universe, though.
We are still utilizing runs above replacement from our three different sources. It doesn't translate to pitching perfectly, but it doesn't translate to hitting perfectly either. This is why we have included the over and under system at the bottom. The general idea is to determine whether a player is likely to produce more or less than his projection.
David Price— Boston Red Sox (48.0)
| | | | | |
| --- | --- | --- | --- | --- |
| | 2013 | 2014 | 2015 | ADJ |
| BP | 29.1 | 34.1 | 52.2 | 42.3 |
| BR | 31.0 | 47.0 | 58.0 | 49.8 |
| FG | 39.1 | 52.1 | 55.9 | 51.8 |
Price was clearly the number one arm on the board. He matches a high strikeout rate with a low walk rate to consistently produce dominant numbers. The Red Sox gave him 200+ million to anchor their rotation. Some will question his postseason record, but you have to get to the postseason first. He'll help the Red Sox get there. Verdict: Under
Chris Sale— Chicago White Sox (46.4)
| | | | | |
| --- | --- | --- | --- | --- |
| | 2013 | 2014 | 2015 | ADJ |
| BP | 36.9 | 42.0 | 43.6 | 42.0 |
| BR | 66.0 | 60.0 | 34.0 | 48.0 |
| FG | 43.4 | 44.0 | 54.5 | 49.2 |
Starting pitchers impact four of the five major pitching categories. Wins represent only one of those categories. Do not let wins keep you from taking an otherwise dominant starting pitcher. Besides, the White Sox made some improvements in the offseason, so hopefully the wins will follow. Verdict: Over
Corey Kluber— Cleveland Indians (45.4)
| | | | | |
| --- | --- | --- | --- | --- |
| | 2013 | 2014 | 2015 | ADJ |
| BP | 18.5 | 57.9 | 34.6 | 39.7 |
| BR | 17.0 | 69.0 | 43.0 | 47.3 |
| FG | 25.7 | 61.1 | 49.5 | 49.4 |
It would be easy to dismiss Kluber as a one year wonder, but his 2015 numbers are fairly close to the projection. So, even if you removed 2014, he still would rank pretty high. Back in 2012 and 2013 I never thought this was possible. We all miss the mark at one point or another. I'm a believer now. Verdict: Over
Jose Quintana— Chicago White Sox (39.5)
| | | | | |
| --- | --- | --- | --- | --- |
| | 2013 | 2014 | 2015 | ADJ |
| BP | 24.9 | 39.4 | 37.7 | 36.1 |
| BR | 53.0 | 36.0 | 40.0 | 40.8 |
| FG | 31.9 | 44.1 | 43.4 | 41.7 |
What what what?! Occasionally, the numbers don't make a heck of a lot of sense. I remember watching Wandy Rodriguez as an Astro early on. The peripherals always said he was very good and people said he had the best curve in the game. Yet, his ERA numbers never matched any of that. Sometimes, the conventional numbers and sabermetrics never quite match up. Verdict: Under
Felix Hernandez— Seattle Mariners (38.7)
| | | | | |
| --- | --- | --- | --- | --- |
| | 2013 | 2014 | 2015 | ADJ |
| BP | 31.6 | 36.3 | 16.7 | 25.7 |
| BR | 52.0 | 64.0 | 44.0 | 52.0 |
| FG | 49.2 | 51.5 | 26.3 | 38.5 |
King Felix will be the tragedy that results from the Jack Zduriencek era in Seattle. They've pitched him into the ground and 2015 showed some signs of wear and tear. Now, they look to be a better team, but how much does he have left in the tank? Verdict: Under
Cole Hamels— Texas Rangers (37.1)
| | | | | |
| --- | --- | --- | --- | --- |
| | 2013 | 2014 | 2015 | ADJ |
| BP | 31.2 | 21.9 | 30.6 | 27.8 |
| BR | 40.0 | 54.0 | 42.0 | 45.7 |
| FG | 39.7 | 36.9 | 37.9 | 37.9 |
Sometimes, conventional wisdom actually works out. The traditionalists thought that if you put Hamels on a contender he would perform better. In terms of wins and losses it actually did. When you distill out the ballpark effects then he also saw improvement there as well. Hamels turned himself into a legitimate ace. Verdict: Over
Dallas Keuchel— Houston Astros (34.5)
| | | | | |
| --- | --- | --- | --- | --- |
| | 2013 | 2014 | 2015 | ADJ |
| BP | 9.1 | 10.1 | 32.5 | 21.1 |
| BR | 3.0 | 49.0 | 68.0 | 50.8 |
| FG | 9.9 | 33.7 | 54.0 | 31.6 |
One AL team has reportedly barred its scouts from making any comps to Dallas Keuchel on prospects. Simply put, his success doesn't follow any rational pitching arc. Coming into 2014 he was clawing and scratching for any spot. Last year he was the best pitcher in the AL. As you can see, sabermetric comps aren't buying it either. At some point, you have to accept what's there and go with it. Verdict: Over
Chris Archer— Tampa Bay Rays (32.1)
| | | | | |
| --- | --- | --- | --- | --- |
| | 2013 | 2014 | 2015 | ADJ |
| BP | 6.3 | 16.3 | 39.7 | 26.3 |
| BR | 23.0 | 28.0 | 43.0 | 34.7 |
| FG | 12.0 | 29.1 | 47.3 | 35.4 |
You can never be quite sure when a talented young player will finally bust out. Sometimes it never happens. In this case, it happened last season. Archer might be underrated here, but pitching is a delicate thing too. You can never be quite sure whether a pitcher will repeat those dominating performances. Verdict: Over
Jordan Zimmermann— Detroit Tigers (31.6)
| | | | | |
| --- | --- | --- | --- | --- |
| | 2013 | 2014 | 2015 | ADJ |
| BP | 23.8 | 33.6 | 20.0 | 25.2 |
| BR | 33.0 | 41.0 | 32.0 | 35.2 |
| FG | 32.9 | 45.2 | 27.5 | 34.3 |
Ironically, Zimmermann moves from the Nationals to what can be described as the AL version of the Nationals. They have a ton of position player talent and some high priced arms, but they've come up short in recent seasons. Another round of spending is going to give the Tigers another chance. Verdict: Over
Sonny Gray— Oakland Athletics (28.5)
| | | | | |
| --- | --- | --- | --- | --- |
| | 2013 | 2014 | 2015 | ADJ |
| BP | 11.2 | 12.9 | 17.8 | 15.1 |
| BR | 14.0 | 34.0 | 55.0 | 41.2 |
| FG | 13.6 | 28.4 | 34.8 | 29.1 |
One of the challenges for grading out pitchers is that different statistical platforms value them differently in general. Baseball Prospectus tends to put more weight into the fielders behind the pitchers. On that notion, it isn't a surprise that there were rumors that the Athletics would deal Gray. After all, according to some experts, his value is overrated. Verdict: Over
Carlos Carrasco— Cleveland Indians (28.3)
| | | | | |
| --- | --- | --- | --- | --- |
| | 2013 | 2014 | 2015 | ADJ |
| BP | 1.8 | 29.0 | 28.1 | 24.0 |
| BR | -9.0 | 38.0 | 38.0 | 30.2 |
| FG | 2.2 | 27.0 | 42.8 | 30.8 |
For those folks that are lucky enough to tune into MLBtv or MLB Extra Innings, you probably should shift your attention to the AL Central. It's not the best division in baseball, but it will be the most competitive one. The Indians might have the best rotation in the division and that is saying something. Verdict: Over
Justin Verlander— Detroit Tigers (26.6)
| | | | | |
| --- | --- | --- | --- | --- |
| | 2013 | 2014 | 2015 | ADJ |
| BP | 42.2 | 25.6 | 22.8 | 27.0 |
| BR | 47.0 | 15.0 | 22.0 | 23.8 |
| FG | 43.5 | 26.3 | 25.8 | 28.9 |
In the second half last season, Verlander finished 5-6 with a 2.80 ERA in 103.0 innings and 95 strikeouts. He essentially got some of his mojo back after a season and a half in the abyss. It wasn't so long ago that he was the number one guy on this list. Call me crazy, but I think he might become a top five guy again. Verdict: Over
Collin McHugh— Houston Astros (25.7)
| | | | | |
| --- | --- | --- | --- | --- |
| | 2013 | 2014 | 2015 | ADJ |
| BP | -3.7 | 23.4 | 29.0 | 21.7 |
| BR | -8.0 | 40.0 | 32.0 | 28.0 |
| FG | -1.2 | 29.0 | 35.7 | 27.3 |
McHugh is a perfect example of the tiny level of difference between a replacement level pitcher and pretty darn good one. He has been both in his career and there isn't a tremendous amount of difference in his stuff. Either it is a bunch of smoke and mirrors or he found something when he got to Houston. I'll be damned if I know which is which. Verdict: Under
Lance McCullers— Houston Astros (25.4)
| | | | | |
| --- | --- | --- | --- | --- |
| | 2013 | 2014 | 2015 | ADJ |
| BP | — | — | 15.1 | 17.9 |
| BR | — | — | 24.0 | 28.5 |
| FG | — | — | 25.2 | 29.9 |
Rookie pitcher multipliers are based on the expectation of 180 innings. That might be unrealistic given the recent record of sophomore pitchers going on the shelf. The Astros tried to limit his exposure, but there was an awful amount of stress on those innings given the Astros' place in the pennant race. He seemed to handle it well last season. Verdict: Under
Eduardo Rodriguez— Boston Red Sox (25.3)
| | | | | |
| --- | --- | --- | --- | --- |
| | 2013 | 2014 | 2015 | ADJ |
| BP | — | — | 20.1 | 25.0 |
| BR | — | — | 25.0 | 31.1 |
| FG | — | — | 16.0 | 19.9 |
New age wisdom says the idea of needing a staff "ace" is vastly overrated. I tend to agree, but there is a human side to the game. All eyes in Boston will be on David Price and that can only be good for Rodriguez. He doesn't have to be the man. He can develop at his own pace. Verdict: Over
Masahiro Tanaka— New York Yankees (23.0)
| | | | | |
| --- | --- | --- | --- | --- |
| | 2013 | 2014 | 2015 | ADJ |
| BP | — | 18.5 | 12.4 | 14.8 |
| BR | — | 32.0 | 30.0 | 30.8 |
| FG | — | 26.8 | 21.1 | 23.4 |
Tanaka unfortunately has been saddled with the "when healthy" moniker. He is a top ten pitcher in the American League when healthy. He hasn't been healthy in his two seasons here. Bad luck? Perhaps. Is there a problem with the change of workloads between Japan and the U.S.? That's also possible. Verdict: Over
Hisashi Iwakuma— Seattle Mariners (22.8)
| | | | | |
| --- | --- | --- | --- | --- |
| | 2013 | 2014 | 2015 | ADJ |
| BP | 19.7 | 11.7 | 11.2 | 12.8 |
| BR | 67.0 | 27.0 | 25.0 | 32.3 |
| FG | 34.7 | 27.2 | 16.9 | 23.3 |
When you add up the pieces you get a very disturbing puzzle. The Dodgers had a deal with him and pulled it off the table. Add in the fact that all three platforms have him getting progressively closer to being a replacement level starter and you get someone about ready to fall off the table. Verdict: Under
Phil Hughes— Minnesota Twins (22.5)
| | | | | |
| --- | --- | --- | --- | --- |
| | 2013 | 2014 | 2015 | ADJ |
| BP | 8.9 | 46.5 | 7.1 | 20.5 |
| BR | -4.0 | 43.0 | 20.0 | 23.7 |
| FG | 11.8 | 49.6 | 9.4 | 23.2 |
Here is a perfect example of how the projection doesn't match anything the player has done. So, do you bet that 2014 was a one time career season or a predictor of things to come. 2010 and 2012 were also very good seasons for Hughes, but they weren't quite as good as 2014. Are we betting the even year is the charm? Verdict: Over
Garrett Richards— Los Angeles Angels (22.4)
| | | | | |
| --- | --- | --- | --- | --- |
| | 2013 | 2014 | 2015 | ADJ |
| BP | 3.1 | 24.4 | 9.9 | 13.6 |
| BR | 12.0 | 43.0 | 21.0 | 26.8 |
| FG | 13.5 | 37.0 | 24.3 | 26.7 |
It's a changing of the guard in Los Angeles. It used to be Jered Weaver's town. C.J. Wilson was signed to be the number two guy. Now, the new guys are taking over while those guys fade into the background. Richards is hardly a brilliant pitcher, but he is a decent third or fourth starter on a fantasy team. Verdict: Under
Carlos Rodon— Chicago White Sox (21.3)
| | | | | |
| --- | --- | --- | --- | --- |
| | 2013 | 2014 | 2015 | ADJ |
| BP | — | — | 15.9 | 18.3 |
| BR | — | — | 18.0 | 22.0 |
| FG | — | — | 19.4 | 23.7 |
It's difficult to put so much on a young guy, but when you look at the White Sox rotation you can't help but think they could make a run for the AL Central if Rodon steps up and performs at the same level as even Jose Quintana. That might be asking a lot even of a pitcher with the talent of Rodon. Verdict: Over
Jake Odorrizi— Tampa Bay Rays (21.2)
| | | | | |
| --- | --- | --- | --- | --- |
| | 2013 | 2014 | 2015 | ADJ |
| BP | 3.9 | 21.6 | 24.1 | 19.9 |
| BR | 3.0 | 15.0 | 36.0 | 23.5 |
| FG | 2.5 | 19.0 | 27.0 | 20.3 |
It would be unfair to call Odorrizi an afterthought in the Wil Myers trade, but he wasn't exactly a headliner either. Now, he is the biggest piece left in Tampa and last season he was on the verge of becoming a frontline starter. It's amazing how things turn out sometimes. Verdict: Over
Danny Salazar— Cleveland Indians (21.0)
| | | | | |
| --- | --- | --- | --- | --- |
| | 2013 | 2014 | 2015 | ADJ |
| BP | 8.6 | 15.4 | 20.0 | 19.1 |
| BR | 12.0 | 10.0 | 34.0 | 22.3 |
| FG | 10.8 | 16.6 | 28.5 | 21.6 |
Salazar is closer to the level where Rodon wants to be. At least that was where he was last season. He had a very short interruption early in the season. After one start in AAA, he came back like gangbusters and became the pitcher everyone thought he would be. He should continue on that path. Verdict: Over
Luis Severino— New York Yankees (20.6)
| | | | | |
| --- | --- | --- | --- | --- |
| | 2013 | 2014 | 2015 | ADJ |
| BP | — | — | 6.5 | 13.0 |
| BR | — | — | 18.0 | 36.0 |
| FG | — | — | 6.4 | 12.8 |
It's funny when a team with a 200+ million dollar payroll ends up relying on a young pitcher like Severino to get to the playoffs, but the Yankees did a year ago and they will be doing it again this season. Verdict: Over
Yovani Gallardo— Free Agent (20.3)
| | | | | |
| --- | --- | --- | --- | --- |
| | 2013 | 2014 | 2015 | ADJ |
| BP | 11.7 | 3.4 | 15.6 | 10.9 |
| BR | 5.0 | 22.0 | 41.0 | 28.7 |
| FG | 19.7 | 18.4 | 23.9 | 21.4 |
One could argue that Gallardo's 2015 season was the kind of season a player has right before he falls off the cliff. Players usually muster that one good season before everything goes to crap. You could also argue that he's adjusting to his stuff losing some of its zip. No one has bet on the latter just yet. Verdict: Under
Anibal Sanchez— Detroit Tigers (19.5)
| | | | | |
| --- | --- | --- | --- | --- |
| | 2013 | 2014 | 2015 | ADJ |
| BP | 42.6 | 22.7 | 3.8 | 16.6 |
| BR | 59.0 | 25.0 | 3.0 | 19.7 |
| FG | 51.1 | 27.6 | 9.1 | 22.3 |
You don't have to be an advanced statistician to see where Sanchez is going. Unfortunately, the Tigers are tied into a long-term deal with the hurler that will see them pay him another 32.8 million dollars the next two seasons. The Tigers hope they can get at least one productive season from him. Verdict: Under
Michael Pineda— New York Yankees (19.2)
| | | | | |
| --- | --- | --- | --- | --- |
| | 2013 | 2014 | 2015 | ADJ |
| BP | 0.0 | 13.1 | 26.4 | 17.6 |
| BR | 0.0 | 25.0 | 19.0 | 17.8 |
| FG | 0.0 | 18.6 | 32.2 | 22.3 |
Those that cover the game often say you cannot accurately grade any trade for at least a few seasons. At first glance, it appeared both the Mariners and the Yankees lost the Jesus Montero for Michael Pineda trade. Now, it looks like the Yankees are clear winners. Pineda joins Severino to form a pretty compelling one-two punch in the Yankees rotation. Verdict: Over
Clay Buchholz— Boston Red Sox (18.8)
| | | | | |
| --- | --- | --- | --- | --- |
| | 2013 | 2014 | 2015 | ADJ |
| BP | 16.7 | 7.0 | 25.8 | 18.0 |
| BR | 39.0 | -13.0 | 27.0 | 15.7 |
| FG | 24.7 | 13.7 | 28.1 | 22.7 |
Pundits argue ad nauseum about whether a guy is a number one pitcher or an ace. It's really much ado about nothing. Buchholz was the Red Sox number one pitcher last season, but now might be the number three guy. Ironically, he hasn't changed, but maybe there is something to this whole taking the pressure off bit. Verdict: Over
Yordano Ventura— Kansas City Royals (18.3)
| | | | | |
| --- | --- | --- | --- | --- |
| | 2013 | 2014 | 2015 | ADJ |
| BP | 0.1 | 15.5 | 14.9 | 12.6 |
| BR | 3.0 | 34.0 | 21.0 | 22.3 |
| FG | -0.7 | 22.1 | 25.3 | 19.9 |
It really is quite remarkable that Ventura is the Royals best returning starter from a team that has won two consecutive AL pennants. He got sent down briefly last season, but an injury brought him back before he even made a minor league start. From there, he looked like his old self. Verdict: Over
Rick Porcello— Boston Red Sox (18.2)
| | | | | |
| --- | --- | --- | --- | --- |
| | 2013 | 2014 | 2015 | ADJ |
| BP | 10.3 | 16.6 | 9.5 | 12.0 |
| BR | 27.0 | 40.0 | 9.0 | 22.3 |
| FG | 26.7 | 25.1 | 15.2 | 20.4 |
Often times when teams struggle, individual players struggle with them. It's hard to say which comes first. Obviously, individuals have to struggle for the team to struggle, but sometimes those struggles become contagious. We can all hope that Porcello bounces back as the team looks to bounce back. Verdict: Over