2016 Fantasy Baseball: Boston Red Sox Sign David Price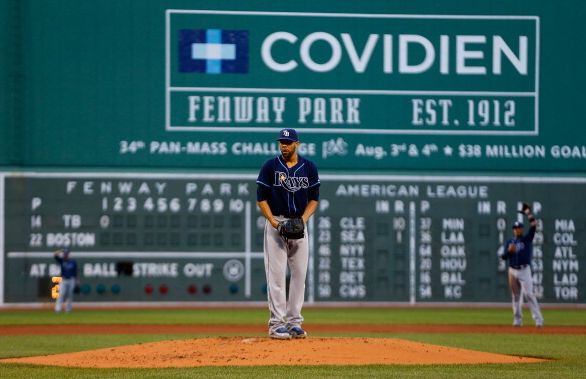 The first of the mega free agents is off the board. In a surprise move, the Boston Red Sox signed David Price to a seven-year contract worth 217 million dollars. The fact that the Red Sox signed Price is not the surprise. The surprise is that there is a very good chance that the top two free agent arms (and three of the top five) could be off the board before the Winter Meetings even begin. Dave Drombowski and company have definitely thrown down the gauntlet in the AL East before the Christmas shopping season is done.
They began the offseason by trading for closer Craig Kimbrel and then added depth with outfielder Chris Young. Their work is likely not done as they are looking to trade Hanley Ramirez somewhere (anywhere). If they are able to do that, they might be able to afford some more help elsewhere. Otherwise, it is hard to imagine them spending more money.
Why does Boston make this move
There seems to be some debate over who is the best pitcher on the market. Zack Greinke is expected to ask for more money per season than Price is getting in this deal (annual average of 31 million). When you start committing these kinds of dollars and this many years to a pitcher you want some level of guarantee of return. Price has pitched 200 or more innings in each full season of his career except for 2013. He hurled "only" 186 innings that season. If that's the floor for Price, then the Red Sox made a good investment.
Rosterresource.com has updated the projected rotation to include Price, Clay Buchholz, Rick Porcello, Wade Miley, and Eduardo Rodriguez. Rodriguez was a rookie last season, but the rest of the group are veteran pitchers that are making a pretty penny. Buchholz is signed through 2016 with an option for 2017. Porcello and Miley are signed through the end of the decade (if not longer). None of them strike you as a staff ace. As my colleague said with the Chris Young signing, the staff seemed like a collection of number three starters. I don't know if that is completely fair. Both Buchholz and Porcello had moments where they looked like a number two starter. Still, none of them performed like top of the rotation arms last season.
Now, you have a hammer on top of the rotation that can be a legitimate stopper. When he was traded to Toronto, it was clear that they needed him to be a legitimate ace for them to win the division. He came through with a 9-1 record and a 2.30 ERA in 11 starts. Critics of Price point out that he has a career 2-7 record with a 5.12 ERA in the postseason. The Red Sox made the mistake last offseason of buying into postseason performance when they signed Pablo Sandoval to a long-term deal. They need to get to the postseason before they can afford to worry about what happens when they get there. This deal gets them much closer to getting back.
What this deal means for you
Like with the Jordan Zimmermann signing, we want to look at two factors when looking at a pitcher's future. The first thing we want to look at is the team's defense efficiency rating. The Red Sox were a hot mess throughout the first half of the season and fielding was a significant part of that. However, when they benched Hanley Ramirez and Pablo Sandoval, things seemed to improve immensely. So, when looking at the comparison of the three teams (remember, Price was originally a Tiger) we need to keep that in mind when moving forward.
Detroit: .690 (15th)
Toronto: .708 (1st)
Boston: .680 (25th)
Obviously, Price got a boost last season when he moved to the Blue Jays. So, a part of his hot finish can be explained because of the better defense behind him. At first glance, it would appear as if Price would likely take a huge step back next season, but Drombowski and company hope that by moving Ramirez out of left field that the club could at least elevate to an average level.
The next frontier on evaluating pitchers is to look at the park effects for each team. Baseball-reference.com has park effects for single season and multiple seasons (three seasons). 100 is an average ballpark. Anything under 100 means it is better for pitchers than hitters. Anything above 100 means the park is better for hitters than it is for pitchers.
Detroit: 95 (single), 98 (multiple)
Toronto: 93 (single), 98 (multiple)
Boston: 109 (single), 107 (multiple)
Again, it isn't looking good for would be David Price owners. Still, when you look at his amazing record of durability and match that with the best strikeout to walk ratio in the game, he has to be one of the first three or four starting pitchers off the board. Somehow, I think Price is going to continue putting up numbers at least for the next few seasons.