2016 Fantasy Baseball: Boston Red Sox Team Preview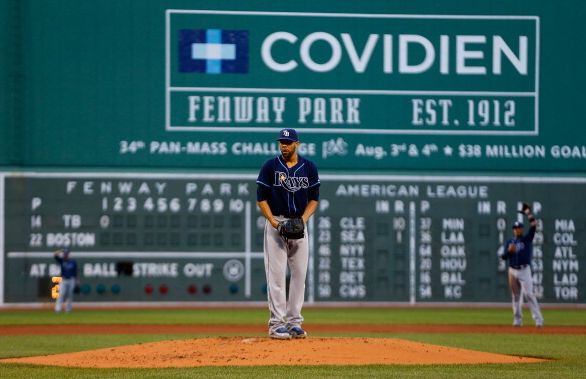 2015 Season in Review
The Boston Red Sox have finished in last place in the American League East three times since the year 2012; however, the one time in the last four years that they managed to climb out of the cellar of their division, they made it all the way back to the top and won their third World Series in a nine year span. The organization ended 86 years of oppression on their fanbase when they broke the infamous Curse of the Bambino in 2004, and have gotten the reputation of being one of the most forward-thinking front offices in all of baseball since hiring the godfather of sabermetrics, Bill James as an advisor in 2003. Since then, it has never quite seemed like the Red Sox were far away from another title, particularly after they showed the ability to go from worst to first in 2013.

Many analysts expected a similarly quick turnaround in the 2015 season after the Sox signed quality free agents such as Hanley Ramirez and Pablo Sandoval, but injuries and underwhelming performances kept Boston in the AL East basement for the second straight season. Ramirez and Sandoval got hurt and struggled when they were on the field, and unofficial team captain Dustin Pedroia produced when in the lineup but battled his share of injuries all year as well. Although the Red Sox probably consider 2015 to be a lost season, there were most definitely some very encouraging signs pointing ahead to 2016, and at the risk of adding more fuel to the fire, the ballclub has the potential to replicate precisely what they did in 2013 with their talent level.
Lineup
Mookie Betts RF
Dustin Pedroia 2B
David Ortiz DH
Hanley Ramirez 1B
Pablo Sandoval 3B
Jackie Bradley Jr. CF
The Boston lineup for 2016 is a dynamic mix of young potential and proven veterans. David Ortiz was supposed to start his decline about five years ago, but the poster-child for the designated hitter position has not put together an OPS under .800 since 2009, and will head into his final big league season coming off a year in which he finished in the top-10 in baseball with a .553 slugging percentage. Even if Big Papi's pop that included 37 homers in 2015 takes a bit of a step back in his age 40 season, he's been posting K-rates lower than he had been in his prime when he was slugging over .600 every year, and will still be a lock for upwards of 25 homers and 80 RBI like his Steamer projections indicate.
The Sox probably don't have much to worry about with Ortiz, or Pedroia for that matter, but if they hope to compete in a stacked American League East division then they'll need Ramirez and Sandoval to step it up. Ramirez's 10 home runs between March and April was quickly forgotten when he turned in a .183 batting average with 0 homers in his 28-game, injury-shortened second half. Unfortunately, he'll have to have to hope for a return to form at the plate while attempting to learn an entirely new position for the season in a row as he's slated to be the Sox starting first baseman on opening day; but Ramirez has always been an above league-average hitter when healthy, and only has one other season in his career in which he didn't average over a 100 wRC+. Sandoval on the other hand is an incredibly risky player for a slew of different reasons. Panda has never gotten the reputation for being a patient hitter — in fact, he's even been known to have that "bad-ball hitter" tag attached to him — but last year, Sandoval saw a continued regression in his walk-rate and was the hitter most likely to chase out of the zone, posting a staggering O-Swing percentage of 48.6%. In addition to the poor discipline with hitting and with his diet, Sandoval was completely ineffective from the right side of the plate in 2015. He hit just .103 in 73 righthanded plate appearances and began to abandon switch hitting altogether during the course of the season. Sandoval did manage a .278 average in left-on-left matchups, but he will need to stick with that approach going forward, and will also find a little more pop against left handed pitching as he did not have a homer off a lefty all season long.
The youth movement in Boston is where the team gets really exciting to watch. The Red Sox enjoyed breakout seasons from outfielder Mookie Betts, shortstop Xander Bogaerts, and even saw extended stretches of strong production from Jackie Bradley Jr. and Brock Holt. Holt doesn't figure to be on the same level as the other three former prospects turned big leaguers, but made the American League All-Star team last summer and is a very strong utility option for the ballclub with his positional versatility and .349 OBP. Bradley on the other hand was the first of the bunch to reach the show in 2013, but didn't start to come into his own until August of last season. He played out of his mind that month, posting a 207 wRC+ with a .356 batting average and five homers. Although Bradley came back down to earth in September, he is a premium defender in the outfield, and the Red Sox liked what they saw enough in the second half to give him a shot as the team's centerfielder, moving Mookie Betts over to right. Betts has plenty of defensive prowess in his own right, and showed last season just how complete a ballplayer he truly is. Betts slashed .291/.341/.479 with 21 steals in his first full season in the big leagues, and showed great instincts on the bases and in the field which lead to a 4.8 WAR for the year. Betts has the makeup to be a true MLB star, and if things don't work out with Bradley Jr. in center, than Betts is more than capable of stepping in.
At just 22 years old, Xander Bogaerts hit .320 and earned what could be his first of many Silver Slugger Awards at shortstop. Bogaerts was able to put his tough rookie campaign behind him, and refined his hit tool by sacrificing a little pop and spraying the ball all over the field. He went from hitting the ball the opposite way just 19.3% of the time in 2014 to 32% of the time in 2015, and saw his BABIP jump from .298 all the way up to .372. Bogaerts has shown the ability to hit for more power in the minors, and that should translate over to his big league game as he continues to mature.  
Starting Rotation
David Price LHP
Clay Buchholz RHP
Rick Porcello RHP
Joe Kelly RHP
Adding David Price as the anchor of this staff really does wonders in lengthening the Red Sox starting rotation. The 2015 strategy of creating a staff completely comprised of No. 3 starting pitchers was a total bust, and the Sox decision to return to a more traditional rotation was definitely right call for matchup purposes. Price is the bonafide ace the Sox were sorely lacking last season, and coming off a an American League ERA title, Price may very well be at the height of his career. The lefthander turned in better FIP and WHIP marks than he did during his 2012 Cy Young season, and is arguably the best man for the job of pitching in the gauntlet of the American League East with all of his previous experience in the division.
David Price will be David Price in 2016, but for the Red Sox to succeed, Clay Buchholz will have to be a more consistent version of Clay Buchholz. The 31 year-old righthander has often been hurt during his time in Boston, and has posted ERAs as high as 6.75, and as low as 1.74. Buchholz has the chance to be that No. 2 starter behind Price if he can repeat his 3.23 ERA 2015, but will need to amast the 113.1 innings he threw last year to make a real difference for the team.  
Bullpen
Carson Smith SU
Koji Uehara RHP
Junichi Tazawa RHP
Robbie Ross LHP
With the Red Sox starting pitching as their biggest question mark for the 2016, the moves they made this offseason to sure-up their bullpen are that much more important. Koji Uehara has been great in his career with the Sox, averaging a 1.83 ERA with 72 saves in just three years in the Boston pen; but entering his age 41 season, he could definitely use some additional help. The Red Sox front office went out and acquired Carson Smith as a setup man, and more notably Craig Kimbrel to take over as the team's closer at the end of games. Boston could not have gotten a more consistent ninth inning option, as Kimbrel has saved 224 games since the start of the 2011 season, which is 50 more saves than the next closest reliever. Kimbrel is also still striking out batters at a clip of 13.2 K/9 with a 46.1% ground ball rate.
Farm System
Most of the Red Sox once prized prospects have already reached the big leagues or been traded away, but there are a couple notable names at the top to keep an eye on. 20 year-old Yoan Moncada is the top second base prospect in the game and is the most hyped Cuban prospect since Jorge Soler. Moncada draws comps to a switch hitting Robinson Cano with more speed, and has the athletic ability for a position switch if absolutely necessary. He makes consistent hard contact from both sides of the plate, and could end up averaging close to 25 homers a year if he could get a bit more loft on his swing.
21 year-old outfielder Andrew Benintendi could also be an impact power bat for the Red Sox in the future to come. Despite being just 5'10", Benintendi has a quick left handed swing and surprisingly strong hands and wrists which could help him be a 25 homer player as well.
Again, most of the Boston's prospects that gave their Farm System the prestigious reputation it's had in recent years have already reached the show, and those guys are ready to contribute to the club this coming season. The emergence of players like Bogaerts, Betts, and Bradley Jr. coinciding with the final year of Big Papi's legendary career with the Red Sox could mean another World Series celebration in Beantown if they can catch the same lightning they did in 2013.