2016 Fantasy Baseball: Breakout Candidate — James McCann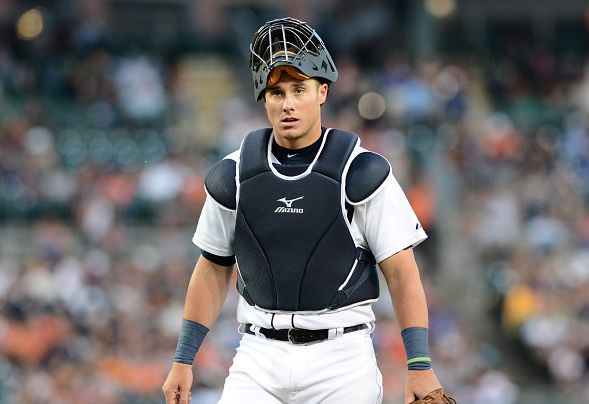 The AL Central could end up being the most interesting division in baseball. The Tigers are among the teams that look to challenge for the divisional championship. They've added Jordan Zimmermann, Justin Upton, and Francisco Rodriguez. They are hoping for a bounce back year from Miguel Cabrera, Justin Verlander and Anibal Sanchez.
Young players often get lost in the shuffle in a situation like this. Amidst all the excitement, the catching situation gets lost in the shuffle. Al Avila took over for Dave Dombrowski as the general manager late last season. His son Alex was the team's catcher for several seasons, but he lost his job to James McCann last year. This offseason, Al let his son go to the Chicago White Sox. I'll bet that was a tense Thanksgiving and Christmas in that house. But obviously, the Tigers have that much confidence in McCann.
Where he has been
| | | | | | |
| --- | --- | --- | --- | --- | --- |
| | AVG | HR | Runs | RBI | SB |
| 2015 | .264 | 7 | 32 | 41 | 0 |
The numbers look good, but they were artificially high. Most catchers do not carry a .325 average on balls in play, but McCann did a season ago. The trouble is that he has never put up gaudy numbers at any level, so it is hard to see him really outproduce these in 2016. That being said, he is a full time catcher and there aren't enough of those guys to completely ignore him in your fantasy draft.
A part of the appeal throughout his minor league career and his season last year has been a healthy line drive rate. Players tend to hit for higher average on line drives than fly balls or ground balls. If that rate continues (23.1% in 2015) then he could continue to hit north of .300 on balls in play. The downside to line drive hitters is that they don't tend to hit many home runs and McCann will never be a hot fantasy prospect until he hits more home runs.
Where he could go
| | | | | | |
| --- | --- | --- | --- | --- | --- |
| | AVG | HR | Runs | RBI | SB |
| Depth Charts | .255 | 5 | 32 | 34 | 2 |
| Steamer | .256 | 6 | 34 | 37 | 2 |
| ZIPS | .253 | 6 | 39 | 41 | 3 |
Based on these numbers alone, no one should really give McCann that much of a glance during the draft. Obviously, the experts expect a little regression based on his batted ball luck last season. They all ranged between .306 and .313 in BABIP (as compared to his .325 rate last season). That almost fully explains the drop in batting average between 2015 and the proposed rates in 2016.
This difference is that those projection systems expect him to the get the same number of plate appearances as last season when Alex Avila was still there. While it is true that Jarrod Saltalamacchia signed in the offseason, he has never had a reputation as a great receiver. The expectation is for McCann to get at least 120 starts and close to 500 plate appearances. At least, the Tigers hope he hits enough to justify that.
The Rosy Picture
| | | | | | |
| --- | --- | --- | --- | --- | --- |
| | AVG | HR | Runs | RBI | SB |
| 500 PA | .264 | 8 | 39 | 47 | 1 |
Okay, as breakouts go this is pretty tame. However, we have to take this in the context of what is going on at the position. After the first ten to twelve catchers go off the board, your choices are between steady performers like McCann that will play consistently but not produce gaudy numbers and guys that are talented offensively but won't get the plate appearances for one reason or another. If you grab a high risk/high reward catcher earlier than grabbing a steady performer like McCann late makes some sense. This is particularly true in two catcher leagues.
In standard mixed leagues he will likely go undrafted. That being said, he's a guy I would keep tabs on. Keep in mind that there are only 30 every day jobs available and a third of the teams will water that down with a semi-platoon. So, if there are 20 catchers that will get 450-500 plate appearances, it pays to keep tabs on all of those guys just in case.