2016 Fantasy Baseball: Brewers trade Jean Segura for Aaron Hill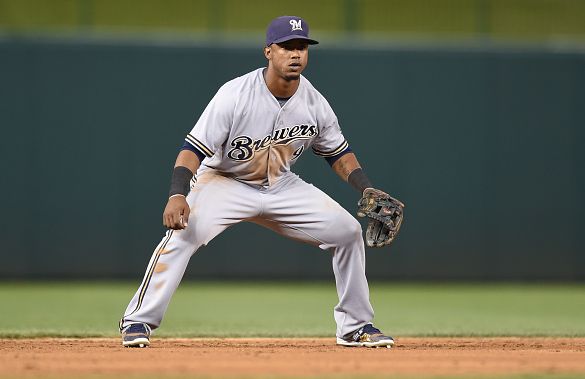 Some trades don't register high on the fantasy Richter scale, but the ripples will impact a number of rosters when the effects are done. On Saturday, the Milwaukee Brewers traded shortstop Jean Segura and pitcher Tyler Wagner to the Arizona Diamondbacks for second baseman Aaron Hill, starting pitcher Chase Anderson, and prospect Isan Diaz. The D-backs will also be sending some cash to cover the 12 million dollars that Hill will make in the last year of his contract. The amount of cash going to the Brewers is unknown at this time.
Why the Dbacks make this move?
This was clearly more about giving up on Aaron Hill and Chase Anderson than it was about anything coming back. If we assume that they are paying off about half of the money Hill is owed, then they still save between three and four million dollars when all of the salaries are taken into effect. Anderson wasn't a bad pitcher at all, but with the new talent coming into the rotation this season, he didn't have a home. Obviously, losing Diaz is the real downside to this trade. He was ranked as the D-backs ninth best prospect coming into the season, and some experts think he will land in the top 100 lists at Baseball America, Baseball Prospectus, and perhaps MLB.com.
Segura is the prize coming on the other end. He doesn't offer much in terms of offense. He is obviously cheaper than Hill and he has more positional flexibility, but the past two seasons haven't been particularly kind to him since he busted out in 2013. The plans for him are not yet clear, but he could move into that second base slot and potentially be a plus defender with speed. The comparisons to Hill will be obvious and we could easily compare their last two seasons favorably between OPS+ and oWAR.
Segura: 69 OPS+, 0.9 oWAR
Hill: 77 OPS+, 0.1 oWAR
The difference clearly comes on the basepaths as Segura is a legitimate stolen base threat where Hill really isn't. Otherwise, there isn't a huge difference between them. The only difference is that Segura can play both second and short. Flexibility also comes into play when you consider Tyler Wagner. He is listed as a starter, but served as a closer in college, so he could end up slotting into middle relief.
Why the Brewers make this trade
This one is a little harder to figure out. Clearly, the Brewers did not value either Wagner or Segura in their long term future. MLBTR already had listed Segura as a non-tender candidate. Clearly, they got something out of it. Aaron Hill is listed at third base by rosterresource.com, but that seems implausible given that he has never played third over any extended period of time. It is more likely that he will end up platooning with Scooter Gennett, but it is not out of question that he couldn't play occasionally at third.
Anderson has a career 4.17 ERA (4.18 FIP) and now will get regular starts in the rotation. The Brewers rotation was looking pretty thin without his inclusion. Furthermore, opening up shortstop means that the Brewers can comfortably call up Orlando Arcia when they feel he is ready. That's a perfect example of the ripple effect of these types of deals that most fantasy owners don't think about. Jonathan Villar gets another chance to get to earn an everyday role, but trading Segura opens the door for Arcia around midseason.
What this deal means for you
At first glance, it really doesn't mean anything. None of the players involved were likely going to end up on your big board for draft day. Segura has an outside chance of being a fantasy factor if he gets enough plate appearances and his positional flexibility may help him play up a bit. Anderson has a chance to start full time and get 180 innings. He could be a waiver claim down the road. The big winner is Orlando Arcia. He was a top 100 prospect last season and could end up being a fantasy factor this season. This trade makes that much more of a possibility.