2016 Fantasy Baseball: First Base/Utility Projections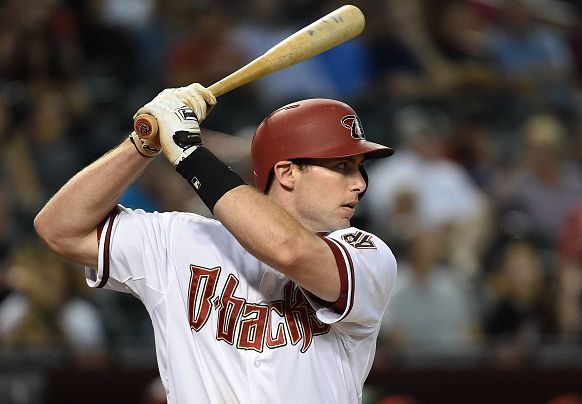 There are many ways to rank players. I don't claim to have a monopoly on the truth, but I hope my methods balance analytics with common sense. The analytics part is probably the most involved. We take runs above replacement from the past three seasons according to three different sources (Baseball Prospectus, Baseball Reference, and Fangraphs). We apply a multiplier to make sure the most recent performance is given the most weight. That creates an index score for each platform. We then take the average of those three to provide a single score for each player.
One of the great things about runs above replacement is that it allows us to compare players from multiple positions if necessary. I'm not going to do that either, but the fact remains that first basemen are being compared to first basemen. So, their relative value can be judged in comparison to players from other positions.
Paul Goldschmidt— Arizona Diamondbacks (58.0)
| | | | | |
| --- | --- | --- | --- | --- |
| | 2013 | 2014 | 2015 | ADJ |
| BP | 53.0 | 40.1 | 73.4 | 58.9 |
| BR | 55.0 | 43.0 | 68.0 | 57.5 |
| FG | 57.7 | 39.7 | 69.7 | 57.7 |
Bryce Harper's emergence has fulfilled the prophecy from several years ago. Mike Trout and Harper are likely the top two players off the board and deservedly so. However, a very compelling argument can be made for putting Goldschmidt in one of those slots. As a first basemen he offers you everything and more. The fact that he can give you 20 or more steals is just a huge added bonus. Verdict: Over
Miguel Cabrera— Detroit Tigers (50.2)
| | | | | |
| --- | --- | --- | --- | --- |
| | 2013 | 2014 | 2015 | ADJ |
| BP | 84.8 | 44.8 | 40.6 | 49.4 |
| BR | 89.0 | 48.0 | 46.0 | 53.8 |
| FG | 69.1 | 46.7 | 40.9 | 47.5 |
Last season would have been a very good season had he been healthy the whole season. It was yet another batting title for one of the greatest players of our generation. Yet, he is getting to that age where injuries are going to occur more often. He still is likely a late first round pick, but you have to pause before making that selection. Verdict: Under
Joey Votto— Cincinnati Reds (48.3)
| | | | | |
| --- | --- | --- | --- | --- |
| | 2013 | 2014 | 2015 | ADJ |
| BP | 53.8 | 13.8 | 70.9 | 49.0 |
| BR | 58.0 | 14.0 | 69.0 | 48.8 |
| FG | 69.1 | 8.8 | 69.7 | 47.1 |
There is no greater disconnect between fantasy baseball and real baseball than Joey Votto. In real baseball he might be one of the ten best offensive players in the game. In fantasy baseball he might not be worth taking in the first five rounds. Six category leagues have to think about making him a second round pick. It all depends on whether walks count. Verdict: Under
Anthony Rizzo— Chicago Cubs (44.1)
| | | | | |
| --- | --- | --- | --- | --- |
| | 2013 | 2014 | 2015 | ADJ |
| BP | 10.5 | 51.6 | 49.5 | 43.7 |
| BR | 13.0 | 45.0 | 51.0 | 42.7 |
| FG | 17.8 | 51.8 | 51.5 | 46.0 |
While Joey Votto is a superior player (maybe even to Miguel Cabrera), Rizzo just might be the rising star at the position. The Cubs offense is likely going to move from pretty good to really good this season with the additions of Jason Heyward and Ben Zobrist this offseason. Plus, Kyle Schwarber will be playing a full season as well. That means more run scoring and RBI opportunities. Verdict: Over
Edwin Encarnacion— Toronto Blue Jays (39.6)
| | | | | |
| --- | --- | --- | --- | --- |
| | 2013 | 2014 | 2015 | ADJ |
| BP | 45.0 | 26.6 | 42.5 | 37.6 |
| BR | 45.0 | 39.0 | 45.0 | 43.0 |
| FG | 36.8 | 32.8 | 42.5 | 38.3 |
The Toronto Blue Jays had the best offense in baseball last season and there is no reason to think that level of offensive production won't continue next season. In the modern game, having three players with 100 or more RBIs seems excessive. Add a full season of Troy Tulowitzki and you can see Encarnacion being highly sought again this season. Verdict: Under
Jose Abreu— Chicago White Sox (39.2)
| | | | | |
| --- | --- | --- | --- | --- |
| | 2013 | 2014 | 2015 | ADJ |
| BP | — | 49.7 | 26.0 | 35.5 |
| BR | — | 62.0 | 35.0 | 45.8 |
| FG | — | 48.4 | 28.3 | 36.3 |
Like Anthony Rizzo, Abreu should benefit from the addition of some good players. Last season, he was the offense in Chicago and his numbers suffered because other teams knew they could pitch around him. That will be harder to do with Todd Frazier also in the lineup. Verdict: Over
Chris Davis— Baltimore Orioles (38.5)
| | | | | |
| --- | --- | --- | --- | --- |
| | 2013 | 2014 | 2015 | ADJ |
| BP | 73.9 | 10.7 | 43.3 | 37.5 |
| BR | 68.0 | 8.0 | 49.0 | 38.5 |
| FG | 65.2 | 7.0 | 52.8 | 37.6 |
Davis is more of a classic first baseman in the tradition of Willie McCovey or Harmon Killebrew. He won't hit for average and he strikes out a ton, but there aren't many guys that hit 40+ home runs a season anymore. A part of fantasy value comes in getting someone that gives you something you can't find elsewhere. Verdict: Under
Freddie Freeman— Atlanta Braves (35.6)
| | | | | |
| --- | --- | --- | --- | --- |
| | 2013 | 2014 | 2015 | ADJ |
| BP | 43.5 | 37.0 | 28.7 | 33.9 |
| BR | 48.0 | 39.0 | 31.0 | 36.5 |
| FG | 46.7 | 38.1 | 32.1 | 36.5 |
Like Joey Votto, Freeman doesn't have as much value in fantasy baseball as he does in real baseball. The Braves lineup keeps losing parts each offseason and he also has gotten worse each year since 2013. He might be a fringe starting fantasy first basemen before all is said and done. Verdict: Under
Adrian Gonzalez— Los Angeles Dodgers (29.0)
| | | | | |
| --- | --- | --- | --- | --- |
| | 2013 | 2014 | 2015 | ADJ |
| BP | 21.9 | 25.1 | 33.1 | 28.6 |
| BR | 28.0 | 27.0 | 30.0 | 28.9 |
| FG | 27.2 | 32.3 | 28.4 | 29.5 |
What worries me about Adrian Gonzalez is that he got off to such a fast start last season and then ended up not getting to 100 RBI or runs scored. He didn't hit 30 home runs. Gonzalez has never been elite, but he might be getting closer and closer to 20 home runs and 80 RBI. There are plenty of players capable of doing that. Verdict: Under
David Ortiz— Boston Red Sox (28.5)
| | | | | |
| --- | --- | --- | --- | --- |
| | 2013 | 2014 | 2015 | ADJ |
| BP | 45.2 | 23.7 | 26.0 | 28.4 |
| BR | 42.0 | 28.0 | 31.0 | 31.8 |
| FG | 30.6 | 20.8 | 26.5 | 25.3 |
Big Papi has already announced that 2016 will be his last season. We could see him channel all of his energy into making it a great season or we can see him fall off the table as he takes his last tour through the league. I suspect that where the Sox are in the standings will determine a part of that. Verdict: Under
Lucas Duda— New York Mets (27.6)
| | | | | |
| --- | --- | --- | --- | --- |
| | 2013 | 2014 | 2015 | ADJ |
| BP | 14.3 | 32.6 | 37.1 | 31.8 |
| BR | 14.0 | 32.0 | 26.0 | 26.0 |
| FG | 3.9 | 29.6 | 28.8 | 24.9 |
Duda is more of a classic power hitter than what we have seen in the game over the past 20 years. He goes through spurts where he is literally unstoppable, but those alternate with spurts where he almost literally does nothing. The end result is a borderline fantasy regular. Verdict: Under
Brandon Belt— San Francisco Giants (27.1)
| | | | | |
| --- | --- | --- | --- | --- |
| | 2013 | 2014 | 2015 | ADJ |
| BP | 34.3 | 7.7 | 37.3 | 26.9 |
| BR | 37.0 | 7.0 | 33.0 | 25.0 |
| FG | 40.4 | 7.8 | 40.4 | 29.5 |
Belt is about as different as you can get from the stereotypical first baseman. The problem there is that his value doesn't come from power, but comes from his ability to hit for average and get on base. If your league doesn't have an on base element to it then he isn't a fantasy starting first baseman. Verdict: Under
Carlos Santana— Cleveland Indians (25.5)
| | | | | |
| --- | --- | --- | --- | --- |
| | 2013 | 2014 | 2015 | ADJ |
| BP | 45.1 | 33.0 | 10.0 | 23.5 |
| BR | 52.0 | 35.0 | 15.0 | 27.8 |
| FG | 33.2 | 25.6 | 22.3 | 25.2 |
Part of the problem here is that Santana achieved his numbers in 2013 as a catcher. Therefore, his production was compared to the typical catcher. In a standard 5×5 league he might not even be worthy of a pick based on what he has done the last couple of seasons. In an OBP or walks league he has enough value to stick as a first baseman or utility player. Verdict: Under
Eric Hosmer— Kansas City Royals (22.1)
| | | | | |
| --- | --- | --- | --- | --- |
| | 2013 | 2014 | 2015 | ADJ |
| BP | 26.1 | 5.9 | 29.3 | 21.0 |
| BR | 30.0 | 5.0 | 34.0 | 23.7 |
| FG | 29.4 | 1.2 | 33.0 | 21.8 |
The good news is that it appears as if Hosmer has turned the corner and become a productive first baseman. However, with that comes some caveats. Some people will be tempted to give Hosmer a little extra credit because he is on the two time defending AL pennant winning Royals. That is a temptation you to have to fight on a number of Royals this year. Verdict: Over
Albert Pujols— Los Angeles Angels (21.9)
| | | | | |
| --- | --- | --- | --- | --- |
| | 2013 | 2014 | 2015 | ADJ |
| BP | 17.7 | 29.9 | 19.7 | 22.8 |
| BR | 13.0 | 29.0 | 24.0 | 23.8 |
| FG | 5.1 | 26.2 | 18.8 | 19.0 |
On the positive side, Pujols' foot surgery might bring him closer to the Pujols we recognized back when he was in St. Louis. The negative is that he likely will miss the first few weeks of the season. We might see something similar to what he produced overall last season without the second half swoon. Verdict: Over
Adam Lind— Seattle Mariners (21.1)
| | | | | |
| --- | --- | --- | --- | --- |
| | 2013 | 2014 | 2015 | ADJ |
| BP | 22.3 | 18.0 | 25.9 | 22.7 |
| BR | 25.0 | 21.0 | 27.0 | 23.0 |
| FG | 14.8 | 13.9 | 20.9 | 17.6 |
Based on his ranking, Lind represents the virtual mean amongst fantasy first basemen and utility players. Therefore, you can clearly see the value of an average player in the game. He doesn't have to be the man in Seattle since they already have Nelson Cruz and Robinson Cano. He is at his best when he can play a complementary player. Verdict: Over
Mark Teixeira— New York Yankees (15.8)
| | | | | |
| --- | --- | --- | --- | --- |
| | 2013 | 2014 | 2015 | ADJ |
| BP | -0.7 | 3.8 | 24.7 | 13.5 |
| BR | -2.0 | 7.0 | 31.0 | 17.5 |
| FG | -1.1 | 9.0 | 27.3 | 16.5 |
Teixeira represents the perfect buy low candidate. Last season he was on pace to hit 40 home runs before he went down for the season. He is the perfect guy to add to your bench. He could end up producing enough to be a regular or become excellent trade bait. If he flops then you don't have a lot invested. Verdict: Over
Mike Napoli— Cleveland Indians (15.4)
| | | | | |
| --- | --- | --- | --- | --- |
| | 2013 | 2014 | 2015 | ADJ |
| BP | 24.3 | 19.2 | 5.0 | 13.0 |
| BR | 28.0 | 23.0 | 9.0 | 16.8 |
| FG | 35.9 | 21.7 | 6.2 | 16.3 |
My colleagues and I had one of those internal discussions when he signed with the Indians whether the move was fantasy relevant or not. Considering his 2015 performance, I can understand the reason for the debate. In six category leagues he has some relevance as a potential utility guy or fantasy backup. Verdict: Over
Joe Mauer— Minnesota Twins (15.3)
| | | | | |
| --- | --- | --- | --- | --- |
| | 2013 | 2014 | 2015 | ADJ |
| BP | 42.7 | 10.5 | 1.8 | 11.5 |
| BR | 44.0 | 15.0 | 15.0 | 19.8 |
| FG | 48.4 | 15.4 | 2.6 | 14.5 |
Mauer represents the obvious problem when you take an offensively gifted player and move him to first base to prolong his career. Suddenly, those offensive gifts don't look nearly as good when you compare them with the first base universe. There is always the chance that he busts out and hits over .300 again. Otherwise, he looks very ordinary. Verdict: Under
Prince Fielder— Texas Rangers (14.3)
| | | | | |
| --- | --- | --- | --- | --- |
| | 2013 | 2014 | 2015 | ADJ |
| BP | 28.6 | -1.4 | 21.8 | 15.2 |
| BR | 30.0 | 1.0 | 24.0 | 17.5 |
| FG | 21.7 | -2.7 | 15.2 | 10.3 |
Fielder narrowly made the top twenty. In fact, he needed a little help for that to happen. His injury riddled 2014 campaign dropped him down some slots and you could argue it won't affect him moving forward. That being said, it is hard to say this is the same guy that dominated in Milwaukee. He just isn't the same guy and doesn't have the same power. Verdict: Over