2016 Fantasy Baseball: Generation Next — Starting Pitchers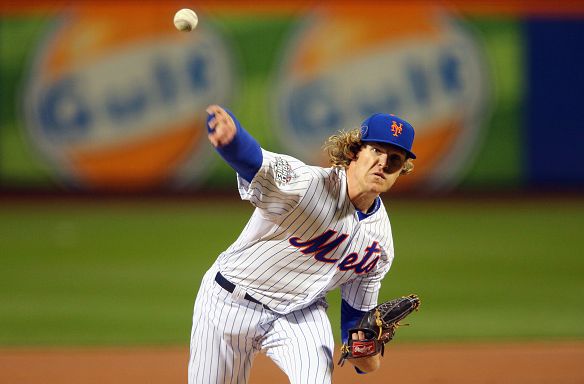 We've reached the end of the generation next series and easily the most difficult position to choose from. We could easily do two of these with starting pitchers and barely scratch the surface of who is destined to become the next big thing. This is the nature of pitching in fantasy baseball. There are always electric young pitchers and some of those young pitchers will break down and require surgery. I don't know if this is a permanent thing or just a trend we will look back on with some amazement ten or 15 years from now.
Noah Syndergaard— New York Mets
Key Stats: 9-7, 150.0 INN, 3.24 ERA, 166 K, 31 BB
Overview
Kudos to Sandy Alderson for pulling a fast one on the Toronto Blue Jays. The Mets got Syndergaard and Travis d'Arnaud from the Blue Jays (in addition to others) for now mediocre hurler R.A. Dickey. That being said, Mets fans in particular know how fickle young pitching can be. Generation K from the 1990s was supposed to lead the Mets to the World Series back then. Those hurlers went in the tank and only Jason Isringhausen had any sort of a career after that.
Syndergaard has excellent numbers and an excellent pedigree to go on. Of course, pitching all of those extra innings in the postseason (19.0 INN) could turn out to benefit his development or it could end up hindering it. Predicting the future of young arms is so difficult these days. Yordano Ventura will attest to that as he barely got his mojo back late in the season last year after struggling through a miserable sophomore season.
Barriers to Launch
The only barrier will be health, but that is a significant one. Marcos Stroman of the Blue Jays was another one who pitched brilliantly in 2014, but had to sit through most of last season with a dinged wing. In particular, when you add the pressure of postseason innings on a young arm you never quite know how they will react. Personally, I will be playing it cautious with all of the young arms next March when draft day comes.
Lance McCullers Jr.— Houston Astros
Key Stats: 6-7, 125.2 INN, 3.22 ERA, 129 K, 43 BB
Overview
When you watch a young pitcher in almost all of his starts you get a better scouting report than simply looking at numbers. When looking at the numbers, there is nothing not to like with McCullers. He had a three to one strikeout to walk ratio and struck out more than one hitter per inning. The problem comes when you watch him and other young hurlers like him. The difference between him and more experienced pitchers is how they are able to get themselves out of at bats and innings with fewer pitches. Quite frankly, it's a skill some pitchers never learn and develop. That development will be the key with McCullers.
Barriers to Launch
Like Syndergaard, the big question will be health. A number of people love to look at innings limits with young kids, but that isn't really the key. The Astros used a piggyback system when McCullers was drafted that severely limited his total innings, but limited his ability to pitch deep into games. When you are used to being pulled after four or five innings, you don't develop the ability to make it deep into the game with an economy of pitches. That will be the next step in his development and it might not be a smooth one.
Carlos Rodon— Chicago White Sox
Key Stats: 9-6, 133.0 INN, 3.79 ERA, 135 K, 67 BB
Overview
Rodon's numbers are more encouraging in a way than looking at Syndergaard or McCullers numbers. With their numbers, you don't see an obvious area to improve, but when you look at Rodon's walk totals you see where the development will come. Like most young hurlers, Rodon has to learn that he can't get by on pure stuff like he did in college and the minors. He was arguably the best college pitcher to come out in quite some time, so I'm sure part of him bought into those press clippings. Flying through the minors probably didn't help. Still, you could see improvement throughout the season from Rodon, so it might just be a case of adjusting to the higher level of competition.
Barriers to Launch
Obviously, the injury thing will keep coming up, but he has been a durable pitcher through three years of college and a couple of seasons of professional baseball. If the walks continue to hover around 4.50 per nine innings, he will never be truly dominant. Fortunately for him, he has a role model on his staff in Chris Sale. Sale was a dominant college lefty and evolved into a top of the rotation starter. Rodon has the same ability.
Anthony DeSclafini— Cincinnati Reds
Key Stats: 9-13, 184.2 INN, 4.05 ERA, 151 K, 55 BB
Overview
Have I ever mentioned that I hate win-loss records. If I had my druthers, I would probably eliminate wins as a fantasy category altogether. Either that, or I would radically restructure how we determine who gets a win. Be that as it may, DeSclafini may not be a household name, but he is a premium young arm that should be on your radar coming into the season. Mind you, he doesn't have quite the strikeout rate as our friends higher up on the list, but his rate was nothing to sneeze at. Also, he was the only one to make it all the way through the season (or close to it).
Abnormally high BABIPs in both his cup of coffee in 2014 and 2015 season inflated his ERAs. If you believe his FIP numbers will predict his future, then you are looking at a pitcher that should have a similar ERA as the guys above him on the list. The one problem comes in the fact that the Reds might be in a rebuilding phase and even though I hate wins, I have to acknowledge conditions that might lead to fewer of them.
Barriers to Launch
As we just saw, he was better than his numbers indicate. Real baseball fans can look at such considerations when evaluating players. Fantasy baseball fans can too, but they must couch that in the reality of the situation. It's all well and good to be better than your numbers say, but ultimately you get judged by what your numbers say. We will have to see how the Reds end up this offseason before we say whether DeSlafini should be on your radar or not.