2016 Fantasy Baseball: Johnny Cueto to Sign with Giants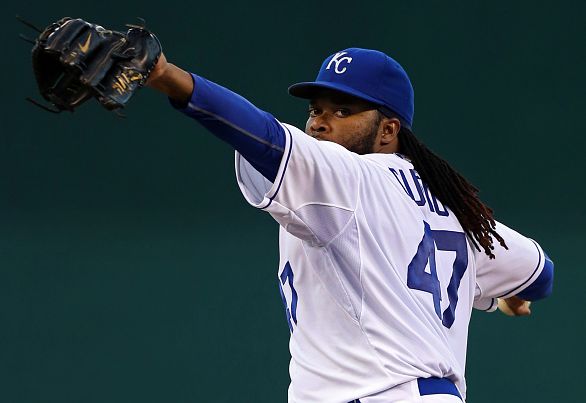 The San Francisco Giants are beginning to look like a very scary team. Aside from the trivial fear of knowing that it's an even-number year and the Giants took home World Series titles in 2010, 2012, and 2014, the ballclub had only a few gaping holes in 2015 and the organization's offseason moves have tackled those needs head on.
San Fran finished in second place in the NL West last season and was the first team on the outside looking in when it came to the Wild Card race. They also happened to be baseball's top rated defensive team and trailed only the Toronto Blue Jays in offensive WAR. It was obvious that the Giants were a talented ballclub, but the one area the team was sorely lacking in was their starting pitching. Now, San Francisco may have missed out on Zack Greinke, but as it turns out, that may have been a blessing in disguise. Only two Giants pitchers amassed 150 IP in 2015, one of them being their lefthanded ace, Madison Bumgarner; however, the money they saved by not signing Greinke resulted in not one, but two notorious innings eaters to back up Mad Bum.
I wrote about the Giants addressing their pitching needs by signing Jeff Samardzija earlier this month, and as first reported by Jon Heyman via twitter on Monday, San Francisco has now added long-time Cincinnati Reds ace Johnny Cueto into the mix. The deal for Cueto is worth $130 million for six years with an opt-out option after two, and a club option for a seventh. Cueto will reportedly receive $46 million over the course of those first two seasons and would forfeit nearly $84 million if he decides to initiate the opt-out clause and test free agency again at the age of 32.
Cueto has been one of MLB's top pitchers since 2011 and has posted a 2.71 ERA with 881 Ks in that span. He's averaged 214 innings per season in his career and has made at least 30 starts in six of his eighth big league seasons. Cueto had his struggles last year after being traded to Kansas City at the deadline, posting a 4-7 record with a 4.76 ERA in 16 starts with the Royals but still ended up with a solid stat line at the end of the season. Cueto eclipsed the 200 inning mark again in 2015 with a groundball rate of 42.5% and a couple big outings in the Royals Championship run. It's conceivable that he may have just tired himself out by trying to avoid a DL stint early on with an issue in his throwing elbow and could have a real return to form with the Giants in 2016.
He will be aided by a return to the National League, a strong defense behind him, an excellent pitch framer in Buster Posey, plenty of run support, and arguably the most pitcher friendly home ballpark in all of baseball (Cueto is 1-2 with a 1.69 ERA in three career appearances at AT&T Park).
Most fantasy projections have Cueto getting back on track after his minor sub-par performance detour with Kansas City last year, and in addition to those aforementioned benefits of moving to San Fran, Cueto will also be able to sleep soundly knowing he doesn't have to be "the guy" on the Giants pitching staff.
Just when it looked like Arizona was pulling away from the NL West pack, San Fran claps right back once again. Cueto reportedly turned down a $120 million offer from the Diamondbacks earlier in the offseason, which appeared strange at first but ended up paying off in the long run. It's tough to pick a favorite in that division, but one thing is for sure; things are really shaping up for a wild, wild NL West in 2016.