2016 Fantasy Baseball: Mariners and Rays Swap Six Players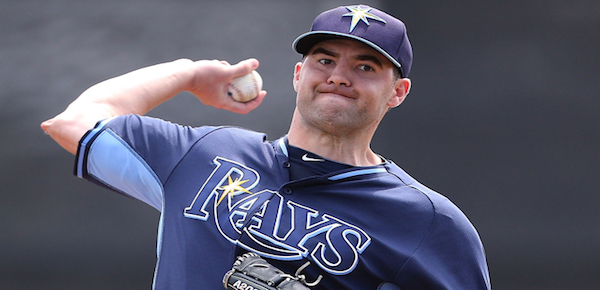 Welcome to the 2016 MLB offseason. The Seattle Mariners and Tampa Bays completed the first significant trade of the offseason on November 5th. The Mariners are trading Logan Morrison, Brad Miller, and Danny Farquhar to the Rays for Nate Karns, Boog Powell, and C.J. Reifenhauser. The names may not immediately jump out on the page, but the move should be significant for both teams moving forward.
Why the Mariners make this trade
It's funny, this trade happened one day after I talked about the Mariners shortstop situation. Marte is ready to be the regular shortstop, so the Mariners felt comfortable dealing from a position of strength. Naturally, the Rays would say the same thing. This is when the best deals are done. They dealt a decent middle reliever, a solid offensive shortstop, and a middle of the road first basemen for a solid starting pitcher and two prospects. Karns was 7-5 with a 3.67 ERA in 142 innings. Out of all of the players dealt, he is the one that will have the biggest fantasy impact in 2016. Some people would claim that when you get the best player in the deal then you've won the deal.
They really didn't surrender anything they couldn't afford to lose. You could even claim they've opened themselves to be able to add a significant first baseman. Who knows if the Mariners have deep enough pockets to add a player like Chris Davis, but they could add a number of other players that would produce more than Logan Morrison at first base. Farquhar was horrible in 2015, but he enjoyed success in 2014. He has a 3.96 career ERA in middle relief. Again, the Mariners can do better.
Why the Rays make this trade
The Rays signed Asdrubal Cabrera to a one year deal last season. He enjoyed a good season with the Rays, but the Rays probably don't want to pay the increased rate to bring him back. Tim Beckham or Nick Franklin could possibly take over, but the Rays wanted insurance in case neither of them are up for job. Brad Miller could potentially play there or serve as a reserve outfielder and infielder. He likely is the key to the deal for the Rays, but they get a couple of useful pieces in Farquhar and Morrison.
James Loney is in the last year of his three year contract and his performance has been shaky at best. That being said, Morrison can play first base or left field if need be. A big part of the Rays plan is to have enough usable parts at multiple positions so they can milk as much blood out of the rock as possible. Every team needs good middle relievers as well and they are taking the chance that Farquhar will be the Farquhar from 2014. For that privilege they surrender a good starting pitcher (which they have plenty of) and a couple of good, but not great prospects.
What this deal means for you
The main member of this deal is Karns and this deal may have helped his fantasy prospects slightly. Safeco Field is a slightly better pitcher's park than Tropicana Field (at least historically). He also doesn't have to compete for a spot in the rotation like he would have had to in Tampa Bay. Pitchers are king in fantasy baseball, but there aren't that many pitchers that will throw 180 innings and have an ERA in the mid threes.
As for the others, Brad Miller and Logan Morrison are likely in a similar boat as they were before. They have an opportunity to be everyday guys, but it is about the same opportunity as they would have had in Seattle. Miller is probably the better of the two, but he has competition in Nick Franklin and Tim Beckham. So, both players will be waiver wire fodder on draft day.