2016 Fantasy Baseball: Milwaukee Brewers Team Preview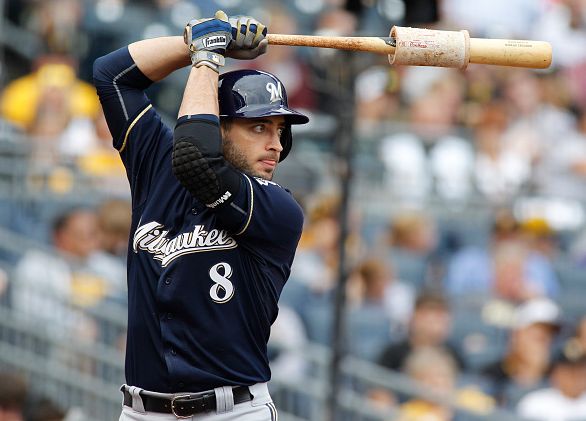 The 2014 Milwaukee Brewers season was a mixed bag. The first five months of the season the "Brew Crew" established themselves as first-place representatives, but by the end of September, their season began to crash as they went 9-17 that month and ended up in third place. That offseason they lost relief pitchers Zach Duke and Tom Gorzelanny to free agency, and also hitters Mark Reynolds, Rickie Weeks and Lyle Overbay. Yovani Gallardo went to the Texas Rangers and Marco Estrada went to the Blue Jays.
The changes were too much for Milwaukee to overcome and they started the 2015 season with a 7-18 record, which included an eight-game losing streak, the firing of manager Ron Roenicke and the hiring of Craig Counsell.
In July, Milwaukee made even more changes to their roster. They traded Carlos Gomez, Mike Fiers, Aramis Ramirez, and Gerardo Parra. In the offseason, Jean Segura, Francisco Rodriguez (Tigers), and Adam Lind (Mariners) departed as well. What could be the most important move is the hiring of David Stearns, who was with the Houston Astros when they got on the fast track. Stearns will take over as the general manager, which moves former G.M. Doug Melvin into the advisory role.
In 2016, they will be looking to advance to the playoffs for the first time in four seasons, but it won't be easy and sports betting sites don't exactly like their chances. The Brewers are young and in the beginning stages of rebuilding. They do have the Ryan Braun locked in for another five years, and Jonathan Lucroy will be back after a toe injury and concussion. The other parts of this team fall on the opposite spectrum. Matt Garza, bad shoulder and all, is still owed $25 million over the next two years, and one-time 17-game winner Wily Peralta is struggling to hold off fringe prospects like Ariel Pena.
Milwaukee didn't come away with any large pieces in the offseason. There is still time, but as of now they only have Will Middlebrooks over from the Padres as a free agent to be their potential third baseman.
2016 projected lineup
1. Scooter Gennett, 2B
2. Jonathan Lucroy, C
3. Ryan Braun, RF
4. Chris Carter, 1B
5. Khris Davis, LF
6. Aaron Hill, 3B
7. Jonathan Villar, SS
8. Kirk Nieuwenhuis, CF
Bench: Domingo Santana, OF
Bench: Will Middlebrooks, 1B/3B
Bench: Rymer Liriano, OF
Braun is the clear-cut best fantasy option on the Brewers this season. He reverted to form last year after his 2014 disaster and hit 25 home runs, had 24 stolen bases and drove in 84 runners while hitting .285 (144-for-506). All of this while battling through injury. He did receive surgery in October but is feeling no effects from it,and should continue to fill those 5×5 boxes for the owner willing to bring him on their team.
Lucroy's 2015 season with a .264 batting average, seven home runs and 98 hits in 371 at-bats was mostly due the injuries he suffered. This season could be quite different. He should be the second catcher taken off the board in mixed leagues. Look for more numbers that reflect his 2014 season when he had 13 home runs and a .301 batting average with 176 hits in 585 at-bats. He is the type of player that won't get much hype because of his poor performance and being out much of last season. Look for him to fall and give a willing owner a nice gift of hitting in return.
Scooter Gennett had troubles maintaining himself as he entered as the starting second baseman last season. He didn't catch the league on fire as suspected. Gennett suffered a hand injury, couldn't hit left-handers, and was sent down to the minors for a time. After the All-Star game, he reversed the downward spiral and finished the rest of the season with a .282 batting average. He is a line drive hitter with minimal power, only 15 home runs in 815 plate appearances, but he could be valuable as a sleeper pick in the late rounds of deep leagues.
Chris Carter should be very happy at Miller Park. The home run behemoth will undoubtedly reach 30 home runs by the end of the season playing there. Unfortunately, that is all your are going to get out of him. He strikes out far too much and won't hit for average, as he hit only .199 last season. Carter has hit 90 home runs since 2013, which ranks eighth on the list, so, if you are in a deep league and looking for someone to prop your home run category, he makes an excellent pick.
Khris Davis is much like Chris Carter. They both have power and they both will strike out a bunch. The main difference is that Davis will hang around the .250 batting average mark, where Carter might only break the .200 average barrier. Davis could make a solid fourth outfielder in mixed leagues but definitely team him up with a club that has top-notch batting average.
2016 projected rotation
Jimmy Nelson, RHP
Taylor Jungmann, RHP
Wily Peralta, RHP
Matt Garza, RHP
Chase Anderson, RHP
Alt: Zach Davies, RHP
It's hard to say which one of these pitchers is worth drafting. Their top pitcher is Jimmy Nelson, and he was placed on IR last year because he was struck on the head with a line drive, He also has an ERA that hovers over 4.00, and he doesn't have overpowering stuff. Taylor Jungmann is a possibility, but he is young and started his first 21 games last season.
 2016 projected bullpen
Corey Knebel, RHP
Will Smith, LHP
Jeremy Jeffress, RHP
Michael Blazek, RHP
Tyler Thornburg, RHP
Corey Knebel will be the closer this season. He is in his third season after being a rookie in Detroit then transferring to Milwaukee. He pitched 50 innings last season and struck out 58 batters with one save opportunity while having a 3.22 earned run average. Will Smith may also have a chance to be in the closer role if Knebel stumbles.
Minor League Pipeline
Milwaukee has one of the emptiest cupboards when it came to prospects. They've decided that the best route is to fill it and equip themselves with promising talent and let a few seasons slip by while the newbies blossom. Many have come over via trade and some will most likely make an appearance this season, especially if the Brewers have a losing season as expected.
Orlando Arcia will be making headway at the starting shortstop position. Arcia is a native of Venzelua, and he demonstrates excellent range with a strong arm. He will make good contact and show some power. He will be a threat to steal bases, and Jean Segura was recently traded to make room for Arcia. Only Jonathan Villar stands in his way, so he could see the "Show" sooner than expected.
Reported: 2/15/2015  Risk: 3  ETA: 2017  Team Rank: NA  Positional Rank: NA  Overall Rank: NA
| | | | | | | |
| --- | --- | --- | --- | --- | --- | --- |
| Hit | GamePower | RawPower | Speed | Field | Throws | Future Value |
| 20 / 50 | 20 / 45 | 45 / 45+ | 55 / 55 | 55 / 60 | 60 / 60 | 50 |
Brett Phillips was the man the Brewers wanted when they traded Carlos Gomez away. He has nice power and speed and has the potential to be a 20/20 guy in the outfield. He is a centerfielder by trade but has a right fielder's arm. He played in high-A and Double-A last season and finished with a .309 average with 16 homers and 77 RBI.
Reported: 10/11/2014  Risk: 3  ETA: 2017  Team Rank: 8  Positional Rank: NA  Overall Rank: NA
| | | | | | | |
| --- | --- | --- | --- | --- | --- | --- |
| Hit | GamePower | RawPower | Speed | Field | Throws | Future Value |
| 20 / 50 | 20 / 45 | 45 / 45+ | 55 / 55 | 50 / 55 | 70 / 70 | 50 |
Zach Davies was part of the Gerardo Parra trade and pitched at a superior level when he was called up by the Brewers in September. He went 3-2 with a 3.71 ERA in six starts. He will most likely be one of the first call-ups this season if one of the pitchers falter or get injured, which is a high possibility with their rotation.
Reported: 12/5/2014  Risk: 2  ETA: 2016  Team Rank: NA  Positional Rank: NA  Overall Rank: NA
| | | | | |
| --- | --- | --- | --- | --- |
| Fastball | Curveball | Changeup | Command | Future Value |
| 45 / 50 | 45 / 50+ | 55 / 60 | 50 / 55 | 50 |
Jorge Lopez has been developing since he was picked in the second round out of Puerto Rico in 2011. It appears he is on the verge of making a return trip to the "big stage" as he went 12-5 with a 2.26 ERA in Double-A while only giving up 105 hits in 143 innings. He made his big league debut in September.