2016 Fantasy Baseball: New York Yankees Team Preview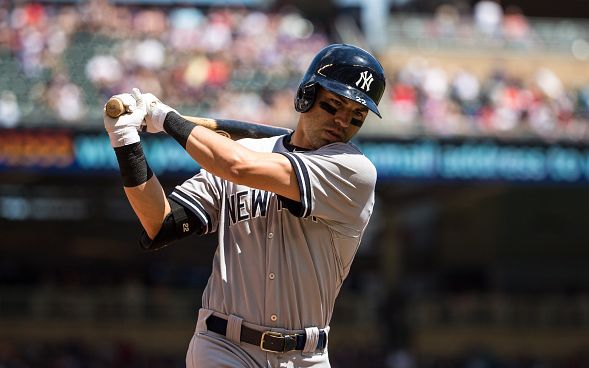 Team Overview
The New York Yankees had a somewhat uncharacteristically quiet offseason, especially from the free agent standpoint, where they didn't sign a single player to a major league contract the entire offseason. The one contract they had struck with pitcher Tommy Hunter fell through due to his medical records, and he eventually latched on with the Cleveland Indians on a one-year deal. This offseason was a very strange one for the Yankees, as they're usually one of the top teams making a splash in free agency. In the mind of GM Brian Cashman, however, there simply weren't any potential signings that seemed worthwhile.
The last time we saw the Yankees make a huge splash in free agency was after the 2013 season, where they went out and signed Jacoby Ellsbury, Carlos Beltran, Masahiro Tanaka, and Brian McCann to mega-contracts, though they failed to make the playoffs the following year. Since then, Cashman and the Yankees have taken the cautious route when approaching free agents, with their last big singing coming in the 2014 offseason when they inked relief pitcher Andrew Miller to a four year, $36 million deal. For a long time, the Yankees philosophy was to fill the roster with as many big-name stars as possible, even if those stars were well past their prime. While that approach helped the franchise win various championships over the years, the landscape of the game has evolved, and that is no longer a constructive way of putting a baseball team together.
As history shows, singing players to big deals when they're past their prime is guaranteed to come back and bite you, whether it's via an injury or regression, something bad is almost always bound to happen. With more knowledge around the game when it comes to these sorts of things, we tend to see more and more teams taking the very same approach that the Yankees have recently adapted. In 2015, the Yankees made the playoffs for the first time since the 2012 campaign, though the Houston Astros bounced them in the Wild Card game. One of the lingering questions going into the 2015 season was about the starting rotation, and much of the same exists today.
2016 Projected Lineup
Catcher- Brian McCann
First Base- Mark Teixeira
Second Base – Starlin Castro
Shortstop – Didi Gregorius
Third Base – Chase Headley
Left Field – Brett Gardner
Center Field – Jacoby Ellsbury
Right Field – Carlos Beltran
Designated Hitter – Alex Rodriguez
The Yankees' lineup this year mirrors the lineup from last year, with the exception of Starlin Castro at second base instead of Stephen Drew. The offense was second in all of baseball last year in runs scored, though some regression is expected. For example, I don't see A-Rod completely repeating what he did last season, though he did launch a home run in his first spring at-bat. Carlos Beltran bounced back nicely after a brutal 2014 season, but he turns 29 at the end of April, so it's going to be interesting to see how his body holds up and if he can continue to produce offensively. If not, the Yankees might look at get his bat out the lineup in favor of Aaron Judge, who would also provide a significant defensive upgrade in right field.
Mark Teixeira showed us in 2015 that the injuries over the years haven't completely slowed him down, as he hit 31 home runs (his most since 2011), and slashed .255/.357/.548. Speaking of the injury bug, Tex only played in 111 games last year. Look for his numbers to decline from what we saw in 2015, and go back to more of what we saw in 2014. Jacoby Ellsbury's contract looks worse and worse as the days go on, but there is good-ish news. Ellsbury was raking the first two months of the season, and he was starting to look like the Ellsbury we used to see manning center field in Boston. Unfortunately, a knee injury slowed Ellsbury down the rest of the season, and he never seemed to regain his early-season form. That has always been the downside to Ellsbury throughout his career, and the Yankees knew that when they signed him, he just can never seem to stay healthy. Brett Gardner's season was similar to that of Ellsbury's, in which he got off to a roaring start at the beginning of the season, only to have it slowed down by a wrist injury. Expect Gardner to return to form in 2016 if the wrist injury is fully healed, though to be honest, this might be Gardner's last season in which he holds significant fantasy value. Gardner is quietly 32-years-old, and history tells us that speed first players don't age too well (see Michael Bourn). It may have been wise to pull the trigger on a Gardner trade this offseason while the Yankees have the chance, though I doubt anybody came close to their asking price of a young, controllable starting pitcher.
Despite the difficulty of having being the heir to the throne that Derek Jeter left behind, Didi Gregorius had a great first year in the Bronx at shortstop. He's established himself as one of the best defensive shortstops in the game, and his bat was better than many expected when they traded for him. The Yankees also found a new double play partner for him too, as they acquired Starlin Castro in the offseason from the Chicago Cubs to play second base. Castro had an up-and-down career in Chicago, and he's hoping that a change of scenery will turn him back into the all-star he was when he first entered the league. Castro flourished after being moved to second base in Chicago last season, so the Yankees are hoping for a lot of the same.
Chase Headley's first full year in pinstripes was an absolute nightmare, though he was one of the few Yankees that were actually able to stay on the field the entire season in 2015. When the Yankees traded for Headley, one thing was clear, he might not repeat what he did offensively in 2012, but he has one of the game's best gloves at the hot corner. They thought the very same thing when they signed him after the 2014 season, though the glove basically vanished in 2015, and only Pablo Sandoval was worse defensively at the position. The Yankees have very little internal options to replace Headley if he goes down with an injury or continues to perform poorly, though they have been trying out Rob Refsynder at third base as a potential backup option.
Brian McCann had a huge year for the Yankees, and he's one of the recent investments that they have to be happy with so far. He's one of the best offensive catchers in the game, and defensive metrics point to him being one of the best receivers in the game as well. Look for McCann to be a top fantasy catcher again this season.
2016 Projected Starting Rotation
Masahiro Tanaka RHP
Michael Pineda RHP
C.C. Sabathia LHP
Luis Severino RHP
Nathan Eovaldi RHP
While the Yankees believe that Luis Severino will take the next step after an impressive rookie season, many within the industry worry that he is injury prone, while some also believe he's not going to make it as a starter and be forced to the bullpen. The Yankees, however, believe that Severino is a key piece to their future, which is why they were reluctant to include him in any trade talks the past couple of seasons. Masahiro Tanaka, who was diagnosed with a partially torn ulnar collateral ligament in 2014, was able to survive the 2015 season and avoid Tommy John surgery, though he did have offseason surgery on the very same elbow to remove bone spurs. Whether or not he can stay healthy in 2016 remains to be seen, but it is worth noting that in the two seasons since coming over from Japan, Tanaka has not thrown more than 155 innings in a season. When he's on the mound, he's rather dominant; it's just keeping him on the field that's the problem.
Michael Pineda might be the best pitcher in the rotation right now, though he himself has health concerns that come with him. It's easy to believe that he's primed to have a big year in 2015; I actually wrote about that exact thing happening right here. Nathan Eovaldi is a name that should interest you, especially given the fact that he's being drafted like a number five starter.
2016 Projected Bullpen
Closer – Andrew Miller LHP
Setup – Dellin Betances RHP
Setup – Chasen Shreve LHP
Branden Pinder RHP
Jacob Lindgren LHP
Bryan Mitchell RHP
Nick Rumbelow RHP
Tyler Olson LHP
Kirby Yates RHP
Aroldis Chapman (suspended)
Andrew Miller will serve as the Yankees' closer for the first thirty games of the season, after which Aroldis Chapman will take over as the closer. This is going to make people run away from drafting Chapman, but he still has a ton of value. While missing 35 games in 2014, Chapman still racked up 36 saves and struck out 106 batters. Don't let the suspension scare you.
What's on the Farm?
As I mentioned prior, Aaron Judge seems to be the next man in line if something happens to Carlos Beltran this season. Ideally, the Yankees would like to keep judge in the Triple-A for as long as possible this season to give him more time before he reaches the majors. If things go well for Beltran, don't expect to see Judge until August or September. If Judge does get called up this season, rush to the waiver wire to get him, as it will be fun to watch what his power can do in Yankee Stadium.
Shortstop Jorge Mateo is progressing well through the system, though he's still just 20-years-old, so he needs some more time in the minor leagues. Besides, Didi is holding up just well at the position for now, so the Yankees aren't in a huge rush to bring him up to the big league level. That being said, the present author has very high hopes for Mateo, believing that he has the raw tools to be one of the best shortstops in baseball when he reaches the majors. He's been flying around the base paths thus far this spring training, showing fans his blazing speed from the comfort of their couch.
2016 Season Outlook
While the Yankees didn't sign a single player to a major league contract this offseason, they were still able to upgrade the roster via trades to make their team better in 2016. While I do believe that giving up Adam Warren for Starlin Castro was a bit foolish, it was a hole they desperately needed to fill. There were often times in 2015 where a pitcher would go down for the Yankees, and Warren would step right into the rotation and not skip a beat. He's going to provide the Cubs with solid rotation depth in Chicago, something that they were wise to acknowledge they needed. Adding Aroldis Chapman to the bullpen gives the Yankees perhaps the best trio ever assembled, but just how much better can it get from last season? The subtraction of Justin Wilson in the bullpen is huge, but there's no doubting that it's going to be something very fun to watch. Andrew Miller will step into the closers role for the first 30 games of the season while Aroldis Chapman serves his suspension; where after he will take the closers spot, and Miller will presumably be shifted to the seventh inning.