2016 Fantasy Baseball: Post Deadline Catcher Rankings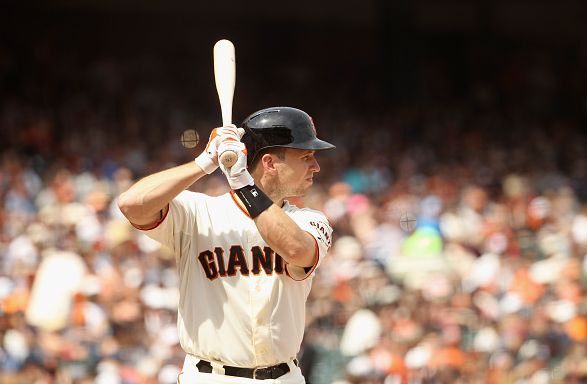 With the non-waiver trade deadline in the rearview mirror, it is time to take a look at the fantasy trade deadline that is looming in most leagues. Draft day is important, but it is high time we take a look at the various positions to see where those players rank now. The rankings below are based on six category leagues. Walks may not count in every league, but people should pay attention to them just the same.
Buster Posey—San Francisco Giants
AVG: .290 (4)
HR: 12 (7)
Runs: 58 (1)
RBI: 47 (3)
BB: 40 (2)
SB: 6 (2)
Fantasy fans keep waiting for Posey to dominate, but he is still the best catcher across the board. The six steals may be the icing on the cake as he ranks in the top ten amongst catchers in every category. He is only one of two catchers in the game (Jonathan Lucroy) to perform that well across the board.
Jonathan Lucroy—Texas Rangers
AVG: .299 (3)
HR: 13 (6)
Runs: 48 (2)
RBI: 50 (2)
BB: 33 (6)
SB: 5 (3)
Lucroy will likely be the hottest fantasy trade candidate following his trade to the Rangers. He is moving to a better ballpark, a better offensive lineup, and a situation where he will be more motivated to do well. Sometimes players put too much pressure on themselves in these situations, but if he just continues as he has been he should enjoy more fantasy success.
Wilson Ramos—Washington Nationals
AVG: .330 (1)
HR: 15 (3)
Runs: 48 (2)
RBI: 56 (1)
BB: 27 (9)
SB: 0 (15)
A part of rankings is considering where a player is going from here. There is no doubt that Ramos has been the best fantasy catcher in baseball up until that point, but his track record isn't there.
Brian McCann—New York Yankees
AVG: .236 (14)
HR: 15 (3)
Runs: 40 (5)
RBI: 42 (6)
BB: 38 (3)
SB: 0 (15)
Batting average is just one of the five major categories. When you add in on base percentage you can see that McCann is above average across the board. Unfortunately, the depth is catcher isn't there, so you have to accept some warts unless you have one of the top three guys.
Yasmani Grandal—Los Angeles Dodgers
AVG: .221 (16)
HR: 16 (2)
Runs: 28 (13)
RBI: 44 (5)
BB: 41 (1)
SB: 1 (9)
I understand the pull batting average has, but Grandal is actually pretty hot at the moment, so you might switch him and McCann fairly if you expect more from the future. You are looking at someone that could potentially hit more than 20 home runs and lead the position in walks.
Salvador Perez—Kansas City Royals
AVG: .268 (9)
HR: 15 (3)
Runs: 39 (7)
RBI: 45 (4)
BB: 15 (17)
SB: 0 (15)
At first glance, it would seem like Perez should rank higher on the list, but his lack of patience makes him susceptible to periods of low production. The Royals offense is also a little less productive than the offenses for the catchers above.
Evan Gattis—Houston Astros
AVG: .221 (16)
HR: 17 (1)
Runs: 31 (12)
RBI: 42 (6)
BB: 23 (11)
SB: 1 (9)
Gattis missed most of the first month of the season and didn't become a catcher again until a few weeks later. So, Gattis likely wasn't on a lot of boards on draft day. At least, he wasn't there as a catcher. He has a number of warts, but if fantasy players need a quick power fix they can do a lot worse.
Derek Norris—San Diego Padres
AVG: .191 (20)
HR: 12 (7)
Runs: 41 (4)
RBI: 34 (12)
BB: 24 (10)
SB: 5 (3)
We only profiled 20 catchers. Some are not currently regulars while others haven't gotten to 200 plate appearances. Otherwise, Norris would rank worse in batting average (but not in last). We cannot allow one category to completely paralyze us. Norris might be a good bench add for a team with weak catching.
T. Realmuto—Miami Marlins
AVG: .314 (2)
HR: 5 (17)
Runs: 40 (5)
RBI: 29 (17)
BB: 17 (15)
SB: 10 (1)
Admittedly, Realmuto deserves to a few spots higher in five category leagues. Since he has been hitting leadoff, he doesn't have the RBI opportunities the other catchers have. His speed is also an intriguing feature, so Realmuto fans can feel free to flame me.
Russell Martin—Toronto Blue Jays
AVG: .233 (15)
HR: 8 (12)
Runs: 37 (9)
RBI: 40 (8)
BB: 36 (5)
SB: 1 (9)
We are seeing a theme here. We have plenty of catchers with low batting averages, but are generally productive across the board. You can do a lot worse than Martin at catcher. He may have been dropped in your league, so you might not even have to trade for him.
Yadier Molina—St. Louis Cardinals
AVG: .276 (6)
HR: 3 (19)
Runs: 38 (8)
RBI: 31 (13)
BB: 30 (8)
SB: 3 (6)
Molina is what we would call an accumulator. He doesn't do anything particularly well, but he plays nearly every day and so he puts up decent numbers merely by osmosis. He will get you by, but not much else.
Welington Castillo—Arizona Diamondbacks
AVG: .258 (11)
HR: 11 (9)
Runs: 28 (13)
RBI: 37 (10)
BB: 19 (14)
SB: 2 (7) 
I really like Castillo, but he doesn't excel in any category and the Dbacks are a team without a direction at the moment. I could flip flop him with Molina based on the power production, but he is a borderline regular at this point.