2016 Fantasy Baseball: Prospect Profile — Bradley Zimmer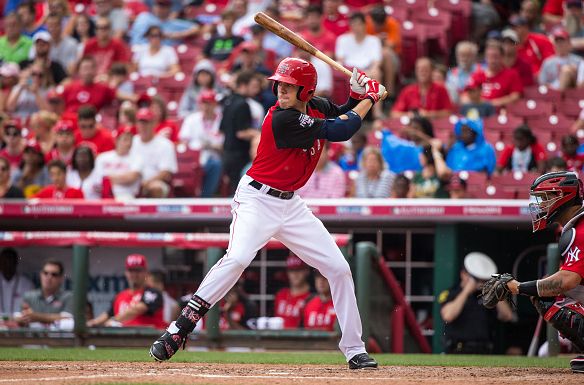 Profile
Bradley Zimmer was originally drafted by the Chicago Cubs right out of high school in the 23rd round of the 2011 MLB draft, but he turned down their offer. Instead, Zimmer decided to hone his skills by following in his older brother Kyle's footsteps and going to play college ball for the University of San Francisco. Kyle Zimmer, a pitching prospect in Kansas City's ystem, was drafted fifth overall in the 2012 draft and is currently making his way through the minor leagues.
 In 2014 the Indians selected Bradley with the 21st pick in the draft and he's been ripping his way through the minors. Zimmer was promoted to Double-A Akron last season, the same level his brother is at, and could conceivably beat his big bro to the major leagues if he continues at the pace he set in the first half of last season. Zimmer has a 6'4", wiry frame with above average tools across the board and mechanically clean lefthanded swing.
Pundits
Bradley Zimmer did not necessarily come out of nowhere – after all, he was drafted twice – but he has emerged as one of baseball's top prospects rather quickly. Zimmer was not ranked by either MLB.com or Baseball America prior to the 2015 season, but after performing at such a high level he found himself at #26 for MLB.com, and #31 for Baseball America. The #6 outfield prospect in all of baseball is said to have a selective approach at the plate, well-above average speed, and good baseball instincts.
Production
Zimmer has always had good on-base skills, but in 2015 he showed tremendous growth in all of his other offensive tools. He put up ridiculous numbers and found himself among the league leaders in a number of different categories in about half a season at Single-A Lynchburg. Before being promoted to Double-A, Zimmer lead the Carolina League in runs with 60, steals with 32, and OPS at .896; he was second in batting average at .306 and was third in homers with 10.
Although he struggled at the Double-A level for the last two months of the season, it was revealed later that Zimmer was playing with a hairline fracture in his toe for roughly the last two months of the season. The injury kept Zimmer out of the Arizona Fall League, but the young outfielder posted a .368 OBP 127 total games during the season with 44 steals in 51 attempts and 16 long balls. The jump in power is the most encouraging progression in Zimmer's game for the organization because he hit just 14 in his entire college career and 12 between three different levels on the minors in 2014.
Projection and Prediction
The KATOH projections say that Bradley Zimmer will be roughly a 3.7 win player per year in the majors, and his defensive tools such as a strong arm and plus speed should allow him to stay in center field long term, making him that much more valuable as an up-the-middle defender. He's a little lanky at the moment, weighing in at just 185 pounds despite being 6'4". But he showed some more power this year and could develop even more as he matures and fills out a bit.
Zimmer's first half of the 2015 season in Class-A was extremely impressive as he absolutely crushed Carolina league pitching. The dominance didn't translate up to Double-A level, and he struggled quite a bit when for the final two months of the season prior to the promotion. However, Zimmer played at least that duration of time (possibly longer) with a broken foot. His high strikeout rate is definitely an aspect of his game he will need to improve before reaching the show, but considering how weak the Indians outfield is with Michael Brantley hurt, Zimmer could see some time in the big leagues as soon as the 2016 season.