2016 Fantasy Baseball: Prospect Profile — Julio Urias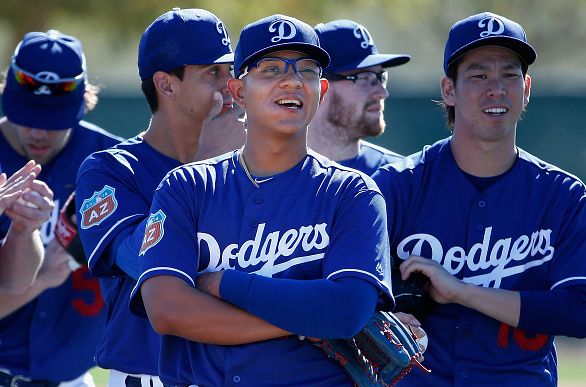 Profile
The layers upon layers of expectations for Los Angeles Dodgers pitching prospect Julio Urias have got to be putting a great deal of pressure on the 19 year-old to make his Major League debut. The word phenom is often thrown around casually when speaking of Urias and his potential to be a frontline big league starter. After dominating Minor League hitters virtually unfazed, the young left-hander is already drawing comparison to a another former LA lefty out of Mexico who made an immediate impact after debuting as a teenager, Fernando Valenzuela. It's still unclear when Urias will make his first start in the show, or if "Urias Mania" will have the same lasting effects on the organization that "Fernando Mania" did roughly 25 years ago, but the Dodgers are very excited with the pitcher they believe they have waiting in the wings. In fact, Urias may be the very reason that the Dodgers didn't pull the trigger on a Jose Fernandez trade this offseason.
Listed at 6'2" 205 lbs, Urias has command over both sides of the plate with his three-pitch mix. He sits mid-90s with his fastball, usually between 91 and 94 MPH, but he can reach back for 97 when he needs it. The fastball has some really nasty bite to it, and Urias also features a high-breaking curveball and a fading changeup, both with above-average to plus potential as well. He misses plenty of bats with all three of his pitches and is said to already have a tremendous feel for pitching despite being just a teenager. The promise for this kid is through the roof, but Urias has yet to show even the slightest crack under all of the pressure thus far in his career.
Pundits
The Dodgers acquired Urias as part of a package of players in a $1.8MM purchase from a team in the Mexican Baseball League in 2012 when he was just 16 years-old. Despite generally being one of the youngest guys on the field, Urias has never appeared over-matched at any point of his professional career. He has made pitching look incredibly easy in the Minor Leagues, and he reached the Triple-A level last season where the average age difference between him and the competition was about 8.8 years. Urias made short work of the Midwest League at the age of 16 and also was stellar in the California League at the age of 17. He's made huge leaps on all top prospect rankings, jumping from #51 to #10 for Baseball America, #64 to #8 for MLB.com, and #35 to #10 for Baseball Prospectus from 2014 to 2015. Urias rose in the rankings again this past year and will head into the 2016 season as the #4 overall prospect for MLB.com and Baseball America, and the #1 LHP prospect in all of baseball.  
Production
Urias played his first full-season in the Dodgers organization at the age of 16 where he was almost 6 years younger than the average player at that level. He averaged 11.10 K/9 with a 2.48 ERA in Class-A and improved upon those numbers in High-A the following year when he posted an 11.19 K/9 and 2.32 ERA in 33 additional innings. Urias' steady improvements have kept him from staying at any stop for too long, and the prospect saw action across four different levels of Minor League Baseball in 2015 with some more great results. Urias had 74 Ks in 68 ⅓ innings last season with a 2.77 ERA in his 13 total starts. He's posted a 2.91 ERA with 264 strikeouts in 221 ⅓  innings over the course of his minor league career, all coming between the ages of 16 and 18.
Projection & Prediction
Although Urias has progressed through the Dodgers system very quickly, the ballclub will likely take his development as slowly as they can from here on out. Urias has yet to exceed 88 innings in any one season and only threw 4 ⅓ at the Triple-A level last season. He has had success every step of the way, but the Dodgers need to make sure that production continues with Triple-A Oklahoma City before promoting him to the big leagues. Urias missed two months after a surgery to remove a benign tumor behind his left eye last year which is why his season was cut short. He has had this issue since he was a kid, having three operations over the course of his childhood, but the doctors have ensured the team that it is nothing to worry about and that he will be ready for the 2016 season.
Pitching depth is one of the strengths of the Dodgers which allows them the luxury to give Urias a full year in Triple-A. However, there is still a good chance that he gets called up at some point this season if it's the right move. Urias will turn 20 in August and could be a valuable asset to the Major League club around the time of September call-ups if they find themselves in the playoff hunt. He's said to have the intangibles of a No. 1 starter in the big leagues and could work his way into the rotation by the end of the year if any of the Dodgers other starters get hurt or underperform. If Urias can conquer Triple-A the way he has every other level in his development, then he will have nothing left to prove in the minor leagues. It wouldn't be surprising to anyone if Urias forces LA to call him up in 2016 with his performance, and based on the way he's handled playing against much more seasoned players over the course of his pro-career, it probably wouldn't surprise anyone if he succeeds right away either.