2016 Fantasy Baseball: St. Louis Cardinals Sign Mike Leake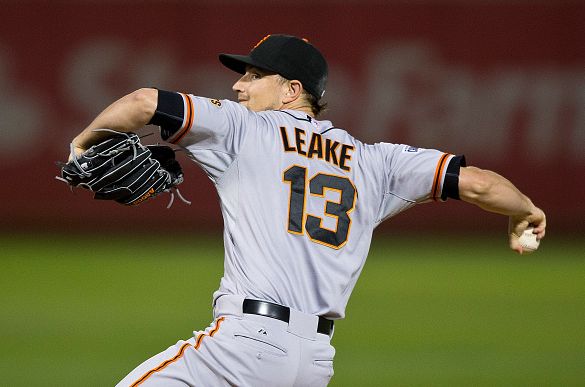 One of the four remaining notable starting pitchers is off the board after the St. Louis Cardinals agreed to sign Mike Leake to a five year, 80-million dollar deal. The Cardinals had become somewhat desperate once Lance Lynn had season ending surgery and John Lackey signed with the Cubs. Now, Yovani Gallardo, Scott Kazmir, and Wei-Yin Chen are the only remaining notable starting pitchers on the board.
Why the Cardinals make this move
The Cardinals were desperate for starting pitching and that was made more obvious with the moves made by the Chicago Cubs and Pittsburgh Pirates. We could wax poetic about the American League East and about how tough it is to win that division. No division is more difficult to win than the National League Central. 100 wins wasn't going to be enough last season, and it might not be enough this season either.
Without Leake it was going to be pretty thin for the Cards. Adam Wainright returns to anchor the rotation, but Leake is a definite glue that they need to hold this thing together. Since 2011, he hasn't pitched fewer than 167 innings. He's averaged nearly 200 innings a season in the last three seasons. The Cardinals need innings and they may have gotten the best innings eaters on the market. Now, they have the rotation to compete with the Pirates and Cubs.
If Leake has any weakness it is that he doesn't miss enough bats. He has a good walk rate, so he will rely more on fielding than some of the other pitchers. We will profile the Cardinals defense in a minute, but we have to remember that defense will not include all-world defender Jason Heyward. This could be a concern moving forward, but at the very least Leake will offer them innings.
What this deal means for you
When we profile starting pitchers we always look at two distinctive factors when evaluating how a change of scenery will affect them. In particular, a low strikeout pitcher like Leake will rely very heavily on the home ballpark and fielding behind them for their success. Leake enjoyed good fielding in Cincinnati and it showed when he moved to the San Francisco Giants. So, we will begin with the defensive efficiency ratings for the Reds, Cardinals, and Giants.
San Francisco: .706 (2nd)
Cincinnati: .689 (16th)
St. Louis: .688 (18th)
Keep in mind that the Cardinals defensive efficiency rank comes with Jason Heyward in right field. His departure all but guarantees that the Cardinals will move into the bottom third defensively. However, you would have thought that Leake would have catapulted up the charts with a better home ballpark and defensive team behind him. He didn't. He struggled in San Francisco for whatever reason. It just goes to show that you can't always predict the future. However, this move doesn't appear to be what is best for Mike Leake. Let's see what happens with the home ballparks. Anything over 100 is considered a hitter's park. Anything below 100 is a pitcher's park.
San Francisco: 95 (single season); 96 (multi season) 
Cincinnati: 104 (single season); 101 (multi season)
St. Louis: 97 (single season); 101 (multi season)
This isn't so bad and it makes us a little more bullish on Leake long term. Busch Stadium is more or less a neutral run scoring environment and is a little better than Great American Ballpark. However, it probably is not enough of a difference to get worked up about. The biggest factor for Leake is moving from a team that was in the bottom half of the league to the best team in the league. It might make him a second tier fantasy starter in some leagues.