2016 Fantasy Baseball Waiver Wire: 3 to Catch, 3 to Cut, 3 to Keep (Week 18)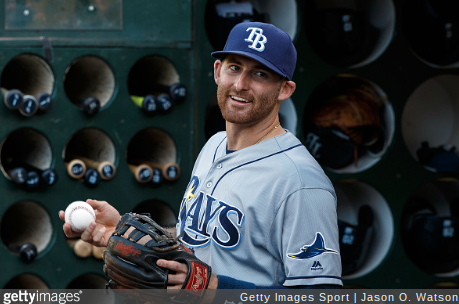 In the newest edition of fantasy baseball 3×3, we're believing in Brad Miller, doubting Hernan Perez, and FINALLY APPRECIATING JON GRAY… please?
Thoughts, questions, whatever… you can always find me on Twitter.
3 TO CATCH
Players to be picked up; available in most standard leagues
Brad Miller | Tampa Bay Rays | SS/OF
Against most hitters, focusing on the down-and-away corner of the strike zone is a winning proposition. It neutralizes power and coaxes harmless ground balls. This isn't just baseball's conventional wisdom; the Pirates and Astros have built entire organizational philosophies around it.
And then there's Brad Miller.
Throughout his career, he's seen that familiar pattern of pitching and up until this season, he'd done pretty well, maintaining an impressive .244 ISO against pitches in that disarming corner of the zone, per Brooks Baseball.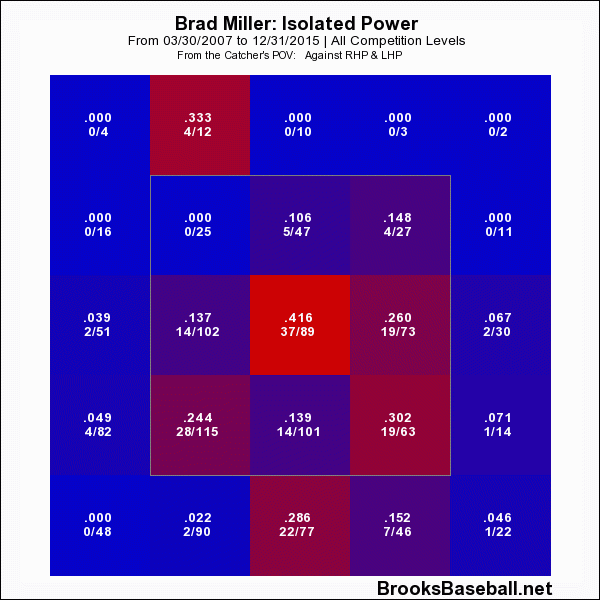 And then this year came around.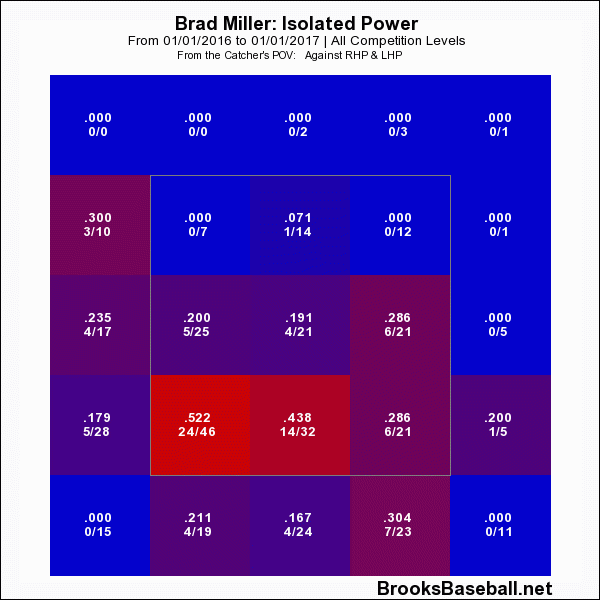 Heading into Sunday's action, Miller was maintaining a ridiculous .522 ISO against pitches down and away. If you roll in the bottom middle of the zone, Miller has hammered ten home runs on only 66 balls in play. He's taken something that was already a strength and turned the volume up to 12. That's why even though he's already doubled his career high in home runs while running a home run rate nearly twice his career average, Steamer still projects him to pound seven more round-trippers, as many as any other SS-eligible hitter.
If you lost Trevor Story, Miller is the next best thing.
To pick him up, I'd drop: Addison Russell, Starlin Castro, Jung Ho Kang
Before he was a closer, Cam Bedrosian was having a fantastic season. He was on pace for career bests in both strikeout and walk rate, and he was doing things like this to one of the most whiff-averse lineups in baseball, setting the heart of the Royals down in order on a trio of filthy sliders.
Since becoming a closer, Bedrosian's had one notable hiccup, but otherwise, it's been largely the same story.
Ok, fine, you got me. He mixed in a couple of fastballs to strike out the side against Oakland.
After a couple of inconsistent years, Bedrosian has developed into a strike zone-controlling lights out reliever. He's setting career bests in both first strike rate and swinging strike rate, which is a huge development for a pitcher who already had dynamite stuff.
The hapless Angels may not generate a ton of save chances, but Bedrosian should be owned in every league, if only for his production in strikeouts and ratios.
To pick him up, I'd drop: Jeanmar Gomez, Cody Allen, Brad Ziegler
I'm a sucker for a great basestealer who can take a walk. Travis Jankowski has already stolen 24 bases in only 211 major league plate appearances, largely thanks to the opportunities afforded by a 14.2% walk rate.
He walks like Harper and runs like Hamilton.
Seriously, Jankowski's wheels are ludicrous. He almost certainly went to plaid on this play.
He's been starting in centerfield and leading off every day for nearly two months now; I can see no reason for Jankowski to slow down. He's a fantastic acquisition for any fantasy owner with a need for speed.
To pick him up, I'd drop: Billy Burns, Ben Revere, Rajai Davis
3 TO CUT
Players to be traded or dropped, depending on the depth of your league
Hernan Perez | Milwaukee Brewers | 3B/OF
Stolen bases are incredibly valuable at this time of year, but I'm not convinced of Hernan Perez' ability to keep producing them.
As much as I'm a huge fan of speedy runners who can take a walk, I'm just as skeptical of speedsters who rely on their speed to beat out batted balls for hits. Perez' 3.9% walk rate is abysmal; it's already doubled his previous career mark. And coupled with a swinging strike rate near 14%, he'll need to rely on maintaining something close to his current .351 BABIP to generate steal opportunities.
And are we sure that Perez is going to continue to convert so many of those opportunities? As a minor leaguer, he never swiped more than 28 bags in a single year. Now, only 72 games into his first season as a full time big leaguer, he's already stolen 19. He's accelerated his pace by taking advantage of pitchers who can't control the running game; Perez swiped two bags each in recent games started by Jon Lester and Francisco Liriano. That shows great awareness, but it also makes me doubt that he's the type of runner who can successfully steal a base when everybody knows he's going.
Still, Perez will probably set a new career high if he continues to play every day, but are we sure that's going to happen? Top prospect Orlando Arcia has come up to play shortstop and Jonathan Villar has played his way into near-impenetrable job security at third base. That leaves second base as the only infield opportunity for Perez and there, he has to compete with Scooter Gennett, who holds the platoon advantage against righty starters and has a much longer track record of big league success. So right field as his only option; a position Perez has only begun to play this season.
Perez is exactly the sort of player that I'd look to move at the fantasy trade deadline.
I'd trade/drop him for: Eugenio Suarez, Javier Baez, Jose Ramirez
This isn't a particularly heartwarming crusade, but I'm on a mission. I'm on a mission to educate fantasy owners on the dangers of owning this version of James Shields.
Shields has been a fantastic pitcher for a number of years, but this version of Shields, pitching with diminished stuff in the band box on Chicago's south side, is just not a useful fantasy asset.
Name recognition is often a useful fallback (players are generally well known for a reason) but in this case, it's a trap. Shields is known for coupling a spectacular strikeout rate with a very responsible walk rate, but since his deal to the White Sox, neither of those expectations have held true. As a southsider, Shields has brought the home run issues with him, but completely lost control of the strike zone. In 60.2 innings prior to Sunday's disasterpiece, Shields had fanned just 30 batters and walked 27. He's managed a FIP under 4.00 only twice in his 12 starts as a member of the White Sox.
So, to the 30-ish percent of ESPN fantasy baseball players who still own James Shields: Please, come to your senses and drop him.
I'd trade/drop him for: James Paxton, Kevin Gausman, Collin McHugh, Raisel Iglesias, Jose Berrios, Anibal Sanchez, Sean Manaea, Zach Eflin…
Nobody is more excited about Nick Castellanos breakout year than me, so it's with a heavy heart that I recommend his owners drop him in every redraft league.
Castellanos has pumped up every phase of his game this season, cutting his ground balls to boost both his power and batting average numbers, delivering a .286/.331/.500 slash line alongside a hard contact rate on par with some of the best at his position.
But alas, a Logan Verrett fastball plunked his hand on Saturday night, fracturing a bone and sending Castellanos to the disabled list. Early reports have him returning in as little as a month, but I don't expect that he'll be able to contribute much fantasy value down the stretch. Hand injuries are notorious power sappers and for a player who relies on a preternatural hit tool for his success, any weakness in his hands is likely to turn stinging line drives into weak ground balls.
I'd trade/drop him for: Alex Bregman, Jurickson Profar, Mark Reynolds
3 TO KEEP
Players to hold or trade for; owned in most standard leagues
Jon Gray | Colorado Rockies | SP
What do I have to do to get Jon Gray into your lineup today?
Despite the fact that he's been inarguably among the best pitchers in baseball since the All-Star break (excepting a bit of a hiccup against the Marlins on Sunday), the Rockies' young ace can't seem to crack 60% ownership. In 11 starts since we first talked about him back on June 5, Gray has posted a 2.60 ERA, fanned better than a batter per inning, and logged eight quality starts, five of which coming at home in Colorado.
He's benefitted from some batted ball luck that one wouldn't expect from a pitcher who spends half his time at Coors, but Gray's seemingly oxymoronic success as a flyball pitcher in Coors Field isn't a fluke; he gets NFL punter-style hang time on the fly balls he allows, giving his outfielders plenty of time to run them down.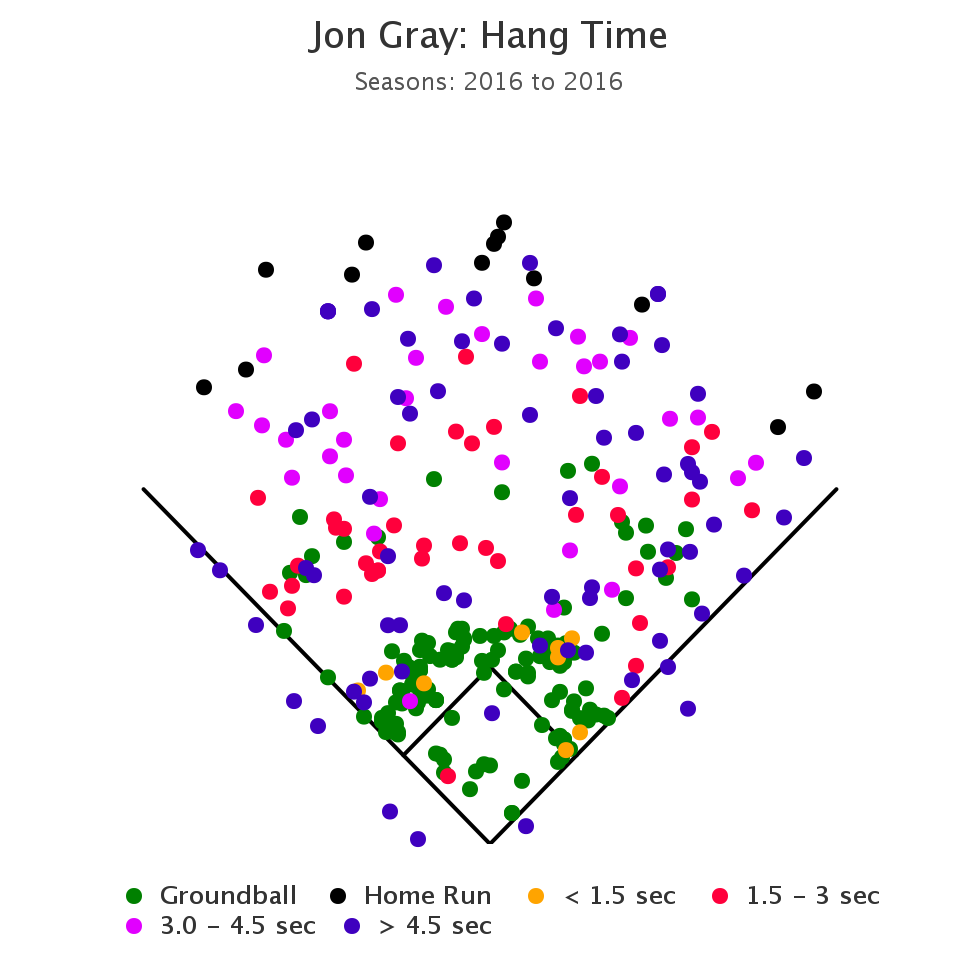 Oh, and he's adding more weapons to his arsenal.
Starting anybody at Coors still gives us the collective heebie jeebies, but Gray is a serious man. Even on days when he gives up a few runs, he'll contribute in strikeouts and WHIP. He should be owned everywhere.
I wouldn't trade/drop him for: Marco Estrada, Drew Pomeranz, Jeff Samardzija
Ken Giles | Houston Astros | RP
I was strategically low on Ken Giles heading into the season, but with a playoff spot on the line and former closer Will Harris struggling, the Astros have no choice but to slide their most dominating reliever into the ninth inning.
Though Giles only recently re-earned that "most dominating" title. He couldn't find the strike zone with consistency until June, but since then, Giles has been the high-strikeout, low-walk monster the Astros expected when they re-stocked Philadelphia's farm system in an offseason trade.
For whatever reason, it took a while for Giles to find his slider, but after some early struggles, that pitch has been even more devastating than we've come to expect.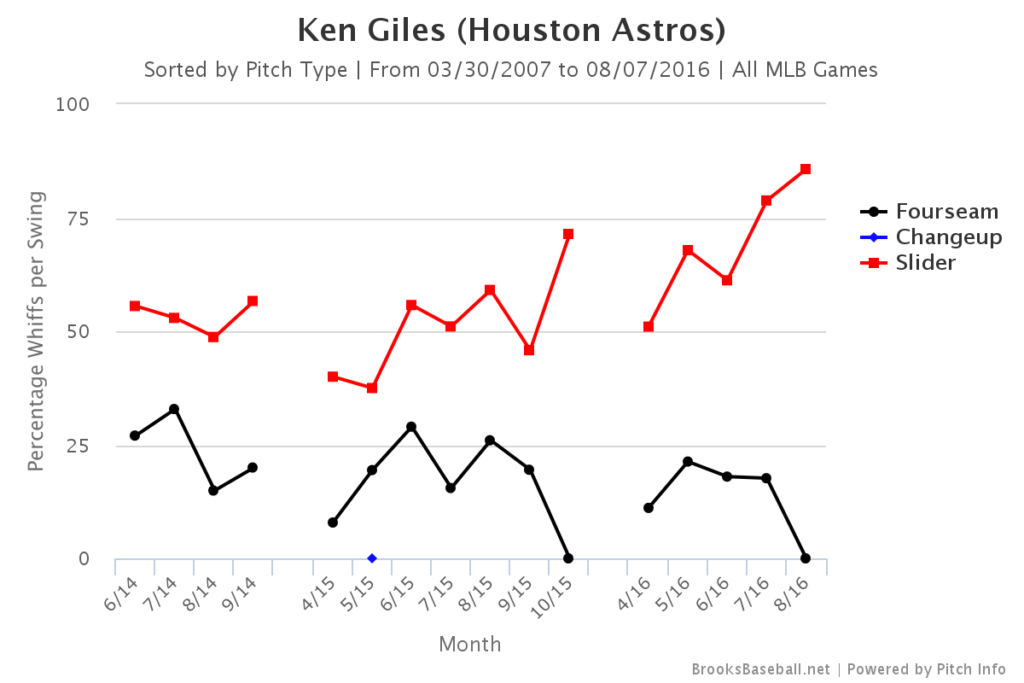 His heater has been up-and-down, surrendering home runs at a frequency that makes me wonder if opposing hitters juiced up the JUGS machine to 97-mph. But even so, Giles has the job, the stuff, and the track record. He ought to be owned everywhere.
I wouldn't trade/drop him for: Ryan Madson, Sam Dyson, Alex Colome
Bryce Harper | Washington Nationals | OF
Over the last month, Bryce Harper has reached levels I didn't think were possible… in the opposite way I would have expected. He's slugged .197 (!!!) during that time period. Since the All-Star break, FanGraphs' WAR has him as the eighth-worst offensive contributor in baseball, well behind the likes of Gordon Beckham. Per FiveThirtyEight, his batted ball speed has changed from Superman back to Clark Kent.
So I feel compelled to write that regardless of what Harper's done lately, we know what he's capable of. So whether he's hurt, distracted, or had his talent stolen by an army of intergalactic Monstars (Space Jam is on HBO this month), I'm not going to panic.
In keeper, redraft, head-to-head, or roto, I'm hanging on and hoping for a rebound.
I wouldn't trade/drop him for: Come on now…