2016 Fantasy Baseball Waiver Wire: 3 to Catch, 3 to Cut, 3 to Keep (Week 5)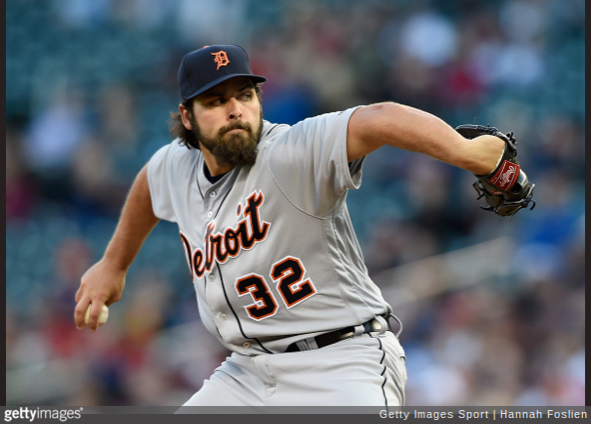 In the newest edition of fantasy baseball 3×3, we're snagging Michael Fulmer, dumping Dustin Pedroia, and elevating Drew Smyly to his rightful place in the fantasy hierarchy.
Thoughts, questions, whatever… you can always find me on Twitter.
APPRECIATING THE UPSIDE OF SETUP MEN
I wrote about a whole bunch of starting pitchers last week and I'll write about a whole bunch more this week. Part of it is just luck of the draw on who intrigues me in a given week, but part of it is on purpose. The back end of your pitching staff (and bench) is an area that ought to experience a great deal of turnover early in the season. Pitching is inherently unpredictable and that volatility is exacerbated within a small sample; it's frightfully difficult to tell the difference between a pitcher tripping on Doc Ellis-level doses of luck and a pitcher who's made real, sustainable adjustments and improvements (I'm looking at you, Rick Porcello). There's absolutely gold in them there waiver wires, but it takes a great deal of river panning to find it.
Typically, that panning focuses on starters. Closers get picked up when they're announced as the closer, but absent that, I think there's much less turnover. ESPN's Most Added list is one of my favorite things to look at to get a pulse of who's hot and cold; among the 50 pitchers listed as I write this (Sunday afternoon) only six are relievers; most of those six are recently announced closers.
I think there's a market inefficiency here, particularly for players in roto leagues with innings limits. In those formats, it's underratedly important to manage your pitching staff innings, especially early in the season. For that reason, I have recently become a huge advocate for using your bench spots to speculate on relievers, rather than starters.
For one, trying out a reliever for a couple weeks in April or May comes at a much lower opportunity cost in terms of innings and impact on your ratios. Even if you add Kevin Jepsen and he's awful (my bad, y'all), he's only a few innings' worth of awful. You can still drop him and fairly easily bounce back from whatever negative impact he hath wrought upon your fantasy squad.
But the upside remains huge. If you were early on Ryan Madson or Jeanmar Gomez, you acquired a hugely valuable asset, likely with very little FAAB or waiver priority cost.
And I know, your league may only have two or three slots for relievers and it seems silly to carry a guy on the bench who's only going to play on off days, but keep in mind, closers are by far the easiest asset to trade early in the season. Somebody in your league lost Huston Street. If you'd picked up Joe Smith last week, I think it'd be quite easy for the two of you to strike a harmonious deal.
So, rather than burning all of your bench spots on prospects, starters, and super-subs, consider mixing in a reliever who could soon elevate to the big chair. Going into the season, Arodys Vizcaino was my favorite pitcher in this category, but he's already grown out of it. Now, I really like Kelvin Herrera (Wade Davis' decreased velocity and spiking walk rate terrifies me) and Tyler Thornburg.
3 TO CATCH
Players to be picked up; available in most standard leagues
Michael Fulmer | Detroit Tigers | SP
Michael Fulmer flashed a consistently lively fastball (that heater he blew by Byung-ho Park was vicious) with an occasionally sharp slider on his way to a victory in his first MLB start. That sort of inconsistency is to be expected from a 23-year old making his big league debut, but his fastball is clearly an above average pitch already. He mixed fourseamers and twoseamers, but everything had late life at the plate. His velocity dipped a bit as the game went on, but in every inning, his hard stuff averaged better than 95 miles-per-hour.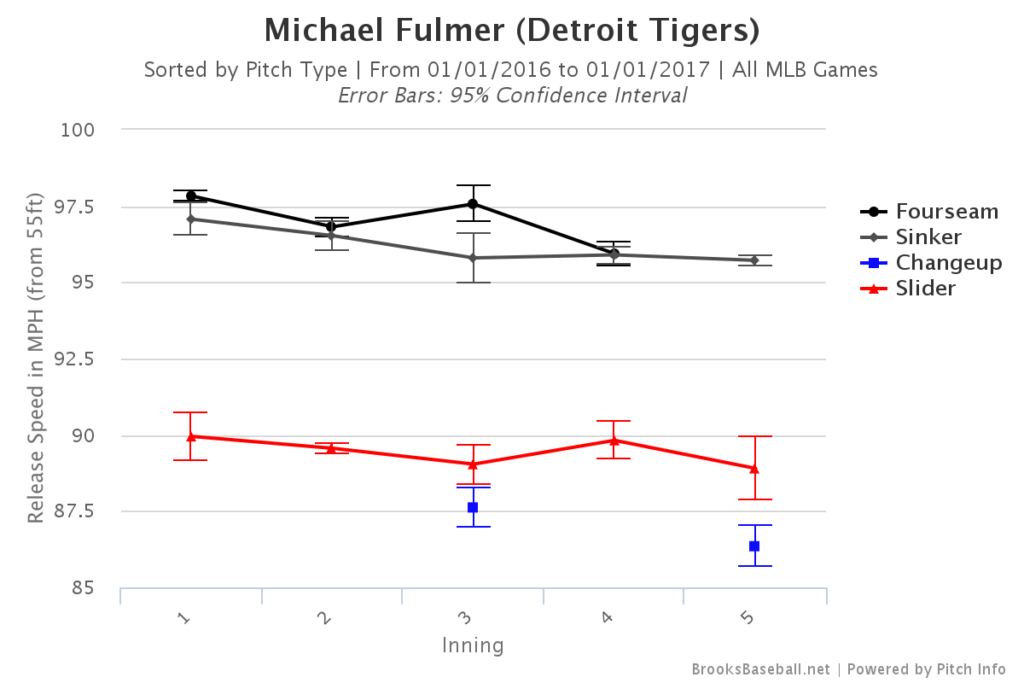 Fulmer did surrender seven hits in the five innings he pitched, but most weren't on hard contact and he only issued one free pass. It wasn't Stephen Strasburg blowing away 14 Pirates, but all of the ingredients you'd hope to see were there. The control, in particular, is very encouraging, given that prior to last season's breakout, Fulmer had really struggled to keep the ball in the zone.
That said, Fulmer's call up was nominally a two or three start stand-in for the blistered Shane Greene. Greene has pitched well so far, so it'd be perfectly reasonable for Detroit to send Fulmer back to Triple-A when the team's erstwhile fifth starter returns. But what if Fulmer isn't really replacing Greene?
Mike Pelfrey, acquired in the offseason for what now looks like an unconscionable sum of money, has been predictably awful in five starts for the Tigers. He's walked more batters than he's whiffed while earning every bit of his 5.68 ERA and 5.42 FIP. The Tigers have come out of the gate well and expect to contend in the crowded AL Central; they cannot afford an automatic loss every fifth day; they've won only one of Pelfrey's five turns.
He might end up back in Toledo after all, but if Fulmer can put together strong outings in his next couple starts, he can force the Tigers hand, and force Pelfrey to the bullpen.
To pick him up, I'd drop: Phil Hughes, Ross Stripling, Kevin Gausman
Sean Manaea | Oakland Athletics | SP
Sensing a theme here? Like Fulmer, Manaea's debut line doesn't jump off the page at you. He clearly didn't have his best stuff, but he also had the challenge of facing an extremely dangerous Astros lineup. He limited free passes and got ahead of Houston hitters, but struggled to finish them off. There's a tantalizing combination of performance and potential here, as his changeup, widely considered his third best pitch, was better than expected. Check out the full recap at Athletics Nation for more detail.
His Friday debut was fine, but the biggest boon to his short-term fantasy prospects came on Saturday afternoon, when news broke that Oakland starter Chris Bassitt is likely headed for Tommy John surgery after tearing his UCL. Bassitt is still seeking a second opinion, but I'd be floored if he didn't end up going under the knife. Get well soon, Chris.
With Bassitt likely out, only Sonny Gray, Kendall Graveman, and the resplendent Rich Hill remain as mainstays in the A's rotation. Jesse Hahn was both solid and lucky in his only start so far, but he needs an extension ladder to touch Manaea's ceiling and has never thrown 100 big league innings in a single season. Henderson Alvarez is rehabbing, but if Manaea can impress in this week's start against Seattle, I'd bet it'll be Hahn who gets displaced when Alvarez returns.
To pick him up, I'd drop: Brandon Finnegan, Jimmy Nelson, Nathan Eovaldi
Byron Buxton was sent down to Triple-A last week, after logging a .156/.208/.289 line and whiffing in nearly half of his plate appearances. In many cases, dropping that sort of player is the right move, but if you're in a league with at least a few bench spots, why not hang onto him as a prospect? I mean, there's a reason that he's been a consensus top five prospect going all the way back to 2013. Trea Turner is owned in almost exactly as many ESPN leagues as Buxton. We're sure he's going to succeed immediately in Washington?
It may feel like he's already failed, but keep in mind, we still only have 187 plate appearances' worth of MLB evidence on Buxton. That's not nearly enough to say he's broken or can't succeed at the big league level, especially when that sample includes stuff like this: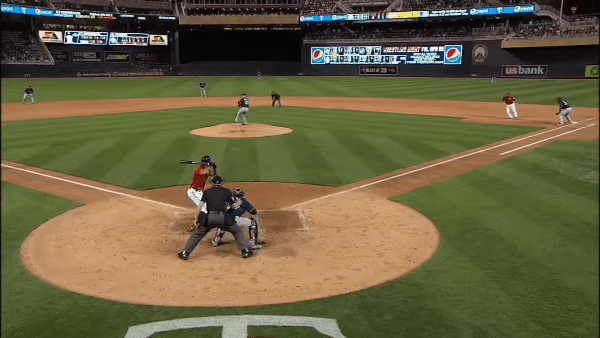 Buxton ropes a changeup into the leftfield corner for a run-of-the-mill double, except a slight bobble allows him to turn it into a stylish triple, nearly lapping poor Kurt Suzuki in the process. Name me five guys in the majors who have the tools to do that.
I'll wait.
To pick him up, I'd drop: Trea Turner, Lucas Giolito, Tyler Glasnow
3 TO CUT
Players to be traded or dropped, depending on the depth of your league
Dustin Pedroia | Boston Red Sox | 2B
There's never been a better time to trade Dustin Pedroia. If his two-homer outing last week is enough to coax somebody into taking him off your hands, it is your duty to make that deal. It's not going to turn out well for your trade partner, but hey, that's the circle of life.
Pedroia stopped running a long time ago, and people seem to have accepted that, but for whatever reason, we can't all seem to admit that he's stopped hitting for power as well.
Even for a second baseman, Pedroia is a bad power hitter. Since 2013, Pedroia ranks ninth in plate appearances among second basemen. Over that same span, he ranks 17th in home runs and 17th in HR/FB rate, per FanGraphs.
With little power and no speed, he's just empty average dipped in a hard shell of chronic injury risk. A second baseman who brings little beyond a luck-reliant stat to the table does not deserve to be owned in nearly 90% of ESPN leagues.
Oh, but he hit two home runs last week! Off of Bud Norris and Jason Grilli, no less! Well, pardon me.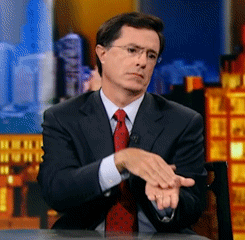 Pedroia's home run chart is one of the more interesting ones I've seen. All three of his homers this season have snuck down one line or the other.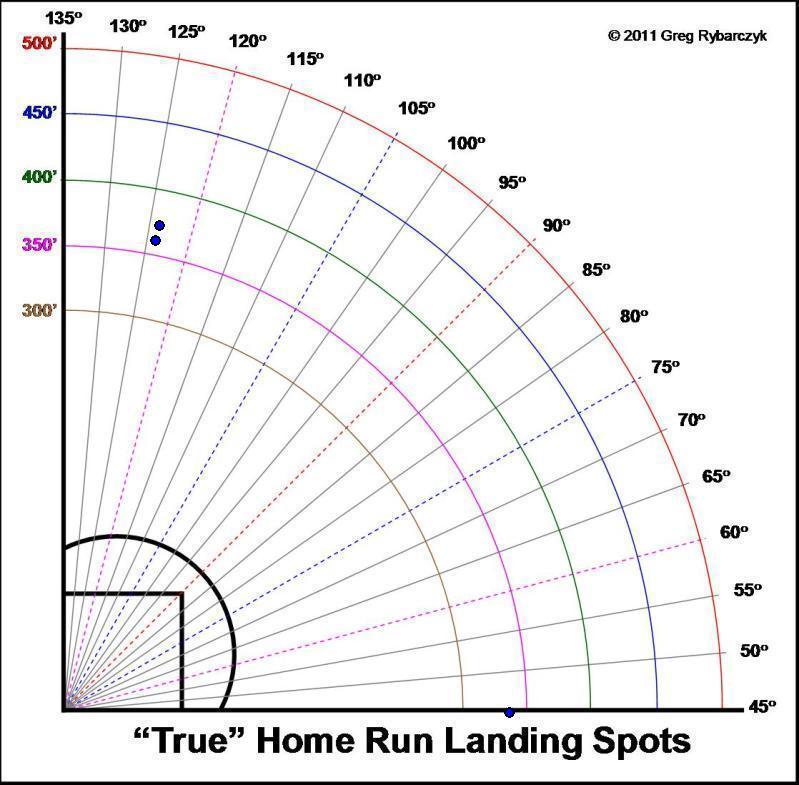 If you can somehow trade on his name value to get value back in a trade, make the move.
I'd trade/drop him for: Logan Forsythe, Addison Russell, Brett Lawrie
Unless you're in a very deep league or in desperate need of batting average, there's just not much reason to own Nick Markakis. He's a fine player who'll give you a nice batting average and an even nicer OBP, but few fantasy-relevant players will contribute less in home runs and stolen bases, and almost nobody in baseball is worse-equipped to turn on base ability into runs and runs batted in.
Markakis typically leads off in the Braves lineup. Clearly, that's not a great spot for run production, given he'll most often be coming up after the pitcher. But prior to the pitcher's spot, his possible ducks on the pond include Jeff Francoeur, Erick Aybar, and Mallex Smith. Those three are OBPing .286/.186/.278, respectively.
So that's not great. But the leadoff spot is usually a great place from which to score runs… unless you lead off for the 2016 Atlanta Braves. The three hitters most often behind Markakis are Daniel Castro, Adonis Garcia, and Freddie Freeman, who are slugging .232/.329.407, respectively.
Yikes.
Average-only hitters are useful in a normal situation, but is Markakis' run and RBI contributions are going to be a net negative, his average isn't enough to make him a valuable fantasy contributor.
BUD NORRIS HAS THE SEVENTH-BEST OBP ON HIS TEAM!
I'd trade/drop him for: Melky Cabrera, Jarrod Dyson, Delino DeShields
Knuckleballers are unique, loveable creatures, but especially in H2H leagues where one bad performance can torpedo a week's worth of pitching stats, they usually don't deserve a place on a fantasy team. Steven Wright has posted outstanding numbers so far, but he's not good enough to get me to break that rule.
Giving up home runs is a consequence of throwing a knuckleball. Sometimes, the ball just doesn't feel like dancing, and like we all learned at middle school dances, he who refuses to dance inevitably ends up in the seats. Generally, it's no different for the knuckler. Even Red Sox knuckleball wizard Tim Wakefield ran a career 1.17 HR/9 and only once kept that number under 0.83 in a full season.
So far this year, Wright has allowed a 0.34 HR/9, which ranks 13th-best among qualified starters, per FanGraphs. ZiPS and Steamer both project that number to jump to 1.11 the rest of the way. His HR/FB rate is a miniscule 4.0%, despite the fact that he's allowed a 35.2% fly ball rate and has yet to induce a single infield fly.
Eventually, Red Sox outfielders are going to run out of warning track and Wright's ERA is going to spike. With a hitter's park-heavy road trip coming up, closely followed by a home series with the homer-happy Astros, that spike likely won't be far away.
I'd trade/drop him for: Josh Tomlin, Trevor Bauer, Nathan Karns
3 TO KEEP
Players to hold or trade for; owned in most standard leagues
Drew Smyly | Tampa Bay Rays | SP
Mostly unintentionally, there's been a bit of a breakout theme to this post. In the spirit of continuing that, let's all realize that we live in a world where Drew Smyly is a borderline top 20 fantasy starter.
He showed absolutely everything in that outing. Smyly painted the corner at 93 mph, froze Big Papi with a front-door curveball, bailed himself out of trouble by coaxing weak grounders, punished lefties and righties alike with a disappearing slider, gassed hitters with shoulder-high heat… What else could you possibly want a pitcher to do?
His velocity and movement are improved on every single one of his pitches. His fourseamer, curve, and slider (PITCHf/x calls it a cutter, I think it looks more like a slider) are all above average whiff generators, per Brooks Baseball. Smyly has whiffed at least five in each of his five outings, has walked more than one just once, and has allowed only 18 hits in 34.2 innings. His flyballing tendencies will always leave him vulnerable to home runs, but it's a wonderful sign that he's boosted his IFFB% to a career best 16.3%.
If Smyly can stay healthy (which is a question we should append to an evaluation of just about any starting pitcher) he'll continue to be among the best fantasy producers in the game.
Smyly is in a select group of starters to rank in the top 20 in both walk rate and swinging strike rate. The others are Noah Syndergaard, Masahiro Tanaka, Corey Kluber, and Clayton Kershaw. Sounds like the right kind of company.
I wouldn't trade/drop him for: Sonny Gray, Matt Harvey, Danny Salazar
Wil Myers | San Diego Padres | 1B/OF
Is Wil Myers finally breaking out? Through his first 25 games, he's popped five homers, swiped three bags, and carries a.296/.336/.500 slash line. Finally, he's putting up stats befitting a former top prospect.
But there's no magical adjustment here. His approach at the plate isn't substantially different than before. He's swinging with roughly the same frequency at roughly the same pitches. The big difference is that this season, when he gets a chance to drive something up in the strike zone, he's doing it.
So it comes as no surprise that Myers' 305-foot average fly ball distance is by far a career high and ranks 29th in all of baseball, ahead of sluggers like Josh Donaldson, Chris Carter, and Ryan Braun. Per ESPN's Home Run Tracker, each of his five homers has travelled at least 394 feet and left the bat at better than 101 mph.
This kind of power is new to the most recent version of Myers, but he did finish 41st in average fly ball distance back in 2013, when he announced his presence with authority by slugging .478 and cracking 13 homers in 88 games as a rookie for Kansas City. He's battled injuries every year since then. Could it be that Myers has always had this level of production in him, he's just now healthy enough to unlock it?
Wrist injuries are notorious power sappers, and Myers finally got his achy wrist fixed with a surgery in June of last year. After he initially injured it in June of 2014, Myers logged a .247/.297/.371 line in the 296 plate appearances before the surgery. His post-return 2015 wasn't great, but after an offseason of recovery it's been a steady climb, starting with a sizzling 2016 spring.
So it's settled. Wil Myers is breaking out and we can finally be justified in our anger about the James Shields trade! I mean, that couldn't have possibly worked out for the Royals, right?
I wouldn't trade/drop him for: Joc Pederson, Kole Calhoun, Randal Grichuk
Much like the previously mentioned Myers, there are many in the baseball community (myself included) whose antennae are permanently perked up in anticipation of a Nick Castellanos breakout. His .361/.371/.590 line through 23 games certainly qualifies, even if it's backed by a league-leading BABIP (strangely, this isn't even the first time that the league leader in BABIP has shown up in this section). That's honestly not a red flag for me at all. Castellanos has never BABIPed below .322 as a full time big leaguer; his line drive stroke lends itself to a high average on balls in play.
Eno Sarris, as he often does, wrote an exceedingly smart piece on Castellanos toward the end of last season, notably pointing out how he'd learned to use his lower half to generate more power on what was already a naturally smooth stroke. In the earlygoing this season, it certainly looks like that adjustment has carried through. Check out the hip turn as Castellanos deposits this Tony Watson hanger into the first row of PNC Park seats.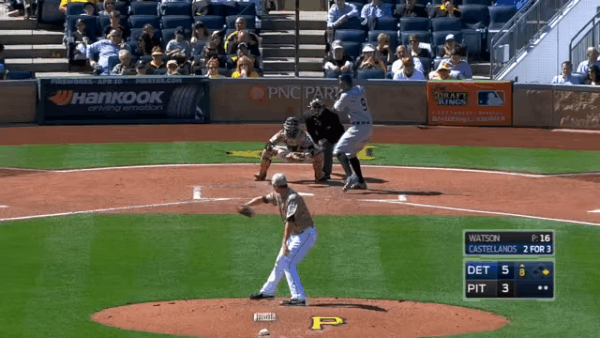 He reaches a bit, but synching his upper and lower body allows Castellanos to maintain enough leverage to drive the ball out of the ballpark. He did almost exactly the same thing on Sunday against Ricky Nolasco.
I'd like to see Castellanos take more walks, but at this point in his career, I don't think his natural aggressiveness is going anywhere. But if this power breakout is real, and it certainly looks like it is, he becomes a viable third base option in just about any mixed league.
And Castellanos is clearly more confident than ever. Anybody who sports this shirt for a postgame interview must be…
I wouldn't trade/drop him for: Travis Shaw, Anthony Rendon, Justin Turner