2016 Fantasy Baseball: Week Eight Two-Start Pitchers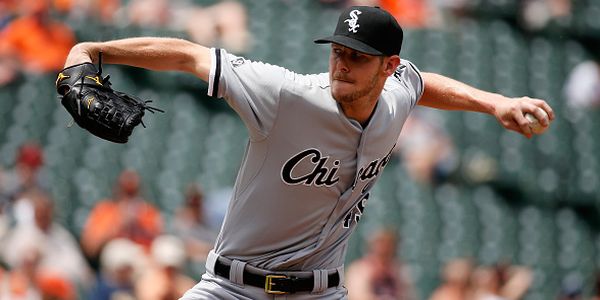 A fantasy owner's best friend is the waiver wire—where finding value can make the difference between a great week and a very disappointing one. Most pitchers see the mound once every seven days, but if you want to maximize the number of starts per week, it's important to look for pitchers pitching twice and exploit favorable matchups if they exist. With that being said, let's take a look at some pitchers you should be starting this week and some you should just leave on your bench.
Elite
Clayton Kershaw | Los Angeles Dodgers
Opponents: Brandon Finnegan (CIN), Bartolo Colon (NYM)
Let's keep this section really short; start Clayton Kershaw every week, period. The Dodgers ace is on his way to picking up another Cy Young award and his matchups this week are excellent. Los Angeles may be a mediocre team, but Kershaw can pitch nine innings and make it look easy. Let's hope his team can find a way to score some runs.
Chris Sale | Chicago White Sox
Opponents: Corey Kluber (CLE), Edinson Volquez (KC)
Speaking of pitchers who are on pace to win a Cy Young, Chris Sale has been lights out since the beginning of the season, and that shouldn't change this week. The southpaw is 9-0 in nine starts, has a 1.58 ERA and a 0.72 WHIP. The Indians and Royals are middle-of-the-pack teams when it comes to hitting against lefties, but Sale is filthy, and there's no way either team gets more than three hits against him (book it!). The Royals don't strike out very often, but that shouldn't faze fantasy owners. Expect the White Sox starter to be 11-0 come Sunday night.
Stephen Strasburg | Washington Nationals
Opponents: Matt Harvey (NYM) (probable), Michael Wacha (STL)
Stephen Strasburg is an elite option heading into this week. Sure, the Cardinals are sixth in team batting average (.270) and second against righties (.283), but they also strikeout a fairly decent amount—7.8 times per game to be exact. That's league average, but Strasburg has the stuff to rack of double-digit punch-outs in that game. The Mets don't exactly scare anyone, so there's no reason to be concerned with that game. Strasburg is a lock this week, so roll him out there and get rewarded.
Other Elite Options: Gio Gonzalez, Jake Odorizzi.
Mediocre
Johnny Cueto | San Francisco Giants
Opponents: Drew Pomeranz (SD), Chris Rusin (COL)
Johnny Cueto is an interesting play this week. He's dominated the Padres so far this season, picking up two wins and sporting a 0.50 ERA in two starts. It's a small sample size, but it's good enough for me. The flip side of the coin is he also has to pitch at Coors Field, and that's a nightmare. As good as Cueto has been up till now, Colorado is a graveyard for pitchers, and the Rockies are fourth in team batting average against right-handed pitchers. Things could get ugly in that game, but it's just so hard to bench him at this point. Roll him out there and hope it doesn't end too badly.
Ian Kennedy | Kansas City Royals
Opponents: Ricky Nolasco (MIN), Mat Latos (CHW)
Ian Kennedy is a good play this week, but let's keep the optimism to a minimum for now. The righty has a date with the terrible Minnesota Twins on Monday, followed by an average matchup against the White Sox on Saturday. The Twins are ranked 24th in team batting average and are averaging close to nine strikeouts per game, while the White Sox are ranked 15th in batting average and 16th in strikeouts. Kennedy is a hard thrower, so the Ks will be there, but he can issue his fair share of walks as well, which is dangerous. If he can control his breaking pitches and get hitters to swing and miss, the 31-year-old could have a huge week.
Francisco Liriano | Pittsburgh Pirates
Opponents: Shelby Miller (ARI), Martin Perez (TEX)
Francisco Liriano is a risky play this week, but I'll give him a pass because he's still a pretty good pitcher. The veteran lefty has a 3-3 record in eight starts this season, with a 4.63 ERA and a 1.50 WHIP. The numbers are decent, but the D'backs and Rangers have dominated left-handed pitchers up to this point this season:
| | | | | | |
| --- | --- | --- | --- | --- | --- |
| | AVG. | HR | RBI | SO | SLG |
| Arizona | .276 | 17 | 57 | 88 | .482 |
| Texas | .278 | 11 | 61 | 98 | .404 |
| Rank | 3rd/4th | 4th/16th | 5th/2nd | 16th/13th | 2nd/12th |
(Courtesy MLB.com)
The numbers aren't exactly comforting, but despite that, Liriano should be able to pitch well and help fantasy owners this week. The risk is high, but the reward is pretty high too.
Other Options to Consider: Jimmy Nelson, John Lackey, Taijuan Walker, Mat Latos, Rich Hill, Vince Velasquez.
Bench
Adam Wainwright | St. Louis Cardinals
Opponents: John Lackey (CHC), Gio Gonzalez (WAS)
Has Adam Wainwright gone back to being an elite pitcher? Nope. Yes, the 34-year-old pitched 6.2 innings in his last start and allowed zero runs, but he got obliterated in the start before that, allowing six runs on 11 hits. Outside of his last start, Wainwright has given up three or more runs in every start this season. That's not good. Sure, he's picked up some quality starts here and there, but his matchups against the Cubs and Nationals is something to worry about. Both teams can hit for power (50 HRs each), and both teams can drive in runs (Cubs: 220 RBIs, Nationals: 187 RBIs). Wainwright is still trying to find his form, and until he returns to being an elite pitcher, just leave him on the bench. Not good news for fantasy owners, but its reality.
Michael Wacha | St. Louis Cardinals
Opponents: Jason Hammel (CHC), Stephen Strasburg (WAS)
Sticking with St. Louis pitching, Michael Wacha is another pitcher that should ride the bench this week. His 4.03 ERA and 1.46 ERA are respectable, but unlike Liriano, Wacha has been real inconsistent this season. He started the season off fine, got better by the end of April/beginning of May, but has had a rough time in his last three outing. He's given up 16 runs (12 earned) and 22 hits in those three starts and has failed to pitch into the fifth inning in the last two. Wacha may pitch very well this week, but the risk outweighs the reward.
Mike Pelfrey | Detroit Tigers
Opponents: Vince Velasquez (PHI), Rich Hill (OAK)
For the love of baseball, please don't pick up Mike Pelfrey for his two starts this week. On paper, the matchups against Oakland and Philadelphia seem great, but Pelfrey is a terrible pitcher, and that won't change. Both teams are below-average hitting teams, so someone out there is going to get sucked into picking up the Tigers starting hoping he delivers for their fantasy team. It won't happen, trust me on this. Save yourself the disappointment and don't add Pelfrey. You're welcome in advance.
Other Pitchers to Bench: R.A. Dickey, Chris Tillman, Rickey Nolasco, Martin Perez, Matt Moore.
Stats and references provided by www.MLB.com and www.ESPN.com