2016 Fantasy Baseball: You Know What They Say About Men With High ADPs…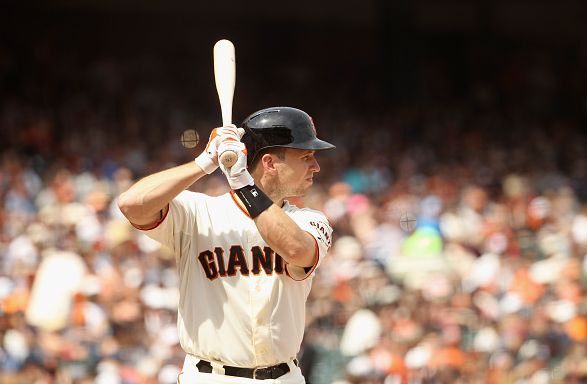 …they're often overvalued.
As many women can probably attest to, if a man is being acknowledged for one particular, standout characteristic, they're likely hiding some big flaws beneath the surface.
Just like the timid co-ed being wooed by the talented, yet troubled star QB, fantasy baseball owners have to discriminate when making their draft selections, weighing the positives and negatives. Media coverage, off-season hype and recency bias can elevate a player's perceived value.
Most of you will have some sort of cheat sheet handy as your league's draft kicks off. It'll be a list of the players you like mixed in with some of the site's preset rankings. Nearly every site allows you to sort the players by average draft position, or ADP, which is basically what it says it is: the average spot each player is being selected overall on that site. ADP gives us a good starting point when evaluating players; after all, it is data compiled using results from millions of drafts. But ADP isn't the end all when it comes to whom you should be selecting for your team.
Every fantasy owner has their list of "sleepers" or breakout players. They'll usually target a few of them as the draft gets to the middle rounds. There's really no right answer to why a player may be considered a sleeper. Stats help, of course, and that's where most conclusions will be derived from.
Finding those few sleepers that actually pan out can be the difference between a ho-hum season and a fantasy championship. It's these players, not the ones you take in first few rounds, that usually end up swaying the tide. Recognizing the potential for a breakout is a true skill, but it's an even bigger advantage if you can get great draft value from them as well.
I'm a pretty big fantasy baseball junkie who has completed quite a few drafts already, so I've been able to get a good feel about which players are being drafted too high and which players have garnered serious value in the later rounds. In this article, I'll be listing some "popular" players and their cheaper, usually better alternatives. In some cases, the players with the lower ADP may not only give you more value, but may just be better players to own, plain and simple.
Each league has different scoring settings and formats, but for this exercise I will keep things on the generic (and simple) side, covering only the infield positions — 'cuz no one wants to read a 3,000-word article — and use the standard roto format, i.e. 12-team rotisserie with five hitting categories (HR, RBI, R, SB, BA). Though auction drafts are the truest form of drafting, the majority of fantasy baseball leagues run snake-style drafts, so that's what I'll be using. I will draw my ADP info from FantasyPros' composite rankings, which shows us the average of the five major fantasy baseball sites: ESPN, Yahoo!, CBS, NFBC and RT Sports.
Catcher
Buster Posey, Giants (#23 overall, #1 C)
I don't think I've ever owned Buster Posey in fantasy baseball, and that says a lot given that I usually manage 12-15 teams per season. Don't get me wrong, Posey is the best fantasy catcher out there, bar none. The problem is that in order to own him you must use a second round pick, and that's too steep of a price for me. Posey is always overvalued because he's so much better than anyone else at his position, but just because he's the best catcher doesn't mean he's worth drafting in such a key spot. If he didn't have a "C" next to his name he'd probably be taken three or four rounds later.
Posey gives you elite batting average (.310 career), but that's really about it. Sure, he's knocked in 89 or more runs three times, but he's never hit more than 24 homers and has only surpassed 20 dongs twice in his career. These are excellent numbers for his position, but overall they're just very good. Chris Davis is going four spots later and hit six more homers last season than Posey did the past two years combined. He also scored 26 more runs. Yeah, Davis' BA sucks, but you're getting better stats in the other three categories (neither player steals bases).
It's fitting we started with catcher, because it's truly the one position I almost always "punt", meaning I focus on stacking other spots and grab a high-upside catcher later in the draft. If you miss out on the top four or five guys it's okay. Don't beat yourself up over not having a stud catcher, it's the least important position on your roster. (Note: in 2-catcher leagues and AL/NL-only leagues this strategy changes a bit, but still stays somewhat close to form.)
Assuming you follow my advice and avoid the top-ranked backstops, here are some guys you can fall back on:
Yan Gomes, Indians (#204 overall, #11 C): A player's production dips if they've been on and off the DL all year, and often times that causes them to drop in popularity come draft day the following season. I absolutely LOVE to target these players because they're consistently overlooked and can be had on the cheap. Such is the case with Yan Gomes. The Indians catcher was limited to just 95 games in 2015 after suffering an MCL sprain in early April. He's had quite some time to recover, and even hit nine homers in the second half, but fantasy owners aren't having it. He's going off the board in the 17th round and is one of the few backstops out there that has 20-homer potential, won't hurt your batting average and plays almost every day.
Wilson Ramos, Nationals (#281 overall, #20 C): It seems like Ramos lands on sleeper lists every year, and rightly so. The problem is he always manages to get hurt. He did, however, manage to get 504 plate appearances in 2015, and it showed in the box score, as he finished sixth among all catchers with 68 RBI. An unlucky. 256 BABIP led to an abysmal .229 BA, but if he can get that BABIP back up near his career .281 and couple that with positive results from his recent LASIK surgery, we could have the makings of a top-eight fantasy catcher.
First Base
Brandon Belt, Giants (#131 overall, #14 1B)
Sorry, Giants fans, I promise I won't pick on you guys anymore after this one.
Brandon Belt isn't being drafted as an elite player, and no one is really overextending themselves to take him (except ESPN users, who are taking him 93rd overall, which is insane), but the fact that he's this high is alarming.
Belt is a solid player, no doubt, but his fantasy ceiling is far lower than a lot of the first basemen being selected after him. Yes, he's still in his prime years — he'll turn 28 in April — but he never had more than 18 HR or 68 RBI in a season, and it's not like he's making up for that by hitting over .300, à la the player formerly known as Joe Mauer.
Of the first 28 everyday 1Bs/DHs taken in drafts, Belt is one if just three who have never hit more than 20 HR in a season, not to mention his FB% dropped dramatically in 2015 (37.9 compared to 39.9 career). The Giants 1B will be good for another 18 homers, maybe even 20-22, since he probably would have reached that plateau had he not missed 25 games last year. He'll get you 65-80 RBI, won't hurt your BA and will chip in a handful of stolen bases, but he simply lacks the upside you want when taking a guy in the 10th round.
I'd rather have one of these guys…
Lucas Duda, Mets (#153 overall, #15 1B): If you pass on Belt, Duda is the next guy up when it comes to ADP, and he's a far better option. The Mets' 1B was a late bloomer, but he's crushed 57 homers over the past two seasons, including 27 in just 135 games last year. He won't hit for average, but he's a lock for 25+ HR and 85 RBI in an improved Mets offense.
Mitch Moreland, Rangers (#243 overall, #23 1B): Remember how Belt has never hit more than 18 dongs in a season? Well, Moreland has 23 long balls in two of his last three campaigns. The Rangers lineup is stacked this year and Moreland should once again be heavily involved. He'll have at least, if not more, homers and RBI as Belt and you can snag him 10 rounds later.
Second Base
Rougned Odor, Rangers (#85 overall, #7 2B)
Odor is a fun guy to own; he's just 22 years old and already hitting mammoth home runs. The problem is his ADP is just too damn high!
A poor start last season led to Odor being sent down to Triple-A, but that ended up being a good thing. Prior to his demotion he was hitting just .144 with only five extra-base hits and 25 strikeouts in 103 plate appearances. After his call-up on June 15, he hit .292 with 15 homers and 52 RBI. Quite a difference a little minor-league seasoning can make.
Well, what can Odor do in a full season with his improved batting? He'll probably hit in the .260-.270 range — his 4.5-percent career walk rate will limit his upside there — with 20 or so homers and 70+ RBI. Not bad at all, but not worth the 85th overall pick. A big caveat here is that people seem to think he'll be a 15-20 SB guy when in reality it'll probably be closer to 10. He has a 19- and 27-swipe season to his credit in Single-A, but since then he's shown little on the base paths, and that's likely to continue if he slots in to the eighth spot in the lineup like he did the majority 2015…which brings us to another reason why I'm not incredibly high on him from an ADP standpoint.
Last season, Odor hit eighth 29 percent of the time, more than any other place in the Rangers lineup. While there's no pitcher hitting behind him in the AL, the eighth spot is not particularly appealing in fantasy. The Rangers have actually moved him all over the lineup this spring, having hit second and even fifth at times, but either way, hitting at the top of the lineup is not going to happen every day, especially when there's a lefty on the hill.
I really do like Rougned Odor, but his price is a bit too hefty for me. I'd pass on him and take a look these other options at the keystone:
Dustin Pedroia, Red Sox (#166 overall, #13 2B): Injury is always a concern with Pedroia, who has missed 99 games the past two seasons, but a healthy version of the Sox' second baseman could net owners a steal in the 13th round. Boston finished fourth in runs scored last season and Pedroia should be a table setter for that offense. If he gets to 600 plate appearances, I can easily see him finishing with 90 runs, 10 HR, 70 RBI, 10 SB and a batting average above .280.
Jonathan Schoop, Orioles (#230 overall, #19 2B): Schoop doesn't walk or steal bases and he will hit near the bottom of the Orioles' lineup, but he cracked 15 HR in just 321 plate appearances last season, which opens the door for a 25-plus-homer season. He could lead all 2Bs in homers, and that's certainly worth waiting for in the 19th round.
Third Base
Matt Carpenter, Cardinals (#56 overall, #6 3B)
Here's what I know about Matt Carpenter: he won't repeat his 2015 performance. Yes, I said I know. Not I think, I know. Strong statement, right? Well not necessarily. We're talking about a guy whose previous career highs in the power department were 11 HR and 78 RBI. Last year, he almost tripled his home run output (28 HR) and knocked in 84 runs. In 2015, he was no longer the ground-ball hitter we have grown accustomed to; he was a full-blown power hitter, trading plate discipline for the long ball.
In his four previous seasons, the Cards third baseman K'd just 15.5 percent of the time. Last year he struck out in a whopping 22.7 percent of his plate appearances, which makes sense because he was only making contact 66.6 percent of the time, a good 9 percent less than his previous two seasons. His fly ball rate was extreme (41.7% compared to 36.7% career) and his ground ball rate was 7.7 percent below his career average. He was also swinging at more pitches in general, with a 38.9 swing rate — 2.2 percent above his career norm.
Carpenter is a solid option at third base, but it's not possible for him to hit 28 homers again. Unfortunately, he's being drafted as such. What's more likely is he falls back somewhere in between last year and his career numbers, which is not a bad thing. I'm projecting 18 HR, 72 RBI, 95 runs and a .280 BA — very good numbers, but not worthy of being the sixth 3B off the board when players with just as much, if not more potential can be had rounds later.
Who can you draft as an alternative?
Kyle Seager, Mariners (#73 overall, #8 3B): Seager is two years younger than Carpenter, has 20+ homers in each of the last four seasons and has driven in at least 74 runs in three of them. He can be had 17 picks after Carpenter
Anthony Rendon, Nationals (#90 overall, #10 3B): Rendon is getting lost in the shuffle because of his injury-ridden 2015 season, but he could easily match my projected numbers for Carpenter, and he would do so three rounds later.
Shortstop
Elvis Andrus, Rangers (#147 overall, #9 SS)
I never understood the appeal of Elvis Andrus…ever. He's a one-category player with zero upside in the remaining four categories. He'll get you your requisite 25 steals, but after that it's all downhill. He's never hit more than seven homers or driven in more than 67 runs in a season, and he's now the Rangers No. 7 hitter, which limits him to 70-80 runs. The owner of a career .270 BA, he won't even help you in that category the way many speedsters do.
So why do people keep taking him in the middle rounds every single season? I honestly have no clue; maybe they're huge Elvis fans — you know, the chubby one with the rhinestone cape.
If it's speed you want, here are some shortstops that can get you stolen bases and do so at a more reasonable cost.
Jean Segura, Diamondbacks (#208 overall, #13 SS): Segura literally matched Andrus in almost every category last season, finishing with 1 HR, 19 RBI, 12 runs and .001 BA less, and did so in 101 fewer plate appearances. They both stole 25 bases too. The former Brewer is now in Arizona where he gets to play in a much better lineup. It's a no-brainer to bypass Andrus and wait for his exact replica five rounds later.
Ketel Marte, Mariners (#214 overall, #14 SS): Marte was a welcome surprise to the Mariners lineup during the second half of the season last year. The 22-year-old hit .283 with 2 HR, 17 RBI, 25 runs and 8 SB. He's stolen at least 15 bases in each of his minor league seasons and could reach 30 this year if he keeps his on-base percentage above .340. Marte can hit for average, which is something Andrus doesn't do, and he's also projected to hit second for the M's, which gives him a chance to score 80+ runs. Like Segura, Marte is not only a better value than Andrus at his ADP, he may actually be a better fantasy option in general.