2017 Fantasy Baseball: 3 to Add, 3 to Keep, 3 to Drop– First Base Edition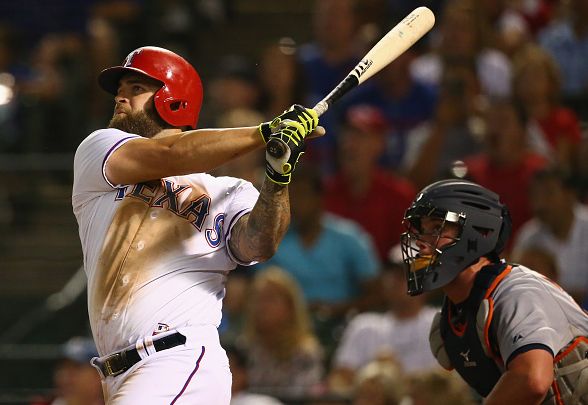 As we continue on with the 3x3x3 saga we move to first base where things are really moving and shaking. The key is to know which category to put guys into. Sometimes you may drop a guy that is simply slumping. Sometimes you may add a guy that is simply having a hot week. Utilizing the waiver wire is definitely an art and a science.
3 to Add
Ryan Zimmerman— Washington Nationals
What's going on?
Champions aren't crowned in May and MVP awards aren't given away before Memorial Day, but if they were then Zimmerman would win the prize. As of this writing, he is hitting .420 with 13 home runs. That's a ludicrous sum at this juncture, so odds are overwhelming that he has been added in your league. If he hasn't, make the move immediately.
Barriers to Launch
Zimmerman last had 500 or more plate appearances in 2013. He had 26 home runs that season, so if he is healthy it is a fair bet that he will be that productive overall, but these numbers are unsustainable.
Eric Thames–Milwaukee Brewers
What's going on?
This is another one of those mentions that's really a no win scenario. If you fail to mention him then you kind of look like you don't know what you are talking about. Mention him and someone will say, "thanks genius, someone added him a month ago." He's already been drug tested three times, so obviously everyone from the commissioner's office on down is noticing what he is doing.
Barriers to Launch
Much like Zimmerman, we are fighting history. Sure, he hasn't had the injury concerns, but this also isn't his first rodeo. He has a .704 career OPS and that includes the first five weeks of this season. Needless to say, we can expect a regression.
Cody Bellinger— Los Angeles Dodgers
What's going on?
In parlance, Adrian Gonzalez is probably pretty similar to Wally Pipp in his relative reputation in the game. Pipp led the league a couple of times in RBI and would have been an all-star had their been an all-star game. So, it is concievable that Bellinger could supplant Gonzalez full time. He certainly has gotten off to a Gehrig like start. He has an OPS over 1.100 through his first 40+ plate appearances. Now, he just has to sustain it.
Barriers to Launch
Gonzalez is getting paid a lot more money than Wally Pipp got paid. It's hard to justify sitting that much money is on the bench, so when Gonzalez returns from the disabled list it will be really hard to justify keeping him on the bench.
3 to Keep
Edwin Encarnacion— Cleveland Indians
What's going on?
He has gotten off to a .229 start on the season with "just" five home runs and 11 RBI through the first five weeks. Those numbers are up from the beginning of May. When a player reaches their mid thirties it can be more difficult to exercise patience. After all, what might look like a slump could be the beginning of the end. Encarnacion has earned the benefit of the doubt. He's averaged well over 100 RBI over the past five seasons.
Drop if
Memorial Day is always the marker day for me and even then I wouldn't simply drop a struggling Encarnacion. Someone will give you something of value for him.
Miguel Cabrera— Detroit Tigers
What's going on?
It's hard to imagine criticizing a guy with four home runs and a .273 batting average at this stage of the season, but people have come to expect a lot from Cabrera. Nobody in their right mind would drop Cabrera, but some people may be tempted to deal him. Like Encarnacion, he is getting to that age where some might fear a drop off. I won't go through the effort of listing the numbers, but he probably has earned a little more leeway than most.
Drop if
Again, you don't drop a player like Cabrera, but if someone gives you all-star value in return it might be a decent gamble. Otherwise, you hold on to him like a struggling stock.
Chris Davis— Baltimore Orioles
What's going on?
Davis hasn't earned the same nod as Cabrera and Encarnacion, but he has earned some benefit of the doubt. In point of fact, the batting average and OBP are around career norms. The power simply hasn't come around like they have hoped, but power hitters like Davis get the power in bunches. We will probably see hin at 30+ home runs by the end of the season.
Drop if
Again, Memorial Day is the magic day and again simply dropping him doesn't make sense. Someone will give you something for him if you simply want out.
3 to Drop
Mike Napoli— Texas Rangers
What's going on?
I'm as patient as the next guy, but I knew I needed a change when the calendar flipped to May and Napoli was still on the interstate (.100s). There are just too many decent first basemen out there that keep throwing Rob Deer types into your starting lineup. Of course, we could miss a huge power surge, but a .170 or .180 batting average simply isn't worth it.
Keep if
You see a sudden hot streak before you pull the trigger.
Joe Mauer–Minnesota Twins
What's going on?
Remember hope and change? Remember flip phones and video games with a great catcher on the cover? Whatever happened to that guy? Well, he is still playing, but the special spark that was the guiding light of a franchise has become ordinary and is no longer catching. It's bad when you hit .240 with no power as a catcher. It's catostrophic when it happens at first base.
Keep if
Mauer suddenly discovers the fountain of youth somewhere near Clearwater.
Brandon Belt— San Francisco Giants
What's going on?
I have nothing against Brandon Belt. He's a very good defensive first baseman and he has a very good batting eye. In five category leagues that does nothing for you. Even in six category leagues he is a bottom tier fantasy first baseman. So, much love to Belt for what he brings to the table in real baseball, but in fantasy baseball it simply doesn't translate.
Keep if
He gets on a sudden hitting streak or sudden power streak. Unlike the others on this list he may have long-term value on your bench if you are in a deep bench league.