2017 Fantasy Baseball: AL West Rotation Rankings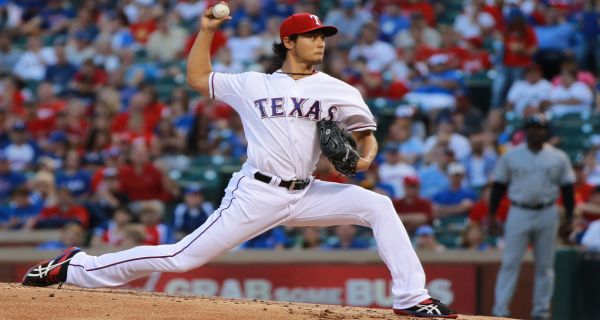 Everyone loves lists and the offseason is always the prime time for lists. Unfortunately, lists have their limitations. In the case of rotations, we look at the top five guys according to rosterresource.com and go from there. So, everyone should take these rankings in the spirit that they are intended. This isn't meant to be a definitive prediction, but more of a power ranking at this point in the offseason.
We are grading these rotations using three Baseball Prospectus numbers. The first is their version of wins above replacement (WARP). It gives us an idea of which rotations have the best track records according to their three year average. Their ERA estimator (deserved run average or DRA) is next. It calculates an ERA based on batted ball rates, home ballpark norms, and typical left on base numbers. Finally, there is total average against (TAVA) which is more literal than DRA. It adds everything hitters do against a pitcher and sets .260 as average.
Houston Astros
WARP: 15.6 (4th)
DRA: 3.40 (2nd)
TAVA: .248 (5th)
Key Changes
The one key change is seeing Doug Fister move on and the signing of Charlie Morton. Fister was more durable, but Morton fits what they are trying to do. The fielding rating from Baseball Prospectus probably doesn't capture what they do. They were first in the AL in positive runs saved due to infield shifts. That sounds like a mouthful, but essentially it means they stack their rotation with groundball pitchers and let the scouting reports do their work.
Unfinished Business
The Astros have been asking everyone but Santa Claus for a staff ace to add to their rotation. Dallas Keuchel should bounce back, but he likely will never be the pitcher he was in 2015 again. Lance McCullers is promising, but he hasn't been able to turn in a full season yet. They've inquired on Chris Archer, Jose Quintana, and Sonny Gray. So far, they've landed none of them.
Prognosis
When you combine good team fielding with a very good bullpen then the Astros rotation plays up a bit. It should be good enough to get them to the playoffs should they remain healthy. When they run into Cleveland or Boston in a seven game series it could be brutal.
Los Angeles Angels
WARP: 8.8 (11th)
DRA: 3.86 (7th)
TAVA: .259 (11th)
Key Changes
The Angels were built around Jered Weaver's consistent performance for years. He's gone and it was past time for that happen. Now, Garrett Richards is the main guy. They added Ricky Nolasco at the deadline last season. He performed well down the stretch, but I think Nolasco is Italian for disappointment. The Angels don't have any big time arms, but they have enough mediocre ones to perhaps compete.
Unfinished Business
The Angels are strapped for cash and don't have prospects to deal, so they are stuck with what they have. They do have some decent young arms that are currently on the shelf. If they can return by the summer time they could give the team a real shot in the arm.
Prognosis
Like many other teams in the league, the Angels find themselves not quite good enough to win and not quite bad enough to lose. Replacing Jered Weaver in the rotation is a good start. Simply adding replacement level performance would do that. If a couple of young pitchers step up they could be even better than that.
Oakland Athletics
WARP: 8.2 (13th)
DRA: 4.03 (11th)
TAVA: .257 (9th)
Key Changes
The Athletics don't have the money or the mojo to add established talent to the rotation. At the moment, they have Andrew Triggs and Jharel Cotton at the bottom of the rotation. Those two have combined to average 1.4 WARP in their career. If they both turn in a full season they could easily double that total and vault themselves into the middle of the pack. A bounce back season from Sonny Gray could vault them even higher.
Unfinished Business
The A's don't have the capital to add more pitching. They need young pitchers to step up and settle in as solid big league pitchers. You also have some guys not on the five man list that could end up stepping. Daniel Mendgen is one of those guys. He had a cup of coffee last year and could break into the rotation with a good spring.
Prognosis
The key to the Athletics season could be the performance of Sonny Gray and yet he is probably the best trade piece they have. The key question is whether they want to try to compete with the outside chance of winning a wild card or whether they want to cash in what they have now and build for the future. Of course, for them it seems like they are always doing that.
Seattle Mariners
WARP: 14.2 (5th)
DRA: 3.68 (6th)
TAVA: .252 (6th)
Key Changes
No team has seen more change in their rotation than the Mariners. It began when they traded Taijuan Walker to the Dbacks for Jean Segura. Then, they turned around and dealt Seth Smith to the Orioles in exchange for Yovani Gallardo. They then traded Nate Karns to the Royals in exchange for Jarrod Dyson. Finally, they brought in Drew Smyly from the Rays. All told, they have three holdovers from last season, but it seems like there has been more movement than that.
Unfinished Business
It's hard to imagine the Mariners moving any more pieces before the beginning of the season, but they are clearly trying to stake their claim on the AL West. No team has seen more change in all three phases of their roster than the Mariners. When a team goes through that much change it can be difficult to predict to see how it all comes together.
Prognosis
There is a lot riding on this season and there is a lot riding on the performances of Gallardo and Smyly. Both pitchers came off of disappointing seasons and you could easily throw Felix Hernandez into that discussion as well. If you are one to bet that those that were down are destined to come up then you'd bet on the Mariners next season.
Texas Rangers
WARP: 15.9 (3rd)
DRA: 3.41 (4th)
TAVA: .253 (7th)
Key Changes
The Rangers did some shuffling at the bottom of the rotation and it could end up being enough to get them back to the playoffs. Yu Darvish and Cole Hamels are a really good combination, but depth has always been the problem. This offseason they added Tyson Ross and Andrew Cashner. Both are long on talent, but have had injury and effectiveness issues that have held them back. If they can unlock that potential they could be devastating.
Unfinished Business
Ross will not be available for a couple of months and Cashner is far from predictable. They may not have a ton of money in the bank, but a Jason Hammel could fall into their price range. All they really need is a guy that can give them six solid innings every five days. That could be the difference between another trip to the playoffs and an early trip to the golf course.
Prognosis
The Rangers made it on smoke and mirrors last season with a Pythagorean roll of the dice that would make a coked up craps player blush. They will need some more luck to move on again and they may have it in the likes of Cashner and Ross. They may need one more piece to make this work.