2017 Fantasy Baseball: Chicago White Sox Team Preview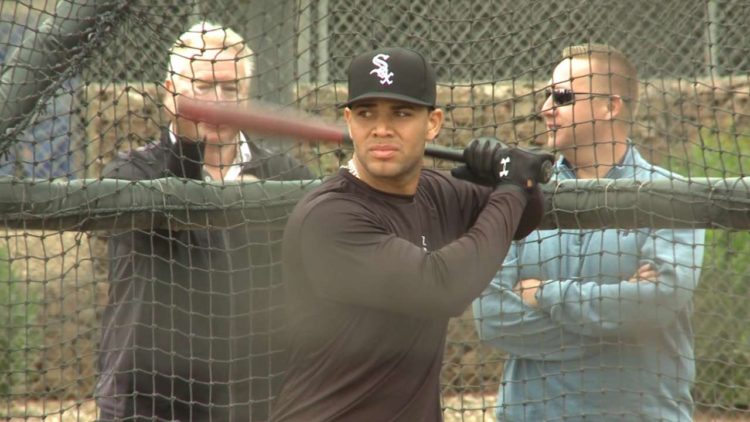 OFFSEASON OVERVIEW
Major League Baseball's two franchises located in city of Chicago are moving in drastically different directions. The team on Chicago's north side, the Cubs, are reigning World Series Champions and have built an absolute juggernaut for years to come with their collection of young talent. The White Sox, however, have been operating on the fringes of contention for the last few years and find themselves in total sell-mode heading into 2017. Now, the White Sox haven't quite reached the "everything must-go" portion of their fire-sale, but the club did start the rebuilding process by dealing two of their three most productive players from 2016.

Chris Sale was traded to the Red Sox in the blockbuster deal of the offseason back in early December, and the club moved right fielder Adam Eaton to the Nationals just a day later. The White Sox front office was praised for the talent they got in return for Sale and Eaton, but more on that later in the article.
Chicago also signed lefthander Derek Holland for some additional pitching depth, but with James Shields slotted to be the club's number two starter, the Sox are clearly just trying to get pitchers that can eat up some innings as they start retooling for the future.
POTENTIAL LINEUP
Yoan Moncada was the biggest piece coming back to Chicago in the Sale deal, and although he was a bit exposed in his brief cup-of-coffee with Boston last season, he will get a chance to work out his issues at the Major League level with the White Sox. Moncada is slated to be Chicago's second baseman for 2017, and will likely hit towards the top of the order thanks to his overwhelming speed. 24 year-old rookie, Charlie Tilson will get a shot in centerfield with Eaton moving out of right, but the rest of the Sox's lineup should look very similar to last year.
CF Charlie Tilson
2B Yoan Moncada
1B Jose Abreu
3B Todd Frazier
DH Brett Lawrie
SS Tim Anderson
POTENTIAL ROTATION
Jose Quintana had a very good year for Chicago in 2016, and even though several teams have called the front office to ask about him, Quintana will at least start the 2017 season in a White Sox uniform. His 3.20 ERA and 181 strikeouts made Quintana the club's 2nd leader in WAR behind Eaton, and he was quietly even more effective than Sale over the course of his 208 innings. Quintana is signed through 2018 and could bring a nice return to the Sox if he's dealt at the deadline, but his record will most definitely suffer again this year if he's not moved. Aside what they will be getting from Quintana, Chicago hopes to see improvements out of 24 year-old Carlos Rodon in his third big league campaign.
LHP Jose Quintana
RHP James Shields
LHP Carlos Rodon
RHP Miguel Gonzalez
LHP Derek Holland
TOP DRAFT PICKS (STUDS)
It's pretty "slim pickin's" for the White Sox top fantasy picks this season. While the club did manage to hold on to some of their big league assets, the players left on Chicago's south side all come with major question marks. Jose Abreu will probably be their first player off the board in most drafts thanks to his .293 BA, 25 home runs, and 100 RBI; but Abreu's power has fallen in each one of his three big league seasons and is down a staggering 113 points from his AL ROY campaign in 2013.
Todd Frazier did hit a career-high 40 homers in his first season with the White Sox, but he also struck out 163 times en route to hitting .225 on the year. Frazier did made up for some of his Ks by swiping 15 bases, but at age 31 and with a low .302 OBP, that stolen base total seems to be his ceiling.
As for pitching, Quintana is undoubtedly the best one left on Chicago's roster, but even he profiles as more of a number-two starter for fantasy purposes. He's definitely a worthy draft choice; however, you'll most likely need to build your pitching staff around someone with a higher strikeout and win potential.
HIGH CEILING (SLEEPERS)
This is not an original sleeper pick by any means, but the player with the highest ceiling on the White Sox is their new number-one prospect, Yoan Moncada. The switch-hitting infielder stole 94 bases in his minor league career and really started to add some pop last year. Moncada slugged .511 between High-A and Double-A in 2016 and has been drawing more comparisons to running backs and linebackers than he has to other baseball players. He did strike out 12 times in 19 plate-appearances during his 20 games stint with the Red Sox last season, but Moncada showed a great understanding of the strike zone every step of the way through the minors.
LOW FLOOR (BUSTS)
Some bust candidates for the 2017 White Sox are Brett Lawrie and Melky Cabrera for me. Lawrie set the world on fire during his 43-game, debut-season with the Toronto Blue Jays in 2011, but he's yet to come within 224 points of that .953 OPS in the five years since. Lawrie's only exceeded the 100 OPS+ mark for a league-average player once since his rookie year, and his K% climbed all the way up to 28.4 last season. Lawrie struck out 79 times more than he walked, leading to a 0.9 WAR and 92 wRC+.
Cabrera has had a lot more offensive success than Lawrie over the course of their two careers; however, Lawrie was never as bad as Cabrera at his worst. Melky has carried his baggage with him from clubhouse to clubhouse during in his pro career, and it seems like his attitude has contributed to his drastic dips in production. Cabrera hit just .255 with four home runs in nearly a full season with the Braves after being traded from the Yankees (many believe he was moved for being a poor influence on Robinson Cano), and posted a .682 OPS with the Blue Jays after being reinstated from his PED suspension and signing a two-year deal in 2013. Melky got that OPS up to .808 in his contract-year the following season before coming back down to .709 in his first year with Chicago. Cabrera seems to need incentive to perform at his peak, and with the current state of the White Sox, it doesn't seem like this is a year Melky plays to his full potential.
CLOSER SITUATION
Another major league asset that the White Sox are holding on to right now is closer David Robertson. In the past two seasons of fourth place finishes, Robertson has been one of the few dependable players for Chicago's south side club. He doesn't have the same overwhelming stuff that some of the league's other top bullpen arms possess, but Robertson has shown the ability to get the job done by posting over 30 saves each of the last three seasons. Robertson is good for about seven blown saves a year, but with a proven track record as a closer, he is definitely a valuable trade chip for the Sox and in fantasy leagues alike.
IMPACT MINOR LEAGUERS
Finally, we've reached the section why I volunteered to cover the White Sox offseason this year. Chicago completely shook up their farm system by moving Sale and Eaton, as four of the players they acquired in the two different deals have slid into the top-four spots of their prospect rankings. Moncada and Kopech from the Red Sox become Chicago's first and third prospects respectively, with Lucas Giolito and Reynaldo Lopez from the Nats taking the second and fourth spots. We've already gone over Moncada, and Kopech is still likely a year away, so we'll take this time to focus on Giolito and Lopez. Giolito is a 6'6" righthander that's said to have the highest ceiling of all minor league pitchers. He sits mid-to-upper 90s with his fastball, and has a devastating 12-to-6 curveball that is nearly unhittable when in command. Giolito struggled in his 21.1 innings with the Nationals last season, but still has that front-line starter potential.
After Giolito had a rough start to his major league career, some analysts and scouts have begun to hold Lopez in higher regard. Lopez is between six and eight inches shorter than Giolito, but his arm is every bit as lively. The 23 year-old right hander sits in the mid-90s with his heater and has the ability to hit triple-digits when he really needs it. Lopez also has a power curve and has started showing a good feel for his changeup in the last year. Lopez is similar to Carlos Martinez of the Cardinals in that his size has caused some evaluators worry whether or not his body will hold up as a starter; but much like Martinez, Lopez has not showed any signs to warrant that worry as of yet. Both of these pitchers are ready to compete at the major league level and will look to fight their way into the starting rotation during Spring Training.