2017 Fantasy Baseball: Cleveland Indians Team Preview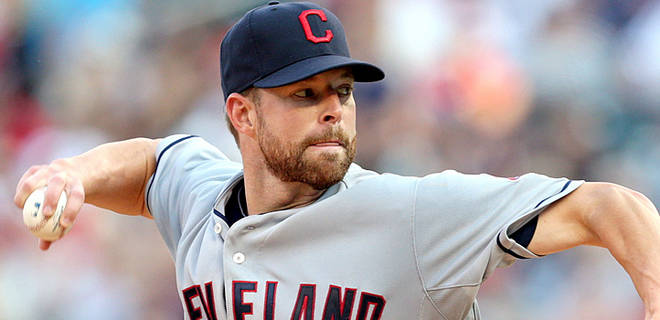 Offseason Overview
Everything looked so rosy when the Indians were up three games to one. Two of the next three games would be at home. They had the mojo working and everything. Sadly, their World Series title drought goes on for at least one more season. Still, they didn't spend a long time licking their wounds. They got right back on the horse.
Projected Lineup
2B Jason Kipnis
3B Jose Ramirez
CF Tyler Naquin
Projected Rotation
Top Draft Picks
Like the Cubs, the Indians are loaded with top draft picks, so we need to whittle that list down a bit. So, we will focus on the top position player and the top pitcher. Even though Encarnacion was the hot signing in the offseason, the top pick probably goes to Lindor. Lindor is a top five fantasy shortstop and probably better than that when you include his overall value as a defender. While Encarnacion puts up gaudy numbers, many of those numbers are likely gone now that he has left the Blue Jays.
On the mound, Corey Kluber is an easier choice. He won the Cy Young award a couple of years ago and arguably could have won it last year as well. Some of the other arms on the staff (particularly Carrasco and Salazar) have the upside, but they don't have the track record yet. Andrew Miller will get some consideration as well, but relievers are often taken too high.
Top Sleepers
Fantasy players often have short memories. Michael Brantley was the Indians best offensive player in 2014 and 2015, but he suffered through an injury riddled season last year. He may not be completely out of the woods yet on the injury front, but if he tumbles far enough on draft day he is worth the risk. If healthy, he is good to hit .300 with 15 to 20 home runs. That's pretty stout for a third or fourth fantasy outfielder.
Danny Salazar is listed as the Indians fifth starter according to rosterresource.com. Naturally, he may not actually be placed there and all of that is overrated anyway, but the concept of Salazar as a fifth starter is comical on some level. It's difficult determining when someone is going to the next step as a player, but it might be a good bet in Salazar's case. He certainly misses enough bats. He just needs an improvement on control.
Potential Busts
Every pennant winning team has players that produce out of context numbers. One of the pitfalls those teams usually experience the next season is that they expect those numbers to continue. Jose Ramirez may have taken the next step in establishing himself as a regular or he may have enjoyed a career season. Either one is possible, but I'd bet on the latter.
Like Salazar, people have been waiting for Trevor Bauer to arrive for several seasons now. While he has shown signs of breaking out here and there, the overall numbers have not shown a lot of improvement. That being said, when you add the hype of being a former top prospect with the hype of playing on the defending pennant winning team, you get someone that could easily be overdrafted.
Closer Situation
Everything that was old is new again. Officially, Cody Allen is listed as the closer. He's been the Indians closer for the last three seasons and he's done enough to hold down the job. That is not the unique part. Terry Francona decided to employ what baseball people referred to as the "relief ace." Andrew Miller may not save games, but he was invaluable down the stretch. He worked a combined 74 innings with a microscopic 1.45 ERA. It would seem like he could be the closer, but he may be more valuable to them as the guy you send in when the game is on the line.
Minor League Prospects
Like many teams in their position, the Indians don't have a ton of prospects ready to break into the lineup, but they have some good ones in the lower minors. The player closest to the big leagues is Bradley Zimmer. He was rated 26th by MLB.com prior to the 2016 season and there is nothing he has done to persuade the scouts to jump off the bandwagon. He doesn't have any tools that jump off the page, but he does everything well. He has consistently shown 15-20 home run power to go with 30+ stolen base potential. If you do that at the next level you could easily be an all-star and a top 30 fantasy outfielder.
Intersting Stat
It's rare that a relief pitcher should be the MVP of a League Championship Series, but Miller is a rare relief pitcher. He finished the postseason 2-0 with one save in 19.1 INN.