2017 Fantasy Baseball, Detroit Tigers Preview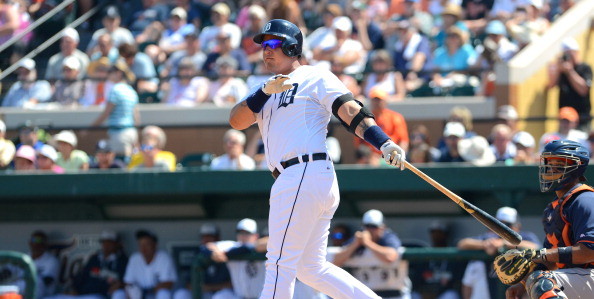 Offseason Overview
Is there a team in more limbo than the Tigers right now? Needing only a couple of pieces to really compete again but with already enough pieces to help restock the farm system. The Tigers have chosen to do neither.
The club option was taken up on Francisco Rodriguez (RP) ensuring Detroit had their closer for 2017. Alex Avila (C) was signed to a one year deal to complete with James McCann behind the plate. And Mikie Mahtook (OF) was acquired from the Rays to give the Tigers a center field replacement for the departing Cameron Maybin.
Possibly the biggest news for the Tigers was retaining the services of J.D Martinez (OF) as he continually gets linked to a trade.
Potential Lineup
LF Upton
2B Kinsler
1B Cabrera
RF J.D Martinez
DH V Martinez
3B Castellanos
CF Mahtook / Collins
SS Iglesias
C McCann / Avila
Potential Rotation
Justin Verlander
Michael Fulmer
Daniel Norris
Jordan Zimmerman
Mike Pelfrey / Matt Boyd / Buck Farmer
Top Draft Picks (Studs)
Miguel Cabrera (1B) will likely be the first Tiger taken in drafts but I'm going with J.D Martinez (OF) as my stud here.
Since joining the Tigers, Martinez averages 31 homers per 150 games and has a .299 batting average. At age 29, Martinez should be at the peak of his powers and nothing from his last three years suggest any form of regression.
Martinez missed 7 weeks of the 2016 season after colliding with an outfield wall, which left him with a fractured elbow. Unlucky you would say, so there's no reason to label him with an injury concern tag either.
It will be interesting to see if Martinez does see out the last year of his contract in Detroit or if he gets traded. But we all know how professional sports stars can up their game even more when there's the carrot of a significant contract dangling in front of them.
High Upside (Sleepers)
If you're looking at Detroit in the hope of finding late draft value, look no further than Nick Castellanos (3B).
Third base is as deep as it has been for years. Even when the top tier of Machado, Bryant, Donaldson and Arenado have gone by the end of the first round, there's still plenty of good choices right the way through the draft. And Castellanos might get ignored in the crowd a bit.
It's unlikely you'll be drafting Castellanos as your third baseman but he does make for a very nice corner infielder. His 2016 season was hindered by a seven week absence late in the year after being hit on the hand whilst batting.
Castellanos did still manage to reach his career high in home runs with 18. His average also reached a career high at .285 and whilst that does seem a tad flukey, the power isn't. With a full season I can see Castellanos hitting 25 home runs and his average should top .260 so won't be harming you in any way.
He'll be 25 on opening day and entering the prime of his power years so there's no reason not to expect further steps forward. That DL stint last year may well have quelled the hype, leaving Castellanos as the perfect sleeper pick.
High Downside (Busts)
Most of the Tigers' hitters look pretty stable in terms of expectations. So it's the rotation where I will advise caution. Specifically with Michael Fulmer (SP).
I don't believe last year was a total fluke and nor will Fulmer fall off the cliff. But the early buzz this draft season seems to penning Fulmer in as a borderline SP2. And I can't be buying into that.
As the season wore on, Fulmer's ERA went up and the strikeouts went down. The league adjusted to the rookie (as expected) and Fulmer will need to adjust to life as a star.
He should be an excellent starting pitcher behind Verlander and if he falls to me as an SP4 in drafts, I have no qualms about picking him. But Fulmer is being priced so high at this stage, any value has been sucked out of him and all that will be left is regret you took Fulmer before the likes of Tanaka, Quintana or Greinke.
CLOSER SITUATION
When the Tigers opted to take up the option on Francisco Rodriguez's (RP) contract, they anointed him as their closer for 2017. An unsexy pick in drafts, but even with diminishing strikeouts, K-Rod should continue to be a solid addition to any fantasy team.
The issue for the Tigers has been their bullpen and even with improvements last year, it's difficult to see who else will contribute from the 'pen. Bruce Rondon (RP) could get one more shot at significance; otherwise it looks a case of "we'll work it out in Spring".
Impact Minor Leaguers
Detroit's lack of prospects has hindered them from really going for it one last time. But there are still a couple of guys who could make an impact. Most of their better prospects won't see the Majors for at least a couple more years. But JaCoby Jones (OF/IF) could be of interest at some point during 2017.
Having had off field issues (namely failed drug tests), Jones probably won't have a particularly large leash. Those problems have reduced his standing as a prospect, but he remains the owner of a power/speed combination which intrigues. Where he plays will also be a point for discussion.
Jones is certainly one to monitor in the minors and if he gets off to a hot start, we could be seeing him in a Tigers uniform sooner rather than later.
Surprising Stat
Michael Fulmer's Rookie of the Year award is the first time a Detroit Tigers player won the award since Justin Verlander in 2006. No Tigers' hitter has won it since Lou Whitaker in 1978.
The only American League team with a longer wait for a hitter to win ROY is the Texas Rangers (1974 Mike Hargrove).
Article written by Jaime Steed for TheFantasyFix.com.