2017 Fantasy Baseball: Fantasy Catchers A-M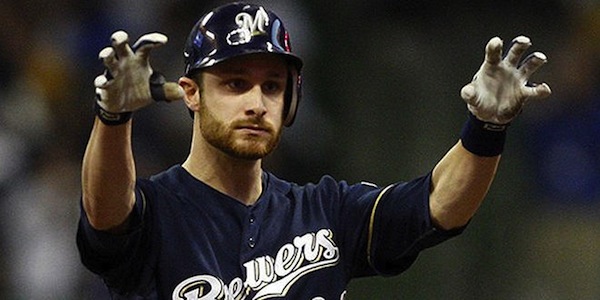 Now that the World Series is over, it is time to get a jump start on the 2017 fantasy season. So, what we are doing here is ranking the top 24 guys at each position. Mind you, those rankings are based on past performance and not on projected future performance. We will highlight specific players not on the 24 man list later on. We will profile these players alphabetically with the first half going through Brian McCann.
With each player you will see their rankings amongst those 24 catchers in three and five year increments. You will also see a combination of their three year and five year numbers for a composite average in each of the categories. I will also assign them my own rank that hopefully will make more sense than the individual rankings.
Tucker Barnhart—Cincinnati Reds (.255, 5.0 HR, 28.5 Runs, 34.5 RBI, 0.5 SB, 30.5 BB)
5 category (3 YR)- 24
5 category (5 YR)- 24
6 category (3 YR)- 23
6 category (5 YR)- 21

Barnhart is the kind of player that doesn't get drafted. In each of the past two seasons he wasn't supposed to be the regular catcher in Cincinnati, but Devin Mesoraco kept getting hurt. With each passing season, it becomes less likely that Mesoraco will return to health, but Barnhart is merely a place holder and likely will be bumped off of the top 24 once you add in a Kyle Schwarber or Andrew Susac. Ranking: 24th
Welington Castillo—Arizona Diamondbacks (.250, 13.5 HR, 35.3 Runs, 51 RBI, 0.7 SB, 27.5 BB)
5 Category (3 YR)- 13
5 Category (5 YR)- 15
6 Category (3 YR)- 14
6 Category (5 YR)- 16
Castillo has been a steady performer now for a couple of seasons in Arizona. He bounced around statistically before then. Perhaps that reputation has kept people from drafting him. Last season, he turned in a perfectly respectable (.264/.322/.423) slash line. Depending on the size of your bench, it can be very useful to have a backup catcher of this quality on your fantasy team. Ranking: 15th
Jason Castro—Free Agent (.224, 12.0 HR, 41.7 Runs, 40.3 RBI, 1.0 SB, 37.9 BB)
5 Category (3 YR)- 18
5 Category (5 YR)- 16
6 Category (3 YR)- 17
6 Category (5 YR)- 13
The odds are good that Castro will return to the Astros, but they aren't a slam dunk. They already have Evan Gattis under contract and he looked good in limited duty behind the plate. Castro is an excellent receiver and works well with pitches. His offensive game has slipped in recent years. If he returns to Houston he likely won't get the same playing time he has in the past. His durability is his main selling point, so that development would remove the only reason to draft him. Ranking: 18th
Francisco Cervelli– Pittsburgh Pirates (.287, 3.3 HR, 38.7 Runs, 29.7 RBI, 2.7 SB, 37.7 BB)
5 Category (3 YR)- 16
5 Category (5 YR)- 17
6 Category (3 YR)- 15
6 Category (5 YR)- 14
There are a number of different ways to handle the catcher position in fantasy and Cervelli plays prominently on some of those. There are those that would rather punt catcher because you just don't have enough production on the top end to warrant spending an early pick. In that case, getting a Cervelli (who will help your overall team average) makes some sense. At the very least, he will help your bench like Castillo would. Ranking: 17th
Wilson Contreras– Chicago Cubs (.282, 12.0 HR, 33.0 Runs, 35.0 RBI, 2.0 SB, 26.0 BB)
5 Category (3 YR)- 15
5 Category (5 YR)- 13
6 Category (3 YR)- 16
6 Category (5 YR)- 15
Now comes the fun part of the fantasy offseason. When you look at rookies that came up during the season you get the fun of trying to project their numbers out to a full campaign. It's not as easy as simply applying a multiplier assuming they played a full complement of games. Pitchers make adjustments and then the player has to make adjustments to them. On top of that, Joe Maddon loves to employ platoons in an effort to get the best matchups and have everyone fresh on his bench. I suspect the numbers won't be that much better than what we see above. Ranking: 14th
Evan Gattis—Houston Astros (.252, 26.2 HR, 57.9 Runs, 70.0 RBI, 0.6 SB, 30.4 BB)
5 Category (3 YR)- 4
5 Category (5 YR)- 6
6 Category (3 YR)- 4
6 Category (5 YR)- 6
A funny thing happened last season. Gattis was sputtering along until the Astros decided to insert him behind the plate. As a catcher, Gattis raked. As a designated hitter he continued to sputter. It would seem simple enough to just insert him as a 120 game a year catcher, but his body cannot handle that kind of beating. So, the Astros will have to continue to employ a kind of hybrid platoon between catcher and designated hitter. If the trends from last season continue, he could be the biggest darkhorse on the board. Ranking: 5th
Yan Gomes—Cleveland Indians (.230, 12.9 HR, 37.6 Runs, 45.9 RBI, 0.2 SB, 14.7 BB)
5 Category (3 YR)- 19
5 Category (5 YR)- 21
6 Category (3 YR)- 21
6 Category (5 YR)- 22
2016 was a lost season for Gomes and you can easily play the out of sight and out of mind game with him. Prior to this year, he had been a consistent double digit home run producer and occasional fantasy regular. He will likely go undrafted so you can always follow him on the waiver wire, but if you have a deep enough bench you could do worse for a backup catcher. That's assuming he's healthy of course. Ranking: 21st 
Yasmani Grandal—Los Angeles Dodgers (.235, 16.4 HR, 41.1 Runs, 49.3 RBI, 1.1 SB, 54.7 BB) 
5 Category (3 YR)- 9
5 Category (5 YR)- 14
6 Category (3 YR)- 6
6 Category (5 YR)- 11
When you see a gap this big anywhere in the rankings you usually take pause. Grandal has been very productive since moving to Los Angeles, so you almost have to discount the numbers that came before. His walk rate obviously makes him very attractive in six category leagues, but even in standard leagues he is definitely a fantasy regular. He is averaging nearly 20 home runs a season in Los Angeles and there is no reason why that should not continue. Ranking: 9th
Nick Hundley– Free Agent (.254, 8.6 HR, 29.7 Runs, 36.8 RBI, 1.7 SB, 15.6 BB) 
5 Category (3 YR)- 17
5 Category (5 YR)- 23
6 Category (3 YR)- 19
6 Category (5 YR)- 24
There is only one good reason why Hundley was better over the past three years versus the past five years: he was playing in Denver. Therefore, his landing spot in free agency will govern whether he has any value or not. If he lands anywhere other than the Rockies he's probably toast. He could even drop out of the top 24. Ranking: 22nd 
Jonathan Lucroy– Texas Rangers (.288, 14.8 HR, 61.4 Runs, 65.5 RBI, 4.0 SB, 47.3 BB)
5 Category (3 YR)- 2
5 Category (5 YR)- 2
6 Category (3 YR)- 2
6 Category (5 YR)- 2
Lucroy added a ton of value when he was traded to the Texas Rangers. He wasn't a coincidence that he added considerable power following the trade. The ballpark is the primary difference, but the offense has a few more talented hitters as well. The total effect is that he has effectively closed the gap with Buster Posey. He may not be the best offensive catcher in the game, but he is a lot closer. Ranking: 2nd
Russell Martin– Toronto Blue Jays (.247, 18.0 HR, 58.9 Runs, 68.9 RBI, 4.2 SB, 58.1 BB)
5 Category (3 YR)- 3
5 Category (5 YR)- 3
6 Category (3 YR)- 3
6 Category (5 YR)-3
Martin has had virtually two different peaks. He enjoyed a few very good seasons in the early part of his career and has enjoyed a few good seasons recently. If you ignore batting average he is one of the best on the board. This is especially if you include walks. His power production over the past several seasons has been remarkably consistent. He is getting to the age where he should begin to drop off. The question is when. Ranking: 3rd 
Brian McCann– New York Yankees (.237, 22.4 HR, 57.0 Runs, 73.0 RBI, 0.6 SB, 45.1 BB)
5 Category (3 YR)- 7
5 Category (5 YR)- 7
6 Category (3 YR)- 3
6 Category (5 YR)- 3
McCann has been remarkably consistent throughout the course of his career. He's hit 20 or more home runs for nine consecutive seasons and ten times over the past 11 seasons. However, Gary Sanchez also hit 20 home runs this past season, so McCann might find himself somewhere else. If he stays in New York his playing time is likely to be limited and his value reduced. Stay tuned. Ranking: 6th