2017 Fantasy Baseball: Houston Astros Team Preview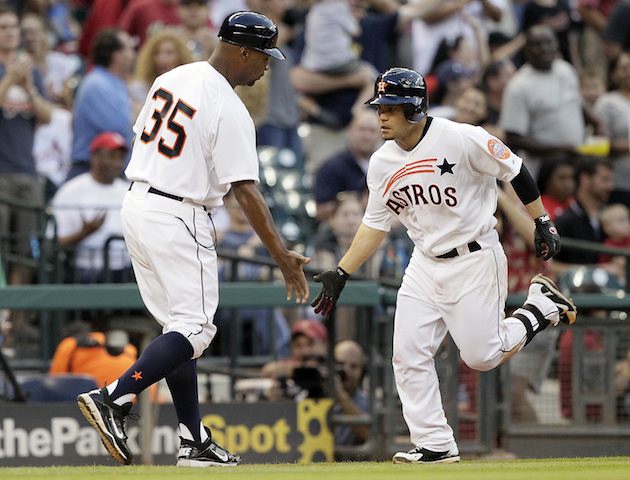 Offseason Overview
Sports Illustrated predicted the Astros would win the 2017 World Series a few years ago and the Astros seemed to treat this offseason as if it was a moral imperative for them to do so. They added Nori Aoki, Josh Reddick, Brian McCann, and Carlos Beltran to a lineup that already featured Jose Altuve, Carlos Correa, and George Springer. The lineup goes from somewhere around mediocre to perhaps the deepest in the American League.

On the mound, the offseason hasn't been nearly as successful. They did add Charlie Morton to their rotation in place of Doug Fister, but that doesn't move the needle in real baseball or fantasy baseball. They were rumored to be in on trades for Chris Sale, Jose Quintana, Chris Archer, and Sonny Gray. To date, none of those have come to pass.
Top Draft Picks
Jose Altuve could go as high as number two overall or later in the first round, but if he slips out of the first round you should nab him as quickly as possible. He finally scored more than 100 runs and drove in more than 90 runs in a season. That was more about the team than Altuve. He has taken more walks recently and that (along with a power surge) has made him a fantasy force. Adding those players mentioned above simply cements his position as a premium run producer.
Carlos Correa was picked number one overall in one of the leagues I played in last season. Mind you, it was an Astros fans league, but that showed what people thought of him last season. He really didn't take the next step like people thought he would, but he is still only 22 years old. He could go in the second or third round if you buy into him taking that step.
Top Sleeper Picks
Advanced statistics have taken over the world and one of the more fascinating group of stats are the new ERA estimators from various sources. Either way you go, Dallas Keuchel had a much better season in 2016 than the conventional numbers suggest. He sported a 4.55 ERA last season, but Fangraphs SIERA had him at 3.77 while Baseball Prospectus' DRA had him at 2.14. I'm not sure how accurate either of those two are, but the fact that he admitted he was hurt last season might be more evidence that a rebound is possible.
Lance McCullers Jr. has been good in each of his two seasons when healthy. So far, he hasn't been healthy, but all indications are that he should be healthy this season. He has sported a 3.22 ERA in each of the last two seasons along with strikeout rates better than a strikeout per inning. He could take the next step to near ace status.
Top Bust Picks
Expectations are a dangerous thing. The Astros made the trade for Brian McCann and signed Carlos Beltran with the expectation that they would measured improvements over what they employed last season. That's not difficult consider McCann is replacing Jason Castro and Beltran is replacing a whole host of guys that combined to have a .677 OPS last season. However, there are those expectations and the expectations that fantasy owners have.
McCann has had 20 or more home runs in 11 of his 12 seasons as a big leaguer. I don't have to read you the actuary table on catchers in their thirties, but suffice it to say, it isn't pretty. He might be good enough to be a fantasy regular in a twelve team league, but just barely. Meanwhile, Beltran hit 29 home runs last season in a bit of a renaissance. Great players normally have that one bounce back season before they fade into obscurity. 2016 may have been that season for Beltran.
Closer Situation
The Astros have one of the deeper bullpens in the league. Officially, this makes them a favorite in real baseball, but it is a handicap for fantasy players. Ken Giles would appear to be the odds on favorite to win the job in January, but he was the odds on favorite last January. He has all the markers of a brilliant closer and his numbers appeared to be there. Unfortunately, his ERA and won-loss record didn't match those numbers.
If he gets off to a slow start then Luke Gregerson and Will Harris are there to pick up the slack. All three saved at least ten games last year and A.J. Hinch rode the hot hand all year long. That is one way to go, but most teams want one guy to take the reigns. They traded a lot to get Giles, so he would be the obvious choice to get the first shot.
Impact Minor Leaguers
The Astros were one of the richer farm systems in the game up until a year ago. This is what happens when your hot prospects either crack the everyday lineup or simply crack. Alex Bregman was the guy last season and now he has established himself as the everyday third basemen. A.J. Reed has an outside shot of taking over at first base, but he will need to have a great spring to do that. It's more likely that he begins the season in AAA and then comes up when an injury occurs.
Joe Musgrove earned his way into the rotation based on August and September, but he looks like he is on the outside looking in now. Francis Martes is the next arm up. He opens the season as the Astros number one prospect and the 29th ranked prospect in baseball. Scouts say he has a 65 (out of 80) fastball to go along with plus curve. He needs to work on his changeup before he big league ready.
Surprising Statistic
Jose Altuve was the youngest player to reach 1000 career hits since Pete Rose.