2017 Fantasy Baseball, Knocking on the Door: AL Starting Pitchers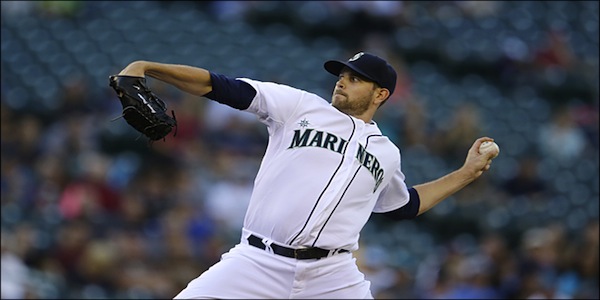 We've come to the end of the knocking on the door series. When dealing with a group like starting pitchers, there is always a name or two that gets left out. There are a number of up and coming pitchers and we didn't have enough room for all of them. As we have with the other positions, we will take a look at the career numbers and substitute quality starts percentage in the place of quality starts. We will also look at the barriers to launch.
Dylan Bundy— Baltimore Orioles (10 wins, 3.96 ERA, 1.374 WHIP, 104 SO, 21.0% QS)
It doesn't help that Bundy is in the toughest division in baseball. The Orioles could become a second division in a hurry unless pitchers like Bundy step up and get to the next level. Bundy has impressive stuff and has been impressive in limited action at every level. The only thing left for him is to put it all together.
Barriers to Launch: The only thing standing in Bundy's way is health. If he can last in the rotation the entire season he could put up solid numbers like a number three starter. The Orioles need it desperately if they want to compete the AL East.
Sean Manaea— Oakland Athletics (7 wins, 3.86 ERA, 1.189 WHIP, 124 SO, 50.0% QS)
One can get bogged down in looking at the numbers, but suffice to say that Manaea is about as set up as any of these pitchers for immediate success. He had over 20 starts last year alone and got quality starts in half of them (12 out of 24). A look at his WHIP in comparison with the others indicate that he already knows how to pitch.
Barriers to Launch: Manaea is about as bankable as they come when it comes to fantasy value. The Athletics look to finish last in the AL West again unless something unusual happens. That means that wins may be hard to come by.
Daniel Norris— Detroit Tigers (7 wins, 3.64 ERA, 1.316 WHIP, 120 SO, 26.0% QS)
As my parents used to say, the snake that bit Norris died from the bite. He has been ready to launch for a few years now, but things seem to get in the way. Most recently, it was a cancer diagnosis. However, that cancer is in remission and he is finally ready to join the land of the living. The numbers above speak for themselves if he can just put up a healthy campaign.
Barriers to Launch: Norris could be this season's Michael Fulmer if he can just get 30 healthy starts under his belt.
James Paxton— Seattle Mariners (18 wins, 3.43 ERA, 1.276 WHIP, 253 SO, 54.0% QS)
There's a time when promise must lead to actual results. If we piece together Paxton's several seasons we get one really good season. Unfortunately, fantasy sports don't work that way and real baseball doesn't work that way either. The Mariners need Paxton to put it all together and they need him to do it now. There is no reason why he can't and if he does they could be the sneaky pick to win AL West.
Barriers to Launch: Paxton just needs to be healthy and if he is he could a middle of the road fantasy starter.
Eddy Rodriguez— Boston Red Sox (13 wins, 4.25 ERA, 1.294 WHIP, 198 SO, 51.0% QS)
If there ever were a time for Rodriguez to take the next step it is now. The Red Sox arguably have the best four man rotation in the game. As you know, no one runs a four man rotation anymore, so the Sox need Rodriguez to simply be good enough to hold down the fifth slot. His pedigree is better than that, but he doesn't need to put the added pressure on himself to carry the load. They already have enough guys to do that.
Barriers to Launch: Rodriguez has struggled to stay healthy (I'm deciphering a pattern here). That's the only thing standing in his way.
Blake Snell— Tampa Bay Rays (6 wins, 3.54 ERA, 1.618 WHIP, 98 SO, 26.0% QS)
Few starters have come to the big leagues with as much fanfare as Snell. Some of the numbers back up that hype, but some are very worrisome. He has a very good strikeout rate (more than a strikeout per inning) but the walk rate was very worrisome last season. In short, there is no way a pitcher with that kind of WHIP can be effective long-term. Fortunately, there is no one that expects the 5.2 walks per nine innings rate to continue. Cut that down to three and you have the makings of a very good pitcher.
Barriers to Launch: Learning to pitch is difficult. When you have stuff like Snell it can be even tougher. You dominate in Little League, high school, maybe college, and throughout the minors. The big leagues are always different. He probably will learn, but it may not come in 2017.