2017 Fantasy Baseball, Knocking on the Door: Center Fielders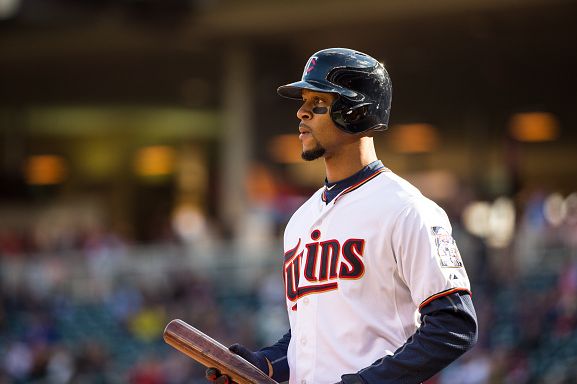 Center field is one of the deepest positions on the fantasy diamond and the knocking on the door candidates are no different. Most positions have minor leaguers featured on the list, but in this case we have three fairly prominent major league prospects to consider at the position.
Tyler Naquin— Cleveland Indians (.296, 14 HR, 52 Runs, 43 RBI, 6 SB, 32 BB)
Like many other players we have covered to this point, Naquin probably rates as a top 24 on the basis of these numbers alone, but he played only about half a season. The multiplier concept is almost completely inappropriate, so we put him here. He likely won't have this level of success next season but 20 home runs might not be completely out of the question.
Baseball is a constant battle of adjustments. Pitchers will adjust to Naquin and he will have to readjust when that happens. Naquin's minor league numbers have never approached what he did last season. I suppose there is always a chance that something has clicked, but odds are better that a regression is in order. Something in the way of a .265/15/70/70/10 season could be in order. That is still worth having around on the bench.
Barriers to Launch: The Indians aren't loaded with outfielders, but they are contenders to return to the playoffs. Young players in that environment don't have the same rope that other players have. If he gets off to a slow start he could be replaced.
Byron Buxton— Minnesota Twins (.225, 10 HR, 44 Runs, 38 RBI, 10 SB, 23 BB)
The number two overall pick back in 2012 is supposed to be a superstar. As he and many others have discovered, the road to superstardom in baseball is littered with failed stars by the side of the road. His path may have just been delayed. After his second call up last season he began to gain some traction. The temptation would be to make him a fantasy regular at the off chance that he will take off this season.
I would hold off on the fantasy regular bit for at least awhile. Buxton has not shown a consistency in making contact in either of his two seasons at the big league level. The development of power is promising, but he is still having a problem in stealing first base. As long as that continues, he won't be much of a fantasy prospect.
Barriers to Launch: It's a new era in Minnesota and young players will get every opportunity to prove themselves. Therefore, Buxton will have more rope than most players in his same situation. He will play. How well he will play is another question.
Keon Broxton— Milwaukee Brewers (.242, 9 HR, 28 Runs, 19 RBI, 23 SB, 36 BB)
Much like Byron Buxton, Broxton will likely have a longer rope than most prospects in his same situation. The Brewers aren't going anywhere in the NL Central and the Brewers may end up dealing more veterans in the process. Broxton's only real plus as a fantasy player is his speed. If he plays regularly he could end up with north of 40 stolen bases. Add in some surprising power and he could end up with a value superior to that of Billy Hamilton.
Like Hamilton, Broxton's weaknesses are on full display. 88 strikeouts in 244 plate appearances is quite a record of whiffing, but Broxton has shown an ability to get on base. If he can manage to maintain his plate discipline by increasing his contact he could be the best leadoff hitter in the National League. Of course, time will only tell.
Barriers to Launch: Broxton will get to play as long as he is healthy next season. The Brewers aren't going anywhere. Of course, that lack of overall talent may affect his ability to score runs as well.