2017 Fantasy Baseball: Left Fielders A-M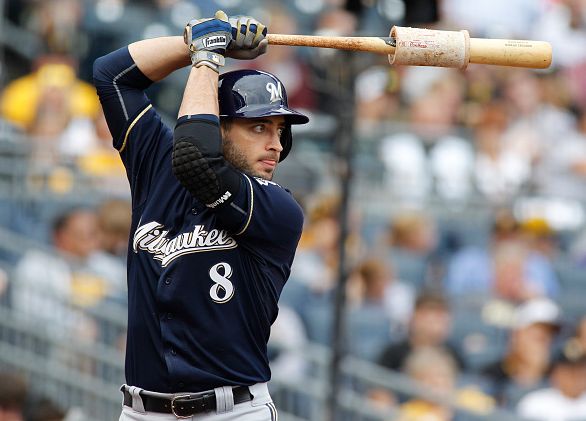 We've discussed outfielders before and as usual we've discussed the debate between listing them by specific position and listing them generically as outfielders. I've always gone with the individual positions. It is easier to step away from specific positions then to add them retroactively. So, we begin our journey through the outfield with left field.
As we have done before, we are going to look at the three and five year rankings for each player according to five and six category formats. Following those breakdowns, we will give each player a ranking based loosely on those rankings, but also on some common sense considerations as well.
Michael Brantley—Cleveland Indians (.289, 11.7 HR, 55.7 Runs, 62.7 RBI, 13.0 SB, 38.3 BB)
3 Year 5 Category- 11
3 Year 6 Category- 13
5 Year 5 Category- 11
5 Year 6 Category- 11
Brantley is the forgotten man. He lost most of last season to injury, so in a jam packed fantasy landscape it is easy to keep him off of your board. Keep in mind that the numbers above represent the three year average. That of course includes last year's lost season. So, even if his performance dips, you can easily expect him to produce the numbers you see above. Imagine the Indians with a healthy Brantley. Rank: 11th
Ryan Braun—Milwaukee Brewers (.285, 24.7 HR, 78.3 Runs, 85.3 RBI, 17.0 SB, 47.3 BB)
3 Year 5 Category- 2
3 Year 6 Category- 1
5 Year 5 Category- 1
5 Year 6 Category- 1
It is high time to separate the whole notion of Braun as one of the biggest jackasses of our time with the fact that he's still a really productive player. Yes, his handling of his own personal drug accusations was despicable. However, he is still the best overall left fielder on the board. Unfortunately, there is not much around him in Milwaukee, but that could change if they find a taker for him. Rank: 1st
Melky Cabrera—Chicago White Sox (.290, 14.0 HR, 73.7 Runs, 78.7 RBI, 3.7 SB, 43.3 BB)
3 Year 5 Category- 8
3 Year 6 Category- 9
5 Year 5 Category- 10
5 Year 6 Category- 12
Cabrera has gotten a bad rap over the years as someone that got caught using performance enhancing drugs and someone accused of dogging it until it was a contract year. The latter continues to dog him, but the numbers above are sneaky good. Cabrera is almost always healthy, so he will accumulate numbers through osmosis. Rank: 9th
Yoenis Cespedes—New York Mets (.277, 29.3 HR, 87.3 Runs, 97.0 RBI, 5.7 SB, 38.7 BB)
3 Year 5 Category- 3
3 Year 6 Category- 4
5 Year 5 Category- 2
5 Year 6 Category- 3
The Mets get Cespedes back and it can't be anything but good. He has been a very productive player for them and he gets to keep that continuity going. Since arriving in New York he has been a 30/100/100 type of player. He lost a little time to injury last season, but otherwise continued the step forward he took in 2015. Rank: 3rd
Khris Davis—Oakland Athletics (.246, 30.3 HR, 69.7 Runs, 79.0 RBI, 3.7 SB, 39.3 BB)
3 Year 5 Category- 10
3 Year 6 Category- 11
5 Year 5 Category- 13
5 Year 6 Category- 15
The Athletics are an interesting organization to say the least. On the one hand, they make deals to acquire players like Davis. He came into his own last season as a power hitter in a lineup largely devoid of weapons. On the other hand, they deal away some of those weapons for prospects. I like Davis as a power bat, but the lack of run producing opportunities are glaring. Rank: 10th
Corey Dickerson—Tampa Bay Rays (.287, 19.3 HR, 53.7 Runs, 59.0 RBI, 2.7 SB, 26.7 BB)
3 Year 5 Category- 13
3 Year 6 Category- 17
5 Year 5 Category- 19
5 Year 6 Category- 20
Dickerson was a part of one of the more confusing trades last offseason. Both teams seemed to lose somehow. Dickerson had power, but little else in a season where he just couldn't seem to get momentum going. Jake McGee was actually solid on the road for the Rockies, but devastatingly awful in Coors Field. Dickerson probably isn't a fantasy factor anymore. Rank: 17th
Adam Duvall—Cincinnati Reds (.241, 33.0 HR, 85.0 Runs, 103.0 RBI, 6.0 SB, 41.0 BB)
3 Year 5 Category- 5
3 Year 6 Category- 6
5 Year 5 Category- 6
5 Year 6 Category- 4
Technically speaking, Duvall is a top five or six left fielder. I can't think of a single reason to pick him there other than that was where he was a year ago. He isn't going to sneak up on anyone this season, so I would expect a significant decline this year. We already saw it in the second half last season. Rank: 6th
Brett Gardner—New York Yankees (.259, 13.3 HR, 87.0 Runs, 55.0 RBI, 19.0 SB, 64.7 BB)
3 Year 5 Category- 9
3 Year 6 Category- 7
5 Year 5 Category- 16
5 Year 6 Category- 14
Gardner began the offseason on the trade block and is presumably still there on some level. The difference for him in recent seasons has been an uptick in power that has taken him from fantasy fringe to fantasy regular. Unfortunately, he is also losing speed at the same time, so he will slowly return to fantasy fringe. Rank: 8th
Alex Gordon—Kansas City Royals (.252, 16.3 HR, 63.0 Runs, 54.0 RBI, 7.3 SB, 55.3 BB)
3 Year 5 Category- 14
3 Year 6 Category- 12
5 Year 5 Category- 9
5 Year 6 Category- 8 
Gordon and Gardner are similar players. They were plus defenders that have become solid offensive players through hard work. Gordon had a down season last year, so his rankings are a mirror image of Gardner's. The question is whether that season is a blip on the map or a sign of things to come. I'm hedging my bets. Rank: 12th
Matt Holliday—New York Yankees (.266, 14.7 HR, 51.7 Runs, 62.3 RBI, 2.0 SB, 49.3 BB)
3 Year 5 Category- 19
3 Year 6 Category- 16
5 Year 5 Category- 7
5 Year 6 Category- 6 
It's pretty clear where Holliday is going, but the Yankees will try to coax one more good season out of him by moving him to DH. The gambit could work. The three year marks are probably more appropriate at this point for a player that seemingly lives on the disabled list. Dhing might help him get to 600 plate appearances and if he gets there he could be a borderline fantasy regular. Rank: 16th 
Matt Kemp—Atlanta Braves (.272, 27.7 HR, 82.0 Runs, 99.0 RBI, 7.0 SB, 42.3 BB)
3 Year 5 Category- 1
3 Year 6 Category- 2
5 Year 5 Category- 5
5 Year 6 Category- 6
Occasionally, there is a gap between real value and fantasy value. Kemp is no longer a speed threat, but he has transitioned into becoming a consistent run producer. In real baseball, he is of marginal utility because he is a dreadful defender and he doesn't draw enough walks. In five category leagues that means little to you. Rank: 4th 
Starling Marte—Pittsburgh Pirates (.297, 13.7 HR, 76.0 Runs, 61.0 RBI, 35.7 SB, 27.7 BB)
3 Year 5 Category- 6
3 Year 6 Category- 8
5 Year 5 Category- 4
5 Year 6 Category- 7
How much stock do you put in a single category? Marte is the best stolen base threat at the position and because of his ability to hit for average he has become a very appealing fantasy option. The problem is a lack of patience at the plate that limits his ability to score runs. Unfortunately, you have to steal first base first. Rank: 7th