2017 Fantasy Baseball: NL East Rotation Rankings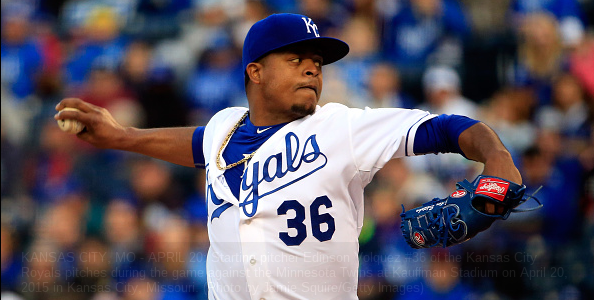 As we move over to the senior circuit we immediately discover one of the cardinal rules of data. What comes up must go down. It's nice to look at the lineups in a vacuum and determine that the National League is the far superior league. That would be a lie. They aren't inferior either. It's simply the way the data distributed. The National League is either a hitter centric league or a pitching weak league. It all depends on your perspective.

We are grading out rotations based on the projected pre-season five man rotations. We are taking the three year averages for three Baseball Prospectus statistics. The first is their version of wins above replacement (WARP). It measures the quality and quantity of a player's performance. The other two are more qualitative statistics. They include their ERA estimator which they call "deserved run average". It calculates an estimated ERA based on normal batted ball statistics and other norms. Finally, we get total average against (TAVA) which takes what hitters actually did against the pitcher and frames it like a batting average. The usual league norm caveats come along with it.
Atlanta Braves
WARP: 5.3 (11th)
DRA: 4.51 (10th)
TAVA: .266 (9th)
Key Changes
Everything has a frame of reference. These same numbers would place the Braves next to last in every category in the American League. They added Jaime Garcia via trade and R.A. Dickey and Bartolo Colon via free agency. The moves don't affect the totals above much, but give them durable arms that will take the ball every fifth day. The end game appears to be to kick the can down the road and give the minor league arms another year to develop.
Unfinished Business
There isn't a whole lot here. Fortunately, all of these guys are on one year deals. The hope is that Michael Foltyniewicz takes the next step and becomes more than a replacement level starter. If they get lucky then one of the guys above will experience a renaissance and enjoy one more magical season.
Prognosis
The Braves have enough hitters to be competitive and these pitchers will keep them in games. They just don't have enough in any phase of the game to be much more than that.
Miami Marlins
WARP: 4.2 (12th)
DRA: 4.72 (13th)
TAVA: .272 (12th)
Key Changes
You don't replace Jose Fernandez on any level. In a short blurb like this we can't do this tragedy justice. They signed Edinson Volquez and Jeff Locke to ostensibly replace him, but that simply won't happen. Add to Wei Yen Chen and you have the makings of a perfectly mediocre rotation. If everything breaks right they could be solid. They also added Dan Straily via trade, so all told they have a rotation destined to finish in third place.
Unfinished Business
They are officially saying they are done with moves before the season. Something needs to break this thing right open. They are the only team in the division without a two WARP pitcher to their name. That needs to change in order for them to gain any traction.
Prognosis
They don't have any bad pitchers per se. They just don't have any good ones. That has them destined to finish middle of the pack.
New York Mets
WARP: 15.7 (4th)
DRA: 3.33 (2nd)
TAVA: .246 (3rd)
Key Changes
The Mets represent the distance between hope and reality. With Matt Harvey, Noah Syndergaard, and Jacob deGrom, they have the best threesome in baseball in terms of talent. All three spent time on the shelf last season. Officially, they let Bartolo Colon go in favor of Zack Wheeler. Wheeler was supposed to be the fourth member of that group, but he has been sidelined for nearly two seasons now. That makes Steve Matz the fourth starter. Everyone would love to be in that situation.
Unfinished Business
There is nothing that a little health and good luck couldn't fit. All of the top three arms have dominated for extended stretches before. Wheeler has never had the opportunity to start, but hopefully should now. Matz has shown the ability to be solid as well. Put it all together and they could be the best rotation in the National League.
Prognosis
The Mets have been to the playoffs two years in a row without the full strength of their rotation. Imagine what happens if these starters enjoy a season of good health.
Philadelphia Phillies
WARP: 7.7 (8th)
DRA: 3.85 (5th)
TAVA: .264 (8th)
Key Changes
Officially, the primary change came when the Phillies acquired Clay Buchholz from the Red Sox. He's been all over the map in his career, so it is impossible to render an educated guess of where he will be at. Given the relative youth of their rotation that would seem to be the theme. All of them have had moments of brilliance interspersed with moments of ineptitude. The tale of the tape is determined by which of those dominates your personal story.
Unfinished Business
The Phillies are now in phase two of their rebuild. Phase one was ridding themselves of every toxic contract and asset to their name. Done and done. Now, it's time to assess where they are at and what more needs to be done. So, this season will be one of discovery for the Phillies. Which of these pitchers will stand the test of time?
Prognosis
Youth is scary and exciting at the same time. When you have no track record to speak of you are obviously unpredictable. The Phillies could bring up the rear again this season or they could vault into as high as second place.
Washington Nationals
WARP: 16.2 (3rd)
DRA: 3.56 (4th)
TAVA: .247 (4th)
Key Changes
There were no changes for a team that won the division. The problem for the Nationals is that they are virtually stuck where they are in terms of their rotation. There isn't a ton of growth that is possible for them at this point, so they have to hope that what they have is enough to vault them to the pennant.
Unfinished Business
Max Scherzer and Stephen Strasburg are there for the long haul. That means that Tanner Roark is the next domino to fall. They could go the way of Strasburg and sign him to a long-term deal or go the way of Jordan Zimmermann and allow him to walk. A lot depends on what eventually happens with Bryce Harper. He will almost certainly break the 300 million dollar mark somewhere and sometime. Will it be in Washington?
Prognosis
The addition of Adam Eaton will help the pitchers in a number of ways. Nationals fans can only hope that it is enough to hold off the Mets and vault them over the Cubs and Dodgers.