2017 Fantasy Baseball: NL Pitcher PECOTA Projections K-W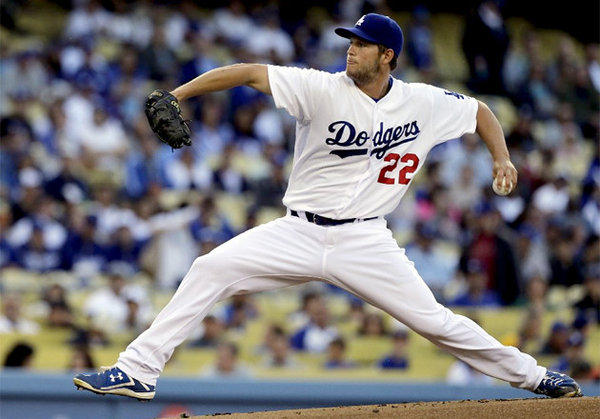 We reach the end of our PECOTA series and it has been a lovely ride. Pitchers are easily the most challenging group to project, and you will notice some commonalities with the PECOTA projections. The primary similarity is that wins are depressed for all of the pitchers. This is likely because wins are too difficult to predict anyhow. The biggest mistake fantasy players do with pitchers is base their assumptions about them on the previous season. This is particularly true of pitchers that won big the previous season.
Instead of ranking pitchers 1-36, we are comparing them with the median in the major four categories (wins, ERA, WHIP, and strikeouts) along with innings. Pitchers that exceed or meet the median will be labeled in green font. Pitchers that do not meet the median will be labeled in red font. Obviously, there are numerous factors to consider including how much a player exceeds the median by. Sometimes we might also dispute the projections, so we will want to discuss what those are based on as much as we can guess.
NL Median: 9 wins, 156 innings, 4.00 ERA, 1.29 WHIP, 143 strikeouts
AL Median: 10 wins, 161 innings, 4.24 ERA, 1.34 WHIP, 145 strikeouts
Clayton Kershaw— Los Angeles Dodgers
PECOTA: 15/196/2.46/0.90/250 (+5)
3 Year: 16/193/1.86/0.82/237
There are those that consider Kershaw to be the number one overall pick and there is certainly evidence to support that. Only one pitcher with three Cy Young awards or more is not in the Hall of Fame. At some point, you have to stand back and enjoy what you are watching. We are talking about a Sandy Koufax, Greg Maddux, or Pedro Martinez kind of run.
John Lackey— Chicago Cubs
PECOTA: 10/156/3.53/1.20/161 (+4)
3 Year: 13/201/3.31/1.18/173
Can you imagine Lackey as a fourth starter? That shows you just how deep the Cubs are at this point. Of course, you can look at where someone sits in a rotation a little too seriously, Beyond the first week or two, you rarely see fourth starters going against fourth starters. The bigger question is how they see him pitching nearly 50 fewer innings.
Mike Leake— St. Louis Cardinals
PECOTA: 10/165/4.08/1.34/148 (+3)
3 Year: 10/194/4.03/1.24/136
The force is strong with Leake. In this case, the force refers to batted ball luck. He will always log innings and won't walk hardly anyone, so therefore will get you some cheap wins. When times are good he will get you above average ERA and WHIP numbers too. In bad times it will all come crashing down like it did last season. If you believe in the pendulum principle then he is due for a good season.
Jon Lester— Chicago Cubs
PECOTA: 14/203/3.53/1.15/209 (+5)
3 Year: 15/209/2.75/1.08/208
When you look at the three year numbers for the top four starters in the Cubs rotation you begin to see the enormity of it. Of course, there is hope for the other contenders in the National League. There is no way they can afford to keep all of these guys and Jake Arrieta will be the first to reach free agency after the 2017 season. Then again, that doesn't do much for those contenders this season.
Kenta Maeda— Los Angeles Dodgers
PECOTA: 12/183/3.93/1.29/196 (+5) 
3 Year: 16/176/3.48/1.14/179
The Dodgers seem like that bratty kid down the street that gets the shiny new toy and then tires of it a few weeks later. Other than Kershaw, their rotation is full of free agents that seemed to be the big ticket item at the time, but now they and their fans have forgotten they had. Obviously, the on field personnel haven't forgotten about Maeda, but fantasy players might.
Carlos Martinez— St. Louis Cardinals
PECOTA: 9/148/4.00/1.32/133 (+2)
3 Year: 11/151/3.36/1.31/147
The aggregate makes sense most of the time and most hard core fans love to bring order out of the chaos by relying on it. Unfortunately, the aggregate sometimes isn't appropriate. The PECOTA projections make sense when you look at the three year average, but does the three year average capture the essence of Martinez? He struggled some in his first taste in 2014, but has turned in two consecutive solid seasons that are better than the PECOTA projection. So, do I believe the aggregate or my lying eyes?
Steven Matz— New York Mets
PECOTA: 10/180/3.99/1.31/164 (+4)
3 Year: 7/84/3.16/1.21/82
Like the Cubs, the Mets have an embarassment of riches on the mound. Of course, the difference is that the top three starters for the Mets all have injury questions. Then, there is Matz. He turned in a decent enough season last year under the radar. He had only 22 starts, so the question is whether he can take the next step and pitch in 30+ games this next season. If he does he could be another upper echelon fantasy starter.
Aaron Nola— Philadelphia Phillies
PECOTA: 14/201/4.02/1.21/185 (+4)
3 Year: 6/89/4.29/1.26/90
This is a bet on development. Nola had a brilliant cup of coffee in 2015 where he sparkled over 13 starts at the end of the season. 2016 saw the proverbial hiccup. He started only 20 games and struggled through most of them. PECOTA is betting that he goes through the season without a hiccup and becomes one of the better starters in the NL. I don't have a particular issue with that, but I don't know how much I would bet on it.
Tanner Roark— Washington Nationals
PECOTA: 10/168/4.10/1.33/139 (+2)
3 Year: 12/173/3.35/1.19/127
Like Leake, Roark lives and dies by the batted ball sword. He wielded it in his favor last season, but we can't help but note the similarities between the two pitchers. Both struggle in the strikeout department and both excel in keeping their walks down. Interestingly enough, both of those numbers were up for Roark last season. A return to career norms is certainly expected.
Jeff Samardzija— San Francisco Giants
PECOTA: 10/165/4.10/1.29/143 (+4)
3 Year: 10/212/3.92/1.19/177
Samardzija is a testament to the value of being above average and durable at the same time. He signed a five year 90 million dollar deal before the 2016 season and he is easily worth it in this economy because of the innings and above average performance. All this for a 59-74 pitcher with a career ERA of virtually 4.00. Welcome to the brave new world of pitching value.
Max Scherzer— Washington Nationals
PECOTA: 12/188/3.39/1.08/245 (+5)
3 Year: 17/229/2.97/1.02/271
Scherzer is on quite a four year run. He has gone a combined 73-27 during that span and has struck out 240 or more hitters every season. So, when PECOTA projects him at 12 wins it is more of a conservative estimate they apply to all pitchers. The fewer innings are more alarming, but even if that turns out to be true, he is a top three NL starting pitcher.
Stephen Strasburg— Washington Nationals
PECOTA: 13/208/3.41/1.16/235 (+5)
3 Year: 13/163/3.40/1.11/193
No pitcher represents the perils of pitchers more than Strasburg. You could argue that the Nationals have done everything right in terms of handling him and he still has turned in only two completely healthy seasons following his Tommy John surgery. They still gave him a long-term deal last season despite all the problems. It was a show of faith I'm not quite sure I could have shown.
Noah Syndergaard— New York Mets
PECOTA: 14/183/2.86/1.15/216 (+5)
3 Year: 12/167/2.89/1.10/192
You've undoubtedly noticed how these lists seem to be dominated by the same five or six teams. This is what National League baseball has become in recent seasons. We mention this only to mention the fact individual numbers can skew a bit when competition gets stratified like this. If healthy, the Mets could be one of the more dominant teams in the league if they remain healthy. "Thor" could end up being the best of all of them.
Jameson Taillon— Pittsburgh Pirates
PECOTA: 9/176/4.04/1.32/165 (+3)
3 Year: N/A
The Pirates are in an unenviable position in the National League. They are somewhere between title contention and rebuilding. They shopped Andrew McCutchen over the winter and couldn't find a deal they liked, so they will try to compete again. It's hard to pin any playoff berth hopes on one guy, but Taillon would be up there on that list. He went 5-4 in 18 starts last season, so there is reason for hope, but young pitchers often take a step back before they take a step forward.
Julio Teheran— Atlanta Braves
PECOTA: 12/194/3.67/1.29/184 (+5)
3 Year: 11/203/3.38/1.10/175
The Braves are destined to be better than they were last season and the seasons previous to that, but how much better will be the question. Unfortunately for Teheran, most of their improvement is coming to the pitching staff. That won't help one of the unluckiest pitchers in the National League get any more run support than he did before. The 12 projected wins might actually be generous based on recent support, but hope springs eternal.
Vince Velasquez— Philadelphia Phillies
PECOTA: 9/168/3.75/1.19/165 (+5)
3 Year: 5/93/4.19/1.31/105
Two facts define Velasquez at this point. First, there was the 16 strikeout game in April of last season. No single event captured the potential of Velasquez quite like that. Secondly, there is the lengthy injury report that accompanies him whereever he goes. It goes all the way back to his minor league career as well. The question comes down to the intersection between potential and production. If he can stay healthy he could be the biggest sleeper in this year's draft. If.
Adam Wainwright— St. Louis Cardinals
PECOTA: 9/131/3.48/1.21/132 (+3)
3 Year: 12/151/2.88/1.16/120
Sometimes it pays to look at the numbers within the numbers. PECOTA is projecting that Wainwright will average around a strikeout per inning pitched, so he fails to reach the median in strikeouts because he fails to reach the median in innings. If you believe that he will continue to be durable (with the exception of 2015) then you believe he will be a five category performer. He's not the dominant guy he used to be, but he should be a solid SP2 or SP3.
Taijuan Walker— Arizona Diamondbacks
PECOTA: 9/154/4.10/1.27/151 (+4)
3 Year: 7/114/4.18/1.21/103
Courage is in short supply for sports executives. You have to give the new regime in Phoenix some kudos for having the courage to swing the deal for Walker one offseason after the Shelby Miller disaster. Granted, that was a different regime, but optics often forget details like that. They traded high on Jean Segura and that is what you are supposed to do. Walker could go either way at this point. For the Dbacks sake you hope it is for the positive.