2017 Fantasy Baseball: NL Starting Pitchers A-K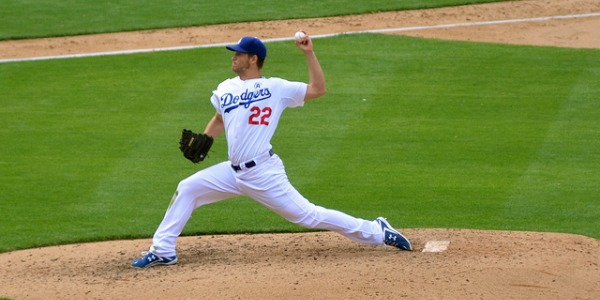 Ranking pitchers is easily the most difficult position to rank on the diamond. A large part of the problem is that so much of a pitcher's performance is dependent on his teammates. Wins alone are the most misleading statistic in all of baseball. So, this is one of those areas where we need to acknowledge that the best fantasy pitchers may not be the best pitchers in real baseball. After acknowledging that fact, we can move on to the rankings.
Rankings for the starting pitchers are based on their three and five year averages in the four major categories and when including quality starts as a fifth category. Instead of ranking all of the pitchers in baseball, we are breaking them into four equal groups of 18. We are starting with National League starting pitchers.
Jake Arrieta—Chicago Cubs (16.7 wins, 2.47 ERA, 0.979 WHIP, 197.9 SO, 21.3 QS)
3 Year 4 Category- 2
3 Year 5 Category- 4
5 Year 4 Category- 9
5 Year 5 Category- 11
One of the reasons why the three-year average was conceived was to account for players like Arrieta. Ranking him tenth in this group (around 40th overall) is completely inappropriate. The three-year numbers make a lot more sense. Arrieta wasn't quite his Cy Young self last season, but he was still very good. He is a borderline fantasy ace. Rank: 4th
Madison Bumgarner—San Francisco Giants (16.0 wins, 2.96 ERA, 1.054 WHIP, 218.8 SO, 21.8 QS)
3 Year 4 Category- 3
3 Year 5 Category- 2
5 Year 4 Category- 2
5 Year 5 Category- 2
Bumgarner is 8-3 with a 2.11 ERA in 102.1 innings in the postseason. It's easy to inflate his overall value due to his performance in the bright lights. In regular season baseball he is good, but not quite that good. Moreover, you have to wonder how long he will be able to keep up this level of performance. Rank: 2nd
Wei Yin Chen—Miami Marlins (10.7 wins, 3.95 ERA, 1.242 WHIP, 129.7 SO, 14.7 QS)
3 Year 4 Category- 13
3 Year 5 Category- 13
5 Year 4 Category- 14
5 Year 5 Category- 15
Keep in mind, the ranking you see is where Chen ranks amongst these 18 pitchers. The pratical ranking would probably be closer to 50th. That makes Chen a fantasy fourth or fifth starter depending on the size of your league. Last year he was limited to 22 starts, but he should be healthy again in 2017. Rank: 14th
Gerrit Cole—Pittsburgh Pirates (12.3 wins, 3.38 ERA, 1.247 WHIP, 146.0 SO, 17.0 QS)
3 Year 4 Category- 10
3 Year 5 Category- 9
5 Year 4 Category- 10
5 Year 5 Category- 9
Cole was a number one overall selection and he has ace stuff. He even has performed like an ace for weeks a time, but he has never been able to sustain it. 2015 is likely to ceiling for Cole (19-8, 2.60 ERA) and if he can get back there the Pirates will likely get back to the playoffs. A simple return to good health might do the trick. Rank: 9th
Bartolo Colon—Atlanta Braves (14.3 wins, 3.89 ERA, 1.227 WHIP, 136.3 SO, 19.3 QS)
3 Year 4 Category- 11
3 Year 5 Category- 8
5 Year 4 Category- 11
5 Year 5 Category- 10
Colon will turn 44 next season. The Braves decided to sign Colon and R.A. Dickey to give them instant credibility in their rotation. Colon may be older, but he is the better of the two. If he turns in another season like he has the last three he may sneak himself into Hall of Fame consideration. Rank: 10th
Johnny Cueto—San Francisco Giants (14.6 wins, 2.82 ERA, 1.082 WHIP, 167.4 SO, 19.8 QS)
3 Year 4 Category- 4
3 Year 5 Category- 3
5 Year 4 Category- 3
5 Year 5 Category- 3
It's hard to fathom exactly how the Giants managed to miss the playoffs. They have two of the top five starting pitchers in the National League and a pretty decent third starter in Jeff Samardzija. They even acquired a good fourth starter in Matt Moore. Cueto is as steady as they come and definitely worth being a fantasy ace. Rank: 3rd
Jacob deGrom—New York Mets (10.0 wins, 2.76 ERA, 1.107 WHIP, 164.0 SO, 18.7 QS)
3 Year 4 Category- 7
3 Year 5 Category- 7
5 Year 4 Category- 5
5 Year 5 Category- 6
deGrom is just as good as any of the other pitchers in the National League, but attendance is part of the grade. The combination of deGrom, Noah Syndergaard, and Matt Harvey rivals the hype of Generation K from the 1990s. It didn't end well for them. This group has gotten the Mets to a World Series though. If healthy, he is a top ten NL starter. Rank: 6th
Anthony Descalafani—Cincinnati Reds (9.0 wins, 3.67 ERA, 1.282 WHIP, 128.0 SO, 15.5 QS)
3 Year 4 Category- 17
3 Year 5 Category- 14
5 Year 4 Category- 15
5 Year 5 Category- 14
2015 was the best season for him as he managed to get in 31 starts. He still won only nine games as the Reds sputtered to the second division. He represents the problem with starting pitchers in the fantasy sense. In terms of pure talent, he is better than most of the guys on the list, but hitting and fielding support will be a problem. Rank: 16th
Jaime Garcia—Atlanta Braves (7.0 wins, 3.74 ERA, 1.228 WHIP, 85.4 SO, 8.8 QS)
3 Year 4 Category- 14
3 Year 5 Category- 17
5 Year 4 Category- 17
5 Year 5 Category- 17
The trade with the Braves represents the best of baseball trades. The Cardinals traded an extra piece to a team that was desperate for starting pitching in exchange for John Gant and two minor leaguers. Gant has some upside and the minor leaguers may or may not help down the road. The deal doesn't help Garcia except for the fact that he should get the ball every fifth day if he is healthy. Rank: 17th
Gio Gonzalez—Washington Nationals (12.8 wins, 3.64 ERA, 1.269 WHIP, 180.2 SO, 18.4 QS)
3 Year 4 Category- 12
3 Year 5 Category- 12
5 Year 4 Category- 8
5 Year 5 Category- 7
Gonzalez went 21-8 with a 2.89 ERA and a 1.129 WHIP back in 2012. Since then, it has been a bit of a struggle. Last year, his ERA ballooned up to 4.57. This is where it pays to pay attention to Fielding Independent Pitching (FIP) and it's various adaptations. He had a 3.76 FIP last season and that comes pretty close to the five-year average above. Gonzalez has always struggled with baserunners, but he also strikes out a fair number of hitters. Rank: 11th
Zack Greinke—Arizona Diamondbacks (15.8 wins, 2.97 ERA, 1.115 WHIP, 177.8 SO, 21.0 QS)
3 Year 4 Category- 5
3 Year 5 Category- 5
5 Year 4 Category- 4
5 Year 5 Category- 4
The Dbacks had buyer's remorse by April of last season. Greinke turns in a dominant season every three or so seasons and the others are solid, but not spectacular. This is one of those cases where the aggregate is not particularly helpful. He's certainly good enough to be a number two or three starter in a fantasy rotation and occasionally he will be much better. Rank: 5th
Jason Hammel—Free Agent (11.7 wins, 3.68 ERA, 1.163 WHIP, 158.0 SO, 15.0 QS)
3 Year 4 Category- 7
3 Year 5 Category- 7
5 Year 4 Category- 13
5 Year 5 Category- 13
So much of pitching is the team behind you, so when someone remains unsigned through the new year it makes you a bit nervous. We know he will not be returning to Chicago, but that is a double-edged sword. On the one hand, he won't get the run support or fielding support. On the other hands, he is more likely to last the season in the rotation. Rank: 7th
Matt Harvey—New York Mets (7.3 wins, 3.14 ERA, 1.141 WHIP, 131.3 SO, 13.5 QS)
3 Year 4 Category- 16
3 Year 5 Category- 16
5 Year 4 Category- 12
5 Year 5 Category- 12
Attendance is a part of the grade. Harvey might be most similar to Mark Prior of the Cubs. Back in the 1990s, he looked like he was going to be the best pitcher in the National League for a decade. He barely got out of the starting blocks. Harvey got the Mets into the 9th inning of Game 6 of the 2015 World Series, but he sputtered last season through various nagging injuries. Rank: 12th
Kyle Hendricks—Chicago Cubs (10.3 wins, 2.85 ERA, 1.071 WHIP, 128.0 SO, 13.0 QS)
3 Year 4 Category- 8
3 Year 5 Category- 10
5 Year 4 Category- 7
5 Year 5 Category- 8
Every championship team has one or two players that come out of nowhere to put up brilliant numbers and return to obscurity after the season. Hendricks just might be that guy for the Cubs. He had a .250 BABIP last season (well below the league average), a 3.20 FIP, and 3.70 SIERA from Fangraphs. The translation is that he is a lot closer to Hammel than he is to Arrieta or Jon Lester. Rank: 8th
Rich Hill—Los Angeles Dodgers (4.7 wins, 2.35 ERA, 1.357 WHIP, 58.0 SO, 5.7 QS)
3 Year 4 Category- 15
3 Year 5 Category- 18
5 Year 4 Category- 18
5 Year 5 Category- 18
Hill has to be the most intriguing last ranked pitcher in history. The problem is almost exclusively the lack of a track record. He has 24 starts in the last five seasons. So, 17 of those 24 starts ended in a quality start. That's a better percentage than just about everyone, so if he can even make it 24 starts this season he is worthy of a selection. The question is how healthy he will be. Rank: 18th 
Scott Kazmir—Los Angeles Dodgers (10.7 wins, 3.74 ERA, 1.242 WHIP, 151.0 SO, 15.0 QS)
3 Year 4 Category- 9
3 Year 5 Category- 11
5 Year 4 Category- 13
5 Year 5 Category- 13
Kazmir is meant to be admired from afar. He's the girl you always wanted to date until you actually went out with her and realized she was annoying as hell. He has talent pouring out of every pore in his body and yet can't seem to get through the sixth inning because he wastes too many pitches every inning. It has been that way since he first came up and likely will be until he retires. Rank: 13th 
Clayton Kershaw—Los Angeles Dodgers (15.8 wins, 1.98 ERA, 0.877 WHIP, 233.8 SO, 23.8 QS)
3 Year 4 Category- 1
3 Year 5 Category- 1
5 Year 4 Category- 1
5 Year 5 Category- 1
These numbers are ludicrous. The only thing standing between Kershaw and total world domination has been the disabled list. He went to the DL last year and it likely cost him another Cy Young award. He still has three such awards since 2001 which likely means he's just waiting until the day he goes to Cooperstown as the guest of honor. Rank: 1st
Tom Koehler—Miami Marlins (10.0 wins, 4.01 ERA, 1.371 WHIP, 144.7 SO, 17.7 QS)
3 Year 4 Category- 18
3 Year 5 Category- 15
5 Year 4 Category- 16
5 Year 5 Category- 16
The quality starts category is an interesting window to the soul of a pitcher. The stat itself was a Scott Boras creation to boost the salary efforts of Kevin Brown early in his career. So, it has its obvious limitations, but it is interesting to see a pitcher with a higher ERA also have more quality starts than pitchers with a considerably better ERA. In fantasy terms, that means he doesn't blow up as often but also doesn't dominate as often. Rank: 15th