2017 Fantasy Baseball: Pittsburgh Pirates Preview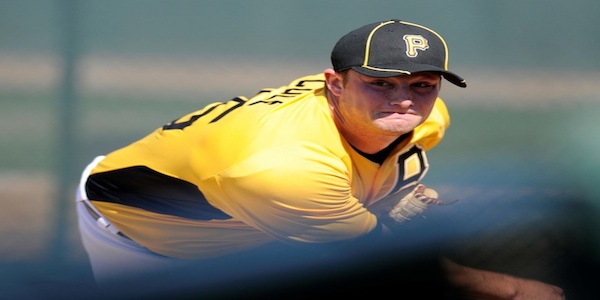 Offseason Overview
It's been a quiet winter for the Pirates. Having had to watch divisional rivals break their curse, having to challenge the Cardinals to be the nearest competitors to the Cubs and throw in the dark horse Brewers to the mix, the Pirates should still have enough talent to make a splash in 2017.
Despite numerous rumours linking a trade for Andrew McCutchen (OF), he's still a Pirate. Jeff Locke (SP) left, as too did Ivan Nova (SP) only for the later to return soon after.
The Pirates will be looking for their young guys Tyler Glasnow (SP), Jameson Taillon (SP) and Josh Bell (1B) to cover for their lack of free agency activity and provide a big enough boost to make a playoff push. That's why teams have farm systems after all.
Potential Lineup
CF Starling Marte
2B Josh Harrison
RF Andrew McCutchen
LF Gregory Polanco
1B Josh Bell
3B David Freese / Jung Ho Kang
SS Jody Mercer / Jung Ho Kang
C Francisco Cervelli
Potential Rotation
Gerrit Cole
Tyler Glasnow
Jameson Taillon
Ivan Nova
Andrew Hutchison / Chad Kuhl
Top Draft Picks (Studs)
By the time you make your 5th round pick, there's a good chance that no Pittsburgh outfielder will be left on the board. But which is the best pick?
I'm going with Starling Marte (OF), who has established himself as one of the best fantasy outfielders in the game. Still only 28, Marte has continued to improve year-on-year hitting at least .280 in his first four full seasons.
In those four years, Marte has averaged 13 homers and 37 stolen bases, peaking on the bases last year for 47 steals. In an age where steals seem to be in decline and homers are on the up, Marte is arguably more valuable than ever.
People may have seen the drop from 19 homers in 2015 to 9 last year as a reason to be pessimistic about Marte in 2017. But the 19 was a bit of a fluke and the 9 was more likely a cause of his late seasons back issues.
Somewhere in between those numbers look most likely and an average in the .290 range seems most plausible. If the Pirates can stay healthy and some of the supporting cast can swing a better bat than last year, the counting stats should be there too. All of that with his steals leaves you with a top 10 outfielder.
High Upside (Sleepers)
Come draft day, the shiny new toys always seem to sparkle brighter than before. There are few more sparkly pitchers than Glasnow and Taillon. So much so, there is a good chance they'll both be taken long before you were prepared to gamble on them.
And that's ok, because that leaves Ivan Nova (SP) as the real Pirates sleeper pick you want.
After leaving the Bronx, Nova put up a 3.08 ERA in Pittsburgh, prompting the Pirates to offer him a 3 year deal worth in the region of $26M.
Six of his 11 starts for Pittsburgh were quality ones. In those 11 starts, only twice did Nova give up more than 3 earned runs, allowed a total of 4 homers and only 3 walks. Two of his starts were complete game gems.
As a Pirate, Nova also managed a 8 K/9 rate which is above league average. Wins are flukey but this Pittsburgh side should be good enough to win Nova enough games to help your team also.
Injuries aside, there are not many guys I'd rather chuck a dollar on our use my last pick for than Ivan Nova as a late flyer.
High Downside (Busts)
I'm of the mind-set that McCutchen will bounce back to somewhere around a top 20 outfielder this year so don't believe he'll be a bust two years running.
But one Pirate I am keeping away from is Jung Ho Kang (3B).
This is nothing to do with his skills. Given a full year, I can see Kang going .280 with 25 homers. Kang has had a DL stint in each of his two seasons in MLB. That sill isn't why I'm shying away from Kang.
The reason is his off field issues.
Kang has checked into a rehab facility for alcohol abuse after a recommendation by an MLB panel following a DUI arrest in his native Korea. That was his third arrest for a DUI since 2009. He realized how a DUI conviction can change your future and knew it was the right decision to check into a treatment facility to seek professional help. Anyone who has been arrested for a DUI and is awaiting legal action against them should brush up on exactly what happens when you go to court – speaking with a lawyer who specializes in defending clients who have been arrested for a DUI offense could help you to find the best step to take next.
Kang was also investigated for an alleged sexual assault in June 2016, although no charges have been filed against Kang.
But it's clear there are off field problems Kang needs to sort out before he can be a real contributor for the Pirates. One more transgression may see Kang missing a large chunk of the year.
CLOSER SITUATION
The role of closing games for the Pirates appears to belong to Tony Watson (RP). After the departure of Mark Melancon, Watson assumed closer duties. Although he ended the year with 5 blown saves to his 15 converted saves.
Should Watson falter, offseason acquisition Daniel Hudson (RP) looks next in line to pick up the saves.
Impact Minor Leaguers
The Pirates three top prospects seem likely to start the year in the Majors and will likely all be taken in your drafts.
But one hitter who had a brief cameo in 2016 who may be a contributor in 2017 is Alen Hanson (2B). The now 24 year-old infielder has one significant tool; his speed.
Stealing 205 bases in 719 minor league games, Hanson has also shown a bit of pop (53 minor league home runs) and has a career .280 average. Concerns about his work rate have stymied Hanson's development but he's also provided versatile, logging games in the outfield.
Josh Harrison is far from a certainty to remain a legitimate starter for the Pirates and Hanson is most likely to find a spot on the roster at some point in 2017.
Surprising Stat
No one on the current roster was alive the last time the Pirates won a post season series comprising of more than a one off game.
Article written by Jaime Steed for TheFantasyFix.com.