2017 Fantasy Baseball: Positional Power Rankings– Second Base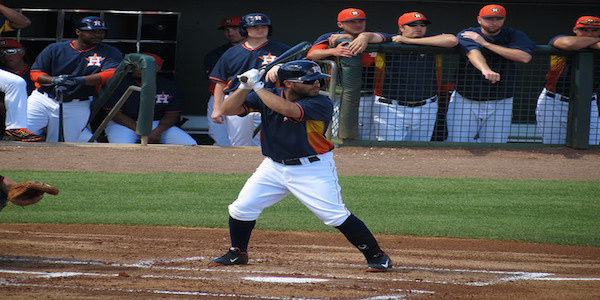 We have brought you the catcher and first base positional rankings. Today we will bring you second base. The idea was to use a crude but unique statistic I like to call adjusted offensive value. It combines batting average with secondary average to emcompass everything a player does offensively. You are obviously familiar with batting average. Secondary average calculates the isolated power, isolated patience, and speed component of a player's game. In essence, it calculates everything batting average does not. We will only include players with 200 or more plate appearances.
(Numbers accurate through Monday June 26)
1. Jose Altuve— Houston Astros
AOV: .332
Basic Five: .319, 11 HR, 49 Runs, 36 RBI, 12 SB
Obviously, Altuve is popular because he fills up the stat sheet and that includes walks these days. Before all is said and done he may end up winning another batting title to go along with a stolen base and hits crown. His runs and RBI always seem to lag behind his overall production. That's hard to explain given his ability and the ability of the Astros offense in general, but he is good enough in the other categories to overcome it.
2. Daniel Murphy— Washington Nationals
AOV: .329
Basic Five: .340, 13 HR, 50 Runs, 54 RBI, 1 SB
Murphy signed a three year, 37.5 million contract with the Nationals before the 2016 season and it would be hard to imagine any better free agent deal out there in recent memory. I'm sure if we racked our brain we could discover one, but given the relative expectations that would be a pretty short list. Murphy has been one of the top five offensive performers in the entire National League in the last two seasons and only his shaky glove stands between him and an MVP trophy.
3. Jonathan Schoop– Baltimore Orioles
AOV: .304
Basic Five: .295, 15 HR, 42 Runs, 48 RBI, 0 SB
Schoop has been slowly coming of age each season as he gradually adds power and gradually improves in his overall approach at the plate. He isn't going to make anyone forget Joe Morgan, but he's challenging Rougned Odor's status as the best young second baseman in the game. Don't look now, but he may hit 30 home runs and drive in 100 or more RBI.
4. Brian Dozier— Minnesota Twins
AOV: .294
Basic Five: .250, 13 HR, 36 Runs, 35 RBI, 10 SB
All in all, the Twins are probably happy they kept Dozier around. The Twins are trying to hold off the Indians and the Tigers in the AL Central and need every win they can get their hands on. Dozier will likely end up with about two and a half wins this season, but they may desperately need that in the end. They can still deal him in July if they somehow go south in a hurry.
5. Jed Lowrie— Oakland Athletics
AOV: .292
Basic Five: .283, 8 HR, 45 Runs, 26 RBI, 0 SB
Looking at the Athletics individually is confusing to say the least. They have good players at multiple spots and somehow are the worst team in the American League. He could be a part of another purge as this organization realizes it doesn't have enough to compete. They've already let Stephen Vogt go, so it may only be a matter of time before they barter off Lowrie.
6. Neil Walker— New York Mets
AOV: .290
Basic Five: .270, 9 HR, 35 Runs, 33 RBI, 0 SB
Walker is currently on the disabled list and will not return until late July at the earliest. It's always something with him. There is always that nagging injury or long draught that keeps him from being an upper echelon second baseman. The Mets hopes he returns in time for them to deal him for prospects. If that happens he should be a guy everyone keeps an eye on.
7. Robinson Cano— Seattle Mariners
AOV: .284
Basic Five: .279, 13 HR, 38 Runs, 51 RBI, 1 SB
Even the Mona Lisa is falling apart. These things rarely happen overnight and they aren't happening overnight here. Cano is still on pace to drive in 100 runs. He is still on pace to hit between 25 and 30 home runs. In that regard, he is the old Cano, but the numbers here say otherwise. They say he is a good, but the great Cano may have left the building.
8. Chris Owings— Arizona Diamondbacks
AOV: .280
Basic Five: .293, 9 HR, 33 Runs, 43 RBI, 10 SB
Study the difference between good teams and great teams and you find a whole history of guys like Owings. No, he is not an all-star even this season, but he is performing close enough to that level to make a difference. He may return to obscurity after the season, but that is what cinderella teams need most. They need unsung heroes to have out of context seasons like Owings is having.
9. Josh Harrison— Pittsburgh Pirates
AOV: .274
Basic Five: .291, 9 HR, 32 Runs, 27 RBI, 9 SB
Good teams have guys like Harrison in the lineup to make it just a little deeper. Mediocre teams see that and make that guy a centerpiece of their team. The Pirates are paying Harrison 40 million dollars between the start of 2017 and the end of the 2020 season. That may not sound like a lot, but it adds up for a franchise like the Pirates.
10. Starlin Castro— New York Yankees
AOV: .270
Basic Five: .313, 12 HR, 52 Runs, 45 RBI, 1 SB
Brian Cashman knows two things. First, he knows that Castro's value will likely never be higher than it is right now. He is not that good and he would be the perfect sell high candidate if he were healthy. He also knows that since he is having the best year of his career he gives the Yankees the best chance they have had in several seasons to advance far in the playoffs.