2017 Fantasy Baseball: Post Deadline Positional Rankings– First Basemen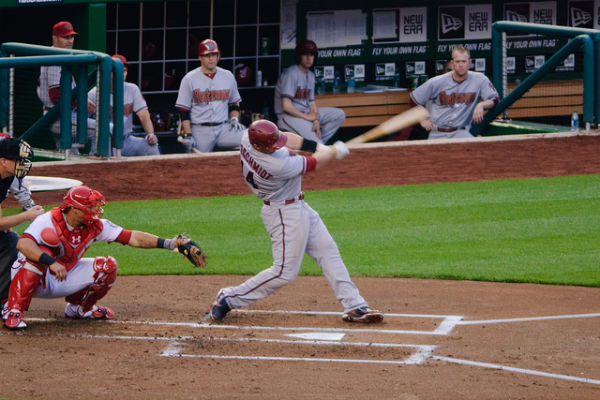 The non-waiver deadline starts the home stretch for fantasy baseball players. Even though there are seven weeks in the regular season left, there are only three weeks left for head to head fantasy players. So, while we usually wait for the offseason to assess players, we are getting a head start on that here in August. Don't worry, we will get back to it. We are ranking the players based on how they fare in five category formats and adding walks as the sixth category.
Jose Abreu— Chicago White Sox
5 Category: 10
6 Category: 15
The counting numbers are still there in spite of the fact that the White Sox are in the tank. His offseason will be interesting as you might expect someone to make a run at him now that the White Sox are in rebuild mode. The problem is the lack of patience. He would do a lot better in a deeper lineup where pitchers can't pitch around him.
Yonder Alonso— Seattle Mariners
5 Category: 18
6 Category: 17
Alonso struggles against left-handed pitching and both the Mariners and the Athletics limited his exposure to left handers. Still, he has shown power that he did not show before. It will be interesting to see what happens to him in free agency because the market for first baseman is probably going to be tepid. Does he go back to Seattle?
Josh Bell— Pittsburgh Pirates
5 Category: 15
6 Category: 13
Bell has quietly put up some good numbers this season. Unlike most organizations, the Pirates can't afford big time free agents, so they need to grow their own stars. Bell isn't there yet, but he has been better since the all-star break. It would not be out of the realm of possibility to see him jump to a .270/30/100/100.
Cody Bellinger— Los Angeles Dodgers
5 Category: 4
6 Category: 5
There's a difference between where a guy ranks according to raw numbers and where you might project them for the future. Bellinger didn't come up until the latter part of April, so he doesn't have counting numbers that others playing full time. Conversely, it's hard to imagine him hitting 40 plus home runs as easily as he has hit his 30+ in four short months.
Brandon Belt— San Francisco Giants
5 Category: 20
6 Category: 18
There is a difference of how good a player really is and the numbers he puts up. Belt suffers from playing on a losing team just like the rest of the veterans on the Giants. Still, he is on pace to walk near 100 times, so he is at least taking what the pitchers are giving him. Unfortunately, most leagues don't count walks.
Justin Bour— Miami Marlins
5 Category: 16
6 Category: 19
Bour isn't a great player, but he has taken a step forward this season. It is hard to believe that the Marlins aren't in the hunt with all of the good young players they have. Bour is not an everyday guy as the Marlins want to limit his exposure to bad matchups, so he will never be a starting quality fantasy first baseman, but in leagues that employ a 1B/3B he would be a nice addition.
Edwin Encarnacion— Cleveland Indians
5 Category: 9
6 Category: 7
It's easy to look at the numbers and be disappointed. He might not reach 100 runs or 100 RBI for the first time in several seasons. Yet, he has still been the same player he has always been otherwise. He will likely hit more than 30 home runs and will have the same .800+ OPS that he has had every year since coming to the American League.
Freddie Freeman— Atlanta Braves
5 Category: 12
6 Category: 14
Take away the six weeks he missed and he is easily a top five first baseman. He has everything else. He hits for power, hits for average, gets on base, and even steals a few bases here and there. Fortunately, the injury was of the freak variety, so we can simply evaluate the skills moving forward. Plus, the Braves are likely to add more help in the offseason.
Paul Goldschmidt— Arizona Diamondbacks
5 Category: 1
6 Category: 1
There is nothing Goldschmidt can't do on a baseball field. It is one of the rare moments when the best actual player is also the best fantasy player. The fact that he is on pace to steal 20 bases in addition to hitting 30+ home runs, walking 100 plus times, and driving in 120 runs. What else can the guy do?
Yulieski Gurriel— Houston Astros
5 Category: 19
6 Category: 20
Teams that win 100 or more games have players like this. The same is true of fantasy baseball. I wouldn't build a team around guys like Gurriel, but if I had four or five offensive studs I wouldn't mind having him as a secondary piece. You laugh, but he could reach 20 home runs and 40 doubles on the season. That's not half bad. The only drawback is a lack of walks.
Eric Hosmer— Kansas City Royals
5 Category: 8
6 Category: 10
If it helps, think of Hosmer as a rich man's Gurriel. He does everything just a little bit better than the Cuban import. He hits for higher average, hits more home runs, and draws a few more walks. As an impending free agent he will be interesting to watch this offseason. He isn't quite elite, but he's in that next tier.
Logan Morrison— Tampa Bay Rays
5 Category: 11
6 Category: 9
Morrison is one of the best examples of why fantasy players typically don't invest heavily in first basemen and why teams don't either. He has always been somewhat productive, but he came out of nowhere this season to produce big numbers. Is he that guy long-term? Who knows for sure, but there is someone like him every season.
Wil Myers— San Diego Padres
5 Category: 17
6 Category: 16
Two healthy seasons in a row have done wonders for Myers, but it makes you wonder how valuable he really is. He is one of two first sackers to steal ten or more bases, so there is always that. Unfortunately, a big ballpark and a bad team make him look more ordinary than what he really is. That's the difference between real baseball and fake baseball.
Mark Reynolds— Colorado Rockies
5 Category: 5
6 Category: 4
Reynolds is another great example of why you don't necessarily need to invest tens of millions in a productive first baseman. Sometimes you can sit and wait a few weeks to discover which undrafted guy becomes the next big thing.
Anthony Rizzo— Chicago Cubs
5 Category: 3
6 Category: 3
Rizzo is one of three guys I would invest in early on and I wouldn't let this season's results deter me. The rate statistics are fairly stable, so it is just one of those seasons where the runs and RBI are not there. He is still on pace to draw around 100 walks, so he is a really nice guy to have in OBP leagues.
Carlos Santana— Cleveland Indians
5 Category: 14
6 Category: 12
Santana will also be an interesting free agent to track. I would love to have him on my team because he is a lock to draw 90+ walks every season. The power numbers are down somewhat but everything else is around career norms. If you understand what you are getting he is a nice piece to have. Some overdraft him thinking he will take the next step. That will likely never happen. Appreciate what he is.
Justin Smoak— Toronto Blue Jays
5 Category: 7
6 Category: 6
Here we see exhibit three from the wait and see section of the first base universe. Smoak has been a marginal player until this season where he has exploded for 30+ home runs already. He has shown decent patience as well. Like the others, we don't know if it will stick.
Eric Thames— Milwaukee Brewers
5 Category: 13
6 Category: 11
Thames has settled back into the player everyone thought was coming back from Korea. He has impressive power and impressive patience, but he isn't an impressive hitter. Still, he can be useful in leagues that employ a corner infielder and he has some outfield eligibility in some platforms. As a pure first baseman he is probably not a regular.
Joey Votto— Cincinatti Reds
5 Category: 2
6 Category: 2
Others have said, so it is not any revelation, but someday Votto will be inducted into the Hall of Fame and all fantasy fans will scream is about how he never seemed to drive in runs. He will drive in more than 100 this season if he remains healthy and likely draw 120 walks. Again, we are talking the difference between real baseball and fake baseball.
Ryan Zimmerman— Washington Nationals
5 Category: 6
6 Category: 8
This is a nice story but he has been himself since May. That's nothing to sneeze at as he has been a productive player throughout his career (when healthy) but he is nothing to write home about when compared to other first basemen. So, enjoy the ride, but don't count on this again.