2017 Fantasy Baseball: Second Base PECOTA Rankings L-Z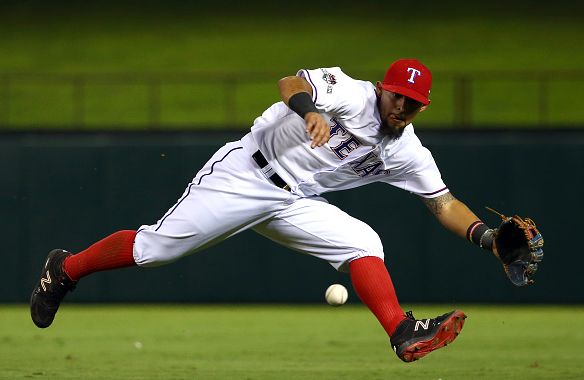 Every position on the diamond is different. When one delves into numbers you can go as shallow or as deep as you want. Finding the median is one thing, but you should always consider the distance from the median when making your picks. Putting together a fantasy team can be a lot like playing Tetris. You have to fit the pieces together to win, so finding those five category contributors is valuable, but sometimes it is more valuable to get someone that dominates in three or four.

As we move to the second half of the alphabet we find fewer five category guys, but we may have some folks that are more valuable because of how they may dominate a category or two. Players that meet or exceed the median will have green numbers. Players that don't meet the median will have red numbers. It might be tempting simply to list the five category contributors first on your draft list, but it is never that easy. So, we refrain from pure rankings and will allow you to make your own judgments.
Median: .268/15 HR/76 Runs/64 RBI/12 SB
D.J. LeMahieu— Colorado Rockies
PECOTA: .294/8/73/53/14 (+2)
3 Year: .305/7/83/56/15
In almost every other place on earth, a .388 BABIP is simply unsustainable. So, while LeMahieu won the 2016 batting title, his predicted regression is logical. Still, the man has a career .352 BABIP and most of that can probably be attributed to the Coors Field affect. Sure, you can say he's really not this good, but someone has to play second base in Coors Field and that someone likely will put up numbers that look good on your roster.
Daniel Murphy— Washington Nationals
PECOTA: .288/15/68/75/8 (+3)
3 Year: .306/16/74/78/7
Back in the 1980s, there was a movie where the devil allowed a man (Rick Springfield) to live as a rock star for one year in exchange for his soul. Daniel Murphy may have had the baseball version of that between October of 2015 and October of 2016. Obviously, the 2016 season bumped up the three year average, but you have to ask yourself how relevant those numbers are moving forward.
Rougned Odor— Texas Rangers
PECOTA: .271/25/76/84/12 (+5)
3 Year: .264/19/61/66/8
There were complaints with how low Odor came up in the three year rankings earlier this offseason. You can see an obvious difference between the projection and the past. That's only part of the equation. The other part is the fact that he might have the lowest walk rate of any second baseman in the game. Still, the considerable power potential and decent speed make him an intriguing player.
Joe Panik— San Francisco Giants
PECOTA: .277/10/69/56/4 (+1)
3 Year: .285/6/52/39/3
In real baseball, the difference between the good teams and great teams is not necessarily in the amount of great players those teams have. It often comes in the difference between true mediocrity and replacement level performance. Panik is below average, but he's not terrible. Therefore, the Giants have a fighting chance. For you, the decision comes down to whether you want your bench to be littered with fliers or whether a simple steady performer is worth a slot.
Dustin Pedroia— Boston Red Sox
PECOTA: .291/13/82/65/7
3 Year: .296/11/74/56/5
Pedroia is likely to be overvalued after his strong comeback season last year. The former rookie of the year and MVP winner is entering his age 33 season. You hate to bet against someone like Pedoria, but the last several seasons have largely been a let down in comparison with those early seasons. He's still a fantasy regular, but there are guys that can offer more elite numbers across the board.
Brandon Phillips— Atlanta Braves
PECOTA: .268/12/53/55/10 (+1)
3 Year: .284/10/62/62/13
It's hard to fault either team on this deal. For the Braves, they give up two pitchers that could charitably be labeled as fringe prospects and the Reds foot most of the bill. For the Reds, they get Jose Peraza into the everyday lineup so they can build towards the future. The numbers above may change some with the changing of uniforms, but it's hard to determine whether they will get better or worse.
Ryan Schimpf— San Diego Padres
PECOTA: .229/26/61/73/1 (+2)
3 Year: N/A
Schimpf is what some people would call an organizational player. Others would call him a AAAA player. In essence they are flawed players but teams can get by using them until something better comes along. He does carry a better walk rate than either Phillips or Schoop. So, he could be a lot worse. Still, I wouldn't use him as a regular unless I absolutely had to.
Jonathan Schoop— Baltimore Orioles
PECOTA: .253/24/64/78/2 (+2)
3 Year: .252/19/55/55/2
Chicks may very well dig the long ball, but when you chart the problems with sustaining an audience in baseball it can be traced back to the dominance of three outcomes (walks, strikeouts, and home runs). The Baltimore Orioles are the poster child for this problem, but Schoop is really a two outcome player. Only Odor has a bigger gap between strikeouts and walks. When you remove the speed element you see Schoop really has only one fantasy function and that function isn't all that rare.
Jonathan Villar— Milwaukee Brewers
PECOTA: .249/15/92/55/48 (+3)
3 Year: .261/9/47/34/29
Villar represents everything that is fun about playing fantasy sports and being a general manager for a rebuilding team. It's a blast to find that diamond in the rough that comes out of nowhere and just explodes with numbers. The power and speed has always been there, but he kept getting in his own way. He could relax and just play for the rebuilding Brewers and now they have found a building block for the future.
Neil Walker— New York Mets
PECOTA: .255/19/59/66/3 (+2)
3 Year: .274/21/67/67/3
You could spend a lifetime what ifing. Walker has surpassed 140 games played in only two seasons. Those seasons weren't exactly magical themselves. If he puts it all together he could hit 30 home runs and drive in 90 runs. If I played the lottery I might have a chance to win the mega millions, but the likelihood is likely similar. He will hit around 20 home runs and miss around 30 games due to nagging injuries. That's just who he is at this point.
Kolten Wong— St. Louis Cardinals
PECOTA: .258/12/52/52/12 (+1)
3 Year: .248/9/54/42/14
For every yin there is a raging yang. For there to be five category guys there have to be zero or one category guys. Wong may not even win the second base job out of camp. Jedd Gyorko and Jhonny Peralta need spots as well and both of them are capable of playing all of the infield positions. It's just as likely that Wong settles in around 400 plate appearances as a part-time bat.
Ben Zobrist— Chicago Cubs
PECOTA: .260/14/81/63/7 (+1)
3 Year: .273/14/84/61/6
I've made my love for Zobrist well known through the years. He is usually eligible at multiple positions and his numbers play up considerably. While he may be better than the median in only one number, he is practically at the median in three other categories and projected to lead second basemen in walks. In short, his value is often overlooked on draft day. If he lasts into the middle rounds I would nab him up in a hurry.