2017 Fantasy Baseball, Spring Training Position Battles – AL Central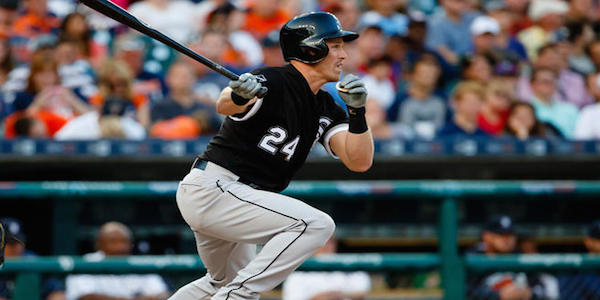 Continuing the theme of Fantasy relevant Spring battles, going division by division we're heading from the AL East over to the AL Central.
Don't get too excited about the possibility of snagging a star for a bargain price. But there are some hitters who could sneak into the reckoning given regular playing time.
In AL-only leagues, anyone with a pulse should be considered and deeper league players should always be open to some ignored late round guys. These are the ones we'll be looking at here.
Probably more than a late round flyer, these are all hitters who might not necessarily be the 2017 version of Jonathan Villar, but could easily tip you over the edge from "nearly-rans" to Champions.
Chicago White Sox
When most teams have given up the ghost before Opening Day, they'll be fielding some players who you might not be too familiar with. And the White Sox are no exception.
Managing to acquire arguably the best position player and pitching prospect via trade, it's highly unlikely Moncada or Giolito will make the big league club out of Spring. There's simply no reason to do anything other than start the year with them in the minors.
* As of typing this, both have been optioned to Triple-A.
That's not to say you shouldn't track them for their eventual call-up. But for draft days, there are a couple of hitters who could sneak into the reckoning of fantasy assets.
As of now, Brett Lawrie is unemployed after his release from the White Sox. His value has been in steady decline since his prospect days. And that's left a hole in the White Sox infield.
Who could fill the gap? Right now it's between Tyler Saladino and Carlos Sanchez.
Carlos Sanchez is 25 and has featured in Chicago in each of the last three years, totalling 687 plate appearances. In that span, Sanchez has hit 9 homers, stolen 3 bases and mustered a .224 average. Nothing to see here.
Tyler Saladino on the other hand is older, has played fewer Major League games but is a more enticing proposition.
Saladino featured in 93 games for the White Sox in 2016, where he managed 8 homers and 11 steals. His .282 batting average and .315 OBP was a big improvement on his 2015 debut (.225 BA and .267 OBP). So where's the truth lie?
His minor league career comprises of 541 games, 41 homers, 111 stolen bases, a .261 batting average and .351 OBP. Not too shabby I think we can all agree.
So last year's numbers might not hold up but if Saladino does win the second base job out of Spring, he could conceivably hit .260 with double digits homers and 20+ steals. If he does manage to get on base at a rate similar to his minor league rate, those steals could go up even more. With something of a weak supporting cast, counting stats might lack but given the rest of the lineup, Saladino should be hitting higher up the order.
As of now, Sanchez is hitting .275 this Spring with a home run and two stolen bases. Saladino is hitting .389 with 3 homers and a solitary stolen base. Saladino's defense this Spring hasn't been sharp but he's better than his current efforts are showing.
I fully expect Saladino to be the everyday second baseman in the South Side and will be a nice late round pick-up for the middle infield spot.
Another quick note on the White Sox is outfielder Charlie Tilson. Charlie who?
Well he'll probably start the season on the DL with a foot injury but Tilson was pencilled in to be the starting centre fielder for the White Sox. The injury occurred before he got on the field this Spring, so it's difficult to gauge how long he'll be out for. Late April seems to be the current target.
So why am I mentioning Charlie Tilson? Well he's 24, so still developing his game. He's a career .293 hitter in the minors, has a .346 OBP to go along with that. Which is important as his biggest asset is his legs.
Tilson has played 487 games across all levels and has stolen 93 bases in that time. That's 30 steals over a 162 game span. Tilson managed just 15 last year, but did miss time with a hamstring injury which could explain why he couldn't get near the 50 bags he stole in 2015.
Last round pick, put him on your DL, then wait until he's on the field to boost your stolen base totals? I'll support that.
Minnesota Twins
The other significant battle in the AL Central is over in Minnesota where two sluggers are competing for DH and occasional first base duties.
When Byung-Ho Park was waived this Winter, it appeared the Twins had cut their losses and was looking to move on from their Korean experiment. Move on with Kennys Vargas that was.
Park reported for Spring with the Twins and rather than sulk about his Major League dream being in tatters, he's come out swinging (literally and figuratively). Right at this moment, Park is likely ahead of the queue to DH for the Twins.
Park has clubbed 4 homers and is hitting at a .361 clip over 36 at-bats. Park came to the US with a reputation as a power hitter and even in limited time with the Twins last year, he displayed that (12 homers in 62 games). It was his sub Mendoza line average which saw him sent to Triple-A.
So if Park can continue to hit this Spring, he should be in pole position for the DH duties in Minnesota.
So what of Vargas? He went 1-13 for the Twins this Spring before participating in the WBC, where he's gone 2-8 (one of the hits being a home run) for Puerto Rico. The Twins will likely want to give Vargas more time back at the club to show his worth. But right now, he's got some catching up to do.
A newly motivated and performing Park looks to have stolen the inside track to Opening Day. Even if he hits .250 for the Twins, a 30 home run season should be achievable. If you're someone who wants to take a gamble on Thames but miss out, Park could be a nice back-up choice come draft day.
Park could end the season as what Thames is expected to be (just with fewer steals). Given Thames has an ADP of 208 at ESPN and 231 at Yahoo, Park being drafted in around 2-3% of leagues represent more potential value for money.