2017 Fantasy Baseball, Spring Training Position Battles – AL West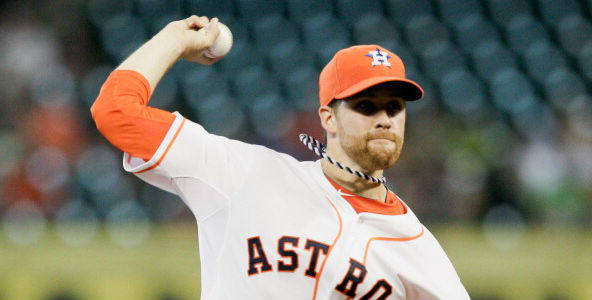 AL East complete. AL Central done. It makes sense to do the AL West now, does it not?
So let's head out West and look at some of the fantasy significant Spring Battles currently working their way out. And in this edition, we'll be taking our first look at a pitching battle which you'll want to know about before your draft.
Houston Astros
So let's take a look at the first pitching battle of relevance. And in truth, it's only relevant to your draft if one person wins it.
The Astros rotation will be headed up by Dallas Keuchel (a popular rebound target in drafts) and followed by Charlie Morton (meh), Lance McCullers (who I like at his current price) and Collin McHugh. Right now, McHugh's health is a concern and he may not be ready for the start of the season. But equally, he might be ready.
So assuming McHugh will start the season healthy; that leaves one spot open in the rotation. That 5th spot will be either Mike Fiers' or Joe Musgrove's.
The best choice for the Astros should be Musgrove starting. He excelled in the minors before finding the Major League a tougher proposition, but certainly didn't embarrass himself in his debut year.
Fiers on the other hand followed his amazing 2014 with a decent 2015 and then a poor 2016. Strikeouts were way down and ERA was way up. Not a good recipe. And the numbers don't suggest he was unlucky.
But this is where real baseball hurts fantasy…… Mike Fiers is out of options. Joe Musgrove is not. Fiers could of course be used out of the bullpen as a long reliever / emergency starter. Musgrove has pitched more innings (17.0) this Spring than any other Astros pitcher and has a 2.65 to show for it.
Fiers though has hardly made the choice easy with a 2.16 ERA over his 8.1 innings of work. He has however given up 10 hits and 2 walks to a tune of a 1.44 WHIP. This was his biggest issue last year, not missing bats and getting hit far too often.
Musgrove's WHIP on the other hand is 1.06.
Musgrove is also 24 and Fiers 31 so it's easier to see more long-term positives from Musgrove. But that doesn't mean he's most likely to remain in the Astros 25 man roster to start the year.
If Musgrove does make the rotation out of Spring, I do like him as a late round pick. Fiers on the other hand is someone I'm not interested in at all. Even if McHugh doesn't return in time to force the Astros' hand, Musgrove will likely make one or two starts before heading back to Triple-A anyway.
But there's always hope……………….
Los Angeles Angels
The Angels outfield consists of Mike Trout, Kole Calhoun and Any Body. Or at least it seems to have been that way for a while. In the last two years, Calhoun and Trout have missed a combined 14 games.
Yet, the Angels have fielded 15 other outfielders in the last two years. And I bet you can't name more than 5 of them.
But this year is different. This year, the Angels have options in left field with the acquisitions of Ben Revere and Cameron Maybin. Not to mention a certain Eric Young Jr. But we'll focus on the aforementioned Revere and Maybin for now.
It would be easy to assume with Maybin batting right-handed and Revere batting left-handed, it'd be a straight platoon. But a look at their career numbers doesn't reflect this at all.
Maybin has a higher career average against righties and Revere's is higher against lefties. Go figure. So what will be the deciding factors?
Well in Revere's favour is his speed (a regular stealer of bases) and Maybin's health (he's hit the DL with numerous issues other the last three seasons). But his biggest tick towards starting is their Spring performances.
Revere has had 38 at-bats, is hitting .421, has a .522 OBP and even homered in the last couple of days. Revere's walked 8 times, struck out just 3 times and is 4 from 6 in stolen base attempts.
Maybin has had 27 at bats but mustered just a .074 average with a .297 OBP. He's also struck out 10 times. Maybin has stolen 4 bases from 5 attempts so it seems the speed is still there.
I know these are only Spring stats and limited ones at that. But if they were heading into Spring on an equal track position for the starting left field job, Revere is looking at Maybin in the rear view mirror.
There is one saving grace for Maybin. Revere's arm in the outfield is arguably the worst in baseball. It's always been something holding him back and Maybin is a better defensive option in left field.
But for fantasy purposes, Maybin holds very little value. His health is unlikely to hold up enough to warrant consideration and outside of some steals, he's not going to contribute much to your team.
Revere is a big stolen base threat. He's hit over .300 in each of his previous three seasons before last year's aberration. His .217 average in 2016 was actually unfortunate given he had a .271 xBA. So if he does bounce back, Revere could provide excellent late round value for steals and with at least a decent average.
If his average does return to pre-2016 levels, he could even find himself higher up the Angels order, hitting in front of a certain Mr. Trout.  I think that's something we can all get on board with.
So like the Astros' battle, there's one outcome the fantasy community want to happen. But it's still not something we can pin our hats on. Yet.
Seattle Mariners
Now I was ready to start writing about how Danny Valencia fits into the Mariner's lineup. As a first base platoon with Vogelbach? Or in a left field platoon with Dyson? Or as a bit of a utility man?
Well, Dan Vogelbach was optioned to Triple-A as I was typing this so that's put the whole issue to bed. The Mariners lineup is pretty much set in stone baring any injuries.
Texas Rangers
The final note goes to the Texas Rangers and something they don't appear to know how to solve; where does Profar play?
Shortstop? Well, Elvis Andrus is there. Second base? That's Odor's. Third perhaps? Adrian Beltre isn't going anywhere. Maybe first? Mike Napoli re-joining the Rangers puts pay to that. Or does it?
Well since Mitch Moreland headed to Boston, the Rangers are short of a bat and don't have a true DH. So it's entirely possible that Profar could play first, Napoli DH with the Rangers using the DH spot to also spot Beltre or some others with time off from the field.
It's pretty much now or never for the Rangers with Profar. Bursting onto the scene in 2012 as a hot prospect seems so long ago and missing two key years of his development with a major shoulder injury does question whether he'll ever near the heights once expected.
So the Rangers need to either cut ties or give Profar a go. And providing he hits well enough, the Rangers will find enough at-bats to make Profar relevant for fantasy.
I'm not expecting a great deal. And given he's only third base eligible in some formats, his value is held in check even more. But there's still enough intrigue to maybe use a last round pick on him, keep him on the bench and see what plays out early in the season.
Who knows, he might end up proving the doubters wrong, given he's still only 24.