2017 Fantasy Baseball, Spring Training Position Battles – NL Central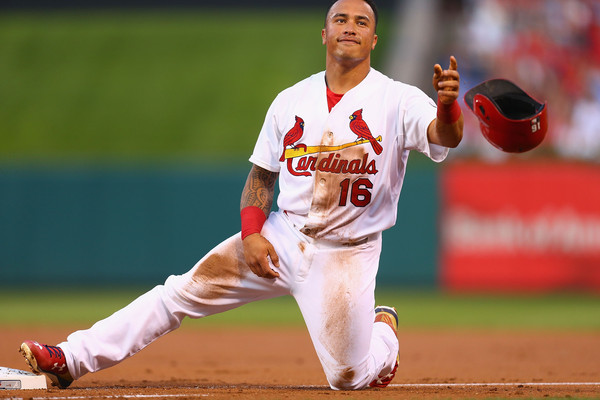 We've passed the halfway mark of the spring battle reviews and with just two more divisions to go and under a  week until opening day, we'll run through the NL Central division to see which spring battles are still to play out which will hold fantasy value.
At this point in the pre-season, we're unlikely to find any competitions whereby the winner will hold massive value in your drafts. But as we all know, it's those late unheralded picks which turn a good draft into a great one. So we'll delve into these later picks who could tip the scales in your balance.
Cincinnati Reds
As of writing, the Reds have yet to finalize anything resembling a rotation with only two spots taken. Scott Feldman will be on the mound for the Reds' opening day (go figure!) and will be followed by Brandon Finnegan.
With Anthony DeSclafani and Homer Bailey (shock horror) both hurt, candidates for the remaining three spots (in no particular order) are;
Bronson Arroyo (albeit a bit dinged up)
Sal Romano
Cody Reed
Rookie Davis
Amir Garrett
Robert Stephenson
In truth, the only ones I'm the least bit interested in are Reed and Garrett. Neither of them are guys who will put up stud-like numbers so we'll have a whistle stop tour of the two, plus a quick note on Stephenson.
Firstly, Robert Stephenson. A former first round pick only turned 24 last month despite seemingly being around forever. He was hit hard in the majors last year, and this spring hasn't been any better. Despite being a big prospect, I've not seen enough anywhere to get excited enough to take a chance on him. Maybe a role in the bullpen is no the horizon.
Cody Reed has shown a knack of inducing groundballs along with some decent strikeouts. His major league debut was pretty brutal, but also just 24, his numbers in the minor leagues are intriguing. Reed was victimized by homers in the big league but that wasn't an issue in the minors so look like nothing more than growing pains to me.
Reed has impressed this spring to the tune of a 3.24 ERA over 16.2 innings. He's also struck out 20, walked 5 and given up just one homer. His WHIP is an impressive 0.96. Hitters are averaging just .186 against him this spring so if he can continue that form heading into the season, there's enough to get a little excited about.
A nice addition in dynasty leagues, I expect progress this year, although I'm not sure it'll be significant enough to warrant too much consideration in '17. Keep an eye out on Reed though. If he does make the rotation and his early season numbers are good, it wouldn't be a mistake in picking him up. Nor is using your last pick in the draft on Reed going to be a error.
Milwaukee Brewers
Hernan Perez is going to get at-bats, or so the Brewers management have told us. But where and how?
There's a few possibilities to Perez seeing enough playing time without the need of an injury to be one of the Brewers hitters worth drafting.
Eric Thames is someone people are buying in to in drafts. But don't forget, he wasn't exactly a stud before heading to Korea. And you only have to look at Byung-Ho Park last year to see that being a great hitter in Korea doesn't necessarily translate into big major league numbers.
So if Thames struggles, Travis Shaw could play at first and leave Perez free to play third base.
Speaking of Shaw, he's no lock to hold on to third base duties all season. He struggled as 2016 went on despite a hot spring and early season form. Shaw also didn't fair too well against lefties. So if he isn't able to correct those issues, a possible platoon is in order.
You also have the possibility that outfielder slugger Domingo Santana struggles enough to warrant dropping to the bench. He hits for power and shows enough patience to be an asset, but if he starts the year slowly, Perez may have a route to at-bats there too.
Finally, we're assuming Orlando Arcia does enough to keep the shortstop job. A highly touted prospect, Arcia found a path to Milwaukee last year and did reasonably well for a young debutant. The Brewers should stick with him, but if Arcia doesn't make another step forward, Triple-A could loom, leaving Villar to move to shortstop and Perez manning second.
So even if Hernan Perez doesn't break camp with a starting role, there are enough possibilities for him to have enough at-bats to warrant consideration in your drafts. Given his speed (plus some power), Perez should present value as a late pick regardless of winning a starting job.
Pittsburgh Pirates
The Pirates have an ongoing battle for their fifth starter between Glasnow, Brault and Williams. Now, I'll include this here because some of you may wonder why it's not mentioned if I didn't.
But in truth, in re-draft leagues I'm not interested in any of them for 2017. Glasnow has put up huge strikeout numbers this spring but he's also been hit the hardest of the three. Despite being well regarded prospects (Glasnow especially) I can't see any of them being an asset to your teams this year.
In dynasty leagues, Glasnow especially warrants consideration. But he's still got some wrinkles to iron out before he's entering consideration for fantasy value.
St Louis Cardinals
The Cardinals seem to have too many players for infield jobs. Aledmys Diaz, Jhonny Peralta, Kolten Wong and Jedd Gyorko are all competing for the second base, shortstop and third base jobs.
Wong is only really a second baseman, whilst the other three could potentially play in a couple of spots.
In truth, regardless of who wins what role, they all will have value dependent on playing time. It's too early to tell how things are going to work out so this is something we need to monitor at over the next week and over the early stages of the season.
Right now, I'd rank them Diaz, Gyorko, Peralta and Wong. But given how much their value is dependent on playing time, that could change quite easily in the coming days.