2017 Fantasy Baseball: The Fielding Chronicles– Arizona Diamondbacks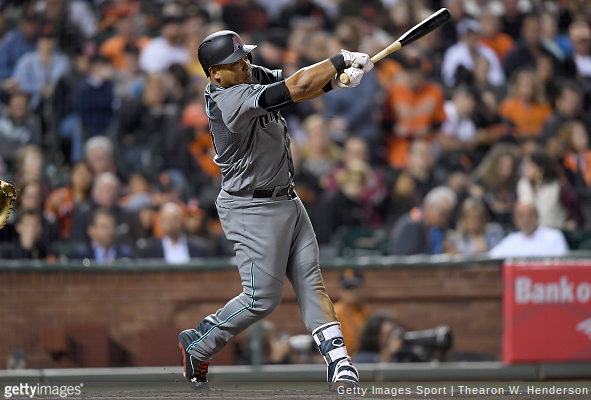 The importance of fielding can often be seen in the best and worst teams. Perhaps, it is even more obvious when we look at the disappointing teams. No team disappointed in 2016 as much as the Arizona Diamondbacks. It ended up getting the general manager fired. Two consecutive general managers underestimated the importance of fielding (and perhaps some of the other little things) to their detriment.
Like with the Blue Jays before them, the proof was in the pudding that is defensive efficiency rating. They dropped to last in the National League with a .671 mark. In other words, opponents had a .329 average on all balls in play. Pitchers will die under those circumstances. When a team is in tune with these numbers they make decisions to counteract them. That means making changes to improve the fielding. Obviously, that has a direct impact on fantasy players.
In order to grade out their fielding, we will use defensive runs saved (DRS) by the Fielding Bible at billjamesonline.com. The site has numbers on individual players and on teams by position. We will look at their Dbacks defense as a whole and compare that with the DER data from baseball-reference.com. When we get to the bottom of the fielding situation we can also evaluate how that will impact the pitchers.
Team Overview
| | | | | | | | |
| --- | --- | --- | --- | --- | --- | --- | --- |
| | Infield | Outfield | Shifts | Total | Rank | DER | Rank |
| 2014 | +11 | +21 | +4 | +36 | 5th | .673 | 15th |
| 2015 | +23 | +37 | +12 | +72 | 1st | .693 | 5th |
| 2016 | +1 | -19 | +17 | -1 | 9th | .671 | 15th |
When you finish dead last in DER in two out of three seasons, there is something going wrong. DER is usually a combination between bad pitching and bad fielding. If a pitching staff gives up more line drives than other teams or hard contact in general then their DER is bound to be worse even with good fielding. In the case of Dbacks it is a case of below average fielding and below average pitching. The combination is a synergy that creates new and improved levels of suck.
Mike Hazen takes the place of Dave Stewart while Torey Lovullo takes the spot once occupied by Chip Hale. Their task is to make the fielding respectable again. The rest should follow if they are able to do that. So, Hazen reshaped some of the roster and Lovullo is charged with figuring who to play and when.
Strongest Fielder
Part of the difference between 2015 and 2016 was that the Dbacks were ravished with injuries. A.J. Pollock is the Dbacks best defender and he spent most of the season on the disabled list. He was plus 22 runs in the two seasons before 2016, but was only three runs above average due to all his time missed last year. If he remains healthy this season they should be considerably better already.
Weakest Fielder
The Dbacks are probably happy overall with the performance of Yasmany Tomas, but they would probably prefer the designated hitter rule be added to the National League. They've shuffled him from the infield, to right field, and finally to left field. It doesn't matter. His best position is with a bat in his hand. He has been minus 30 runs over the past two seasons, so they are just hoping they can hide him.
Key Changes
The biggest change comes at shortstop. The Dbacks dealt Jean Segura while his value was at its highest level. They dealt him for Ketel Marte and Taijuan Walker. Marte might end up playing regularly, but Chris Owings has the job for now. He has been neutral overall. In addition to Owings and Marte they also have Nick Ahmed. Luvollo will have to juggle the offensive production with the fielding production.
The Dbacks are operating the same shell game behind the dish as well. Welington Castillo is gone and has been replaced by a trio of catchers. Chris Iannetta is the outside as he has had a long career in Colorado, Los Angeles, and Seattle. He is horrible defensively (minus 31 runs in three seasons) but has a better hitting pedigree than veteran Jeff Mathis. Mathis is the mirror image. So far, Mathis has been getting a majority of the time in spite of the fact that he can't hit his way out of a paper bag.
The Pitchers 
Zack Greinke has the most to gain from an improvement in fielding. His ground ball rate is above average (49 percent) but not extremely high. He needs better production from the middle infielders than what they have been getting. The problem is that both Jake Lamb and Brandon Drury were subpar last season. Both were mediocre or better the season before, so there is reason to believe they will rebound this season.
Taijuan Walker has been all over the map, so there is little to actually predict where he will go, but based on past results he might have a little more difficult time avoiding fly balls. In that case he could have a hard time keeping it in the ballpark and avoiding bad defense from Tomas. Then, again he could respond with more ground balls. He definitely bears watching either way.