2017 Fantasy Baseball: The Fielding Chronicles – Colorado Rockies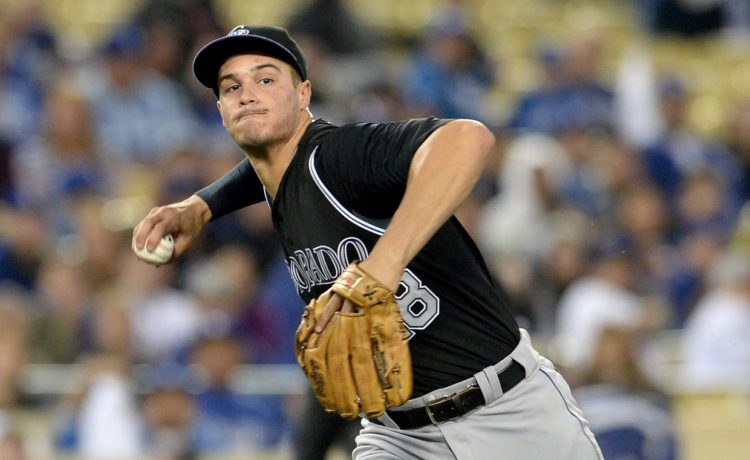 Sometimes the best laid plans go awry through no fault of our own. Sometimes, there are poorly laid plans that go awry and we end up benefitting in the process. The Rockies offseason plan was less than optimal for many reasons. This was particularly true on the fielding end of the equation. Sadly, the Rockies have made some very questionable decisions in recent years and most of baseball has been left scratching their head.
Not every organization will be run well. This is true in both a quantitative and qualitative sense. Obviously, one team can win the league championship, but even taking that paradigm away, there is always one organization that makes you question what in the heck they are doing. The Rockies are that organization.
We are evaluating all of the organizations using defensive runs saved (DRS) according to the Fielding Bible. This data and more can be found at billjamesonline.com. We will look at their individual and team stats for the Rockies going back to 2014. Additionally, we will take a look at their defense efficiency rating (DER) according to baseball-reference.com. We will compare the two to see how their fielding possibly impacts their pitching.
Team Overview
| | | | | | | | |
| --- | --- | --- | --- | --- | --- | --- | --- |
| | Infield | Outfield | Shifts | Total | Rank | DER | Rank |
| 2014 | +1 | 0 | +1 | +2 | 11th | .678 | 13th |
| 2015 | -2 | -16 | +8 | -10 | 13th | .668 | 14th |
| 2016 | +4 | 0 | +15 | +19 | 5th | .667 | 14th |
We should start with the obvious. Coors Field is the most spacious ballpark in baseball. So, fielders are more spread out and so they have more ground to cover. So, it is not surprising to see a gap in their perceived defensive ability and their actual defensive production. No amount of intelligent design will get around that inconvenient truth. However, there are some things they could to mitigate their damage.
For instance, they have traditionally gone for more powerful outfielders rather than adopting a speed first principle. The regulars seem to be fairly neutral on paper, but their history indicates they could do better. The same could be said in the infield and that is where a lot of the confusion comes.
Strongest Fielder
There have been tests before when it comes to the Coors Field effect and the Hall of Fame and the next test might be playing third base for them now. Nolan Arenado is the best all-around third baseman in the National League. He has saved 54 runs over the past three seasons in addition to leading the league in RBI.
Arenado has four fairly good seasons under his belt, but he has a long time to go before we starting talking about Cooperstown. For fantasy owners, they really don't career about fielding or mile high effects. They just care about a player that has hit 40+ home runs and driven in 130+ runs two seasons in a row.
Weakest Fielder
This is one of those times where it is unfair to pick on anyone. Charlie Blackmon is minus seven runs over the past three seasons and comparatively that's not bad at all. However, it does highlight a part of their problem in terms of team building. He is among the league leaders in runs, home runs, and RBI, but he is a negative impact fielder. The problem isn't so much Blackmon specifically. It's difficult turning down that kind of offensive production. The problem is that they seem to make this kind of decision at multiple slots.
Most platforms have Blackmon as considerably below average defensively. Turn that around with one more defensive win per season and you could see a dramatic impact on pitchers. This is just one reason why players like Blackmon seem to have paltry WAR numbers in spite of the gaudy offensive numbers.
Key Changes
The head scratcher of the offseason was the decision to sign Ian Desmond and then move him to first base. He's never played first base and first base significantly limits his positive utility. In other words, he typically hits between .260 and .280 with 20 to 25 home runs. That's great for a shortstop, decent for a corner outfielder, but pretty mediocre for a first baseman. His five year, 70 million dollar contract expects him to be at least solid overall. The odds seem to indicate he won't ever live up to that contract.
Behind the dish, the Tom Murphy era is also stuck in the opening blocks. Desmond and Murphy were injured in Spring Training and might not make their debut for another few weeks. Tony Wolters has taken his place for the time being and appears to be an above average defensive catcher. Wolters has been neutral defensively over the course of his career and that might actually be better than what Murphy would do in his place.
Gerardo Parra has replaced the injured David Dahl in left field as well. He's been a plus defender over the years, so his addition to the lineup might actually be positive in the early going. While it is true that Dahl is more gifted offensively, having the superior fielder in the short term might benefit the pitchers.
The Pitchers
Injuries have ravaged the pitching staff in the early going too. Tyler Chatwood and Antonio Senzatela lead the team in innings with 26 innings a piece. Both pitchers have outperformed their fielding independent pitching numbers by a significant margin. Senzatela in particular has gotten off to a hot start with a 3-0 record and 2.08 ERA. He is a very tempting add, but it always pays to watch the home and road splits for Rockies pitchers.
On the flip side, Tyler Anderson is off to a dreadful start. He is 1-3 with a 7.11 ERA to go against his 5.23 FIP and 3.99 xFIP. For those unfamiliar, xFIP is fielding independent pitching with a league average home run rate. Nobody should be desperate to add starting pitching in April, but if you find yourself in dire circumstances you can add Anderson and simply start him only when he is on the road.