2017 Fantasy Baseball: The Fielding Chronicles– Houston Astros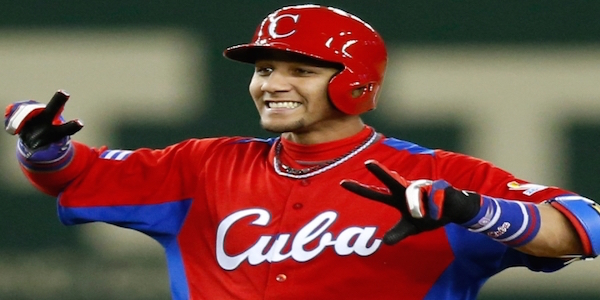 Fielding is becoming more and more important as we gain more information about it. Advanced fielding numbers are increasingly more accurate and therefore more relevant. It has a profound effect on pitching and so more teams are considering fielding when they fill out their lineups on a daily basis. A superlative fielder will get more rope at the plate when they struggle. A poor fielder might find themselves on the bench even when they are hitting well.
The Astros represent the lead of the fielding curve in a number of ways. They may not look great individually, but they have used advanced shifting better than any other team to get better team results according to defensive runs saved. Furthermore, they've established a staff that takes full advantage of those tendencies. The end result is that a staff that might appear mediocre has performed well. In essence, they are the posterchild for positive interaction between fielding and pitching.
Defensive runs saved comes from the Fielding Bible and billjamesonline.com. They have information on individual players and teams. The team data includes data by position and advanced shifting. We will look infield, outfield, and shifting data. Additionally, we will look at defense efficiency rating (DER) from baseball-reference.com as well. It is a simple percentage of the balls in play that get converted into outs.
Overview
| | | | | | | | |
| --- | --- | --- | --- | --- | --- | --- | --- |
| | Infield | Outfield | Shifts | Total | Rank | DER | Rank |
| 2014 | -12 | +2 | +27 | +17 | 5th | .685 | 10th |
| 2015 | +20 | +17 | +20 | +57 | 1st | .701 | 2nd |
| 2016 | +26 | +33 | +22 | +81 | 1st | .681 | 14th |
Understanding the difference between defensive runs saved (DFS) and DER is key. DFS simply calculates the number of plays a fielder makes in comparison with the number they should make. The folks at the Fielding Bible study video to evaluate every ball in play so they can categorize the plays into categories based on the likelihood that the play will be made. So, the Astros are making more plays than they should, but they still had a lot of balls in play that were not converted into outs.
Sometimes that results because of harder contact that no one could reasonably convert into outs. Sometimes it's just dumb luck. So, the DER from last season may have resulted from too much hard contact, but it also could have been luck based. As these things usually go, it was probably both.
Unlike most teams, the Astros have been pretty well balanced in terms of infield and outfield defense, but like most teams, they prefer ground ball pitchers. There tend to be fewer extra base hits with ground balls. The club was fourth in the AL in runs allowed despite not having a true staff ace.
Strongest Fielder
For a team that does so well overall, they don't have many strong individual defenders. The strongest defender over the past three years is newcomer Josh Reddick. He has been plus 17 runs over the past three seasons according to defensive runs saved. The key for him is a strong throwing arm. It hasn't earned him as many runs in recent seasons simply because teams don't test him anymore, but that is still quite an advantage.
Reddick pushes George Springer to center. Springer would be number two on this list. The Astros reconfigured center field in Minute Maid Park to take away Tal's Hill. That will obviously make center easier to defend, but that is merely conjecture at this point. If Springer is as good in center as he was in right field, the Astros outfield will be one of the best defended outfields in all of baseball.
Weakest Defender
Ironically, the strongest defender is not here because he is not a regular. This is where fantasy baseball and real baseball intersect. Nori Aoki has been minus 12 runs according to DFS over the past three seasons. Granted, some of that has come in center field and right field where he will not play in Houston. A lot of that comes from having a weak throwing arm. The Crawford Boxes cut down on the distance he has to throw in Houston, so the hope is that he can be a neutral defender.
Jake Marisnick is the best defender of the squad at any position. He will get more playing time in left field and center field because he is a superior defender. The rearranging will force Aoki out of the lineup more often. So, even though he hits for high average and gets on base, Aoki's fantasy value is limited because of his defense.
New Faces
There are quite a few new faces as the Astro try to add more offense. Behind the dish, Brian McCann and Evan Gattis will almost certainly combine to be the best offensive duo in baseball if history holds, but they may not be up to snuff defensively. That may or may not have a profound effect on the team's pitchers as Jason Castro was one of the best pitch framers in the game.
Yuli Gurriel and Alex Bregman debuted last season, but they were not the regulars for most of the season at their positions. Both are gifted defenders that likely will end up being positive impact fielders according to DFS. Of course, they will both have to prove that they can hit enough to keep their jobs.
Finally, we get Carlos Beltran. At this point, he is penciled in as the team's designated hitter, but reports are that he will spend 30 to 40 games in the field somewhere. That would likely be in left field for right now, but circumstances may change that. He also has recent experience in right field if the need arises.
Pitchers
The top four pitchers in the Astros rotation have combined to average a 55.55 percent ground ball rate over the past three seasons. That is by far the highest percentage in the American League and quite intentional on the part of their front office. Assuming both Bregman and Gurriel are positive impact fielders, the infield defense might be even better than it has been in the past.
Dallas Keuchel's ground ball rates have been ridiculous over the past three seasons (65, 62, and 58 percent respectively). Last season he took a step back because of injuries and other problems, but he is a dangerous bounce back candidate. Similarly, Charlie Morton has had injury problems the past few years, but his ground ball percentage has also been above 60 percent. If he stays healthy, he will also be an excellent sleeper candidate.
On the flip side, Collin McHugh as already gotten off to a bad start. His first rehab start was cut short after one inning because of elbow discomfort. However, even if healthy, his 45 percent ground ball rate over the past three years predicts more problems. Combine the poor health with the expected regression and you have a pitcher you should avoid.