2017 Fantasy Baseball: The Fielding Chronicles– Pittsburgh Pirates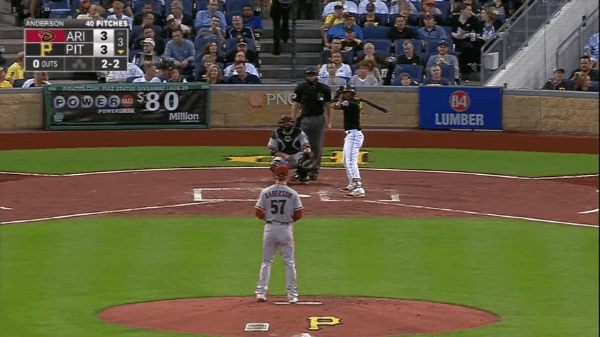 Most of the time, you want star players on your team. Stars obviously produce great numbers in their own right, but they also attract other players. Then, there is the marketing that goes along with those stars. Andrew McCutchen might or might not be a legitimate star, but he is as close to that as the Pirates currently have. He won the NL MVP award in 2013 and has finished in the top five three other times. He has earned a great deal of leeway.
Unfortunately, that leeway creates some issues as we will see later on. Most people focus on the offensive end where McCutchen has struggled in each of the past two seasons, but the defensive end is nearly as important. You get locked into those stars and your fortunes rise and fall with them.
We are looking at defensive runs saved from billjamesonline.com. The site has information on individual players and team data. We will look at the team performance over the past three seasons and compare that with the defense efficiency ratings from baseball-reference.com. Usually the two compare nicely, but occasionally we see some wild differences. From there, we take a look at the prominent starters to see who will benefit and who will be punished.
Team Overview
| | | | | | | | |
| --- | --- | --- | --- | --- | --- | --- | --- |
| | Infield | Outfield | Shifts | Total | Rank | DER | Rank |
| 2014 | +39 | 0 | +5 | +44 | 4th | .694 | 6th |
| 2015 | 0 | +22 | +9 | +31 | 4th | .679 | 13th |
| 2016 | +2 | -17 | +11 | -4 | 10th | .676 | 13th |
The Pirates have gone from the top of the division to the middle of the division in the matter of a few seasons. You could look at a lot of data in a lot of different areas, but the diminishing returns can be seen here. The difference between making the playoffs in 2014 and 2015 and missing in 2016 is almost exclusively hidden in the fielding data. Unfortunately, much of that can be seen in one player.
As we will see, the Pirates tried to get around this disadvantage where other organizations just ride these situations out. The best laid plans don't always work out though. Starling Marte was suspended 80 games for failing a PED test. So, they had to move McCutchen back into centerfield and they must take a step back from their plans.
Strongest Fielder
The aforementioned Marte moved to center field to cover for the ineptitude that McCutchen was bringing to the table. He has been plus 46 runs over the past three years defensively in left field. Losing that kind of positive production is doubly bad for the Pirates. He is due to come back in towards the end of July. The Pirates might be out of it by then.
Weakest Fielder
McCutchen might be the weakest fielder in baseball according to defensive runs saved. He has been minus 49 runs over the past three seasons and minus 28 runs last year alone. Give McCutchen credit for his willingness to move out of center field. Not every star player would be willing to make the move. Unfortunately, he has had to move back and he is still struggling at the plate as well.
Key Changes
The only new player is Josh Bell. He came up last season and preceded to go minus eight runs in only a part of the season. Some of those eight runs came in the outfield, but suffice it to say he would likely be a designated hitter candidate if he were in the American League. Then again, that spot might be reserved for McCutchen.
Key Pitchers
Fortunately for the Pirates, most of their pitchers are groundball pitchers. Gerrit Cole is the ace of the staff and in the best position to take advantage of the Pirates' strength as a defense. His 50 percent groundball rate along with his ability to miss bats make him dangerous. Ivan Nova has an even higher groundball rate (52 percent) and given his past track record may not have been drafted in your fantasy league.