2017 Fantasy Baseball: The Weekly Standard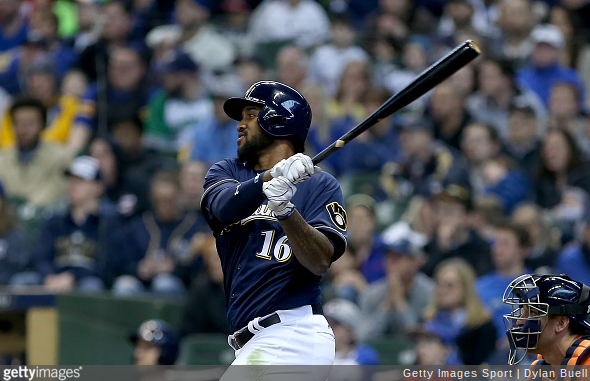 Here we are in week two of the weekly standard. The goal of the weekly standard is to highlight the best position player, starting pitcher, and relief pitcher available on the market. Availability is defined as any player owned in fewer than 50 percent of ESPN and Yahoo leagues. Of course, many of you would point out that there are numerous other platforms to consider, but ESPN and Yahoo take over the heaviest chunk of leagues in fantasy player.
Postion Player
Domingo Santana–Milwaukee Brewers (OF)
Yahoo: 45.0%
ESPN: 27.0%
Basic Numbers: .270, 9 HR, 31 Runs, 30 RBI, 4 SB, 26 BB
If there is a weakness in Santana's game it is that there is a lot of swing and miss there. However, the basic plate discipline numbers indicate that he swings at strikes most of the time. His career ML strikeout rate is 32.3 percent, but that is down to 26.7 percent this season. That's nothing to write home about, but he does have a 12.9 percent walk rate to go along with that. His swing rate on balls outside the zone has been a respectable 25.4 this season (career 24.9). That's approximatately five percent better than the league average.
Many of you are wondering what all of this means. It means a couple of things. First, he carries a good OBP and is likely to continue doing so. Secondly, he has awesome power potential and his contact rates have improved. He is already on pace to hit about 25 home runs and could have a power surge tbis season. Add in about ten stolen bases and you have a potential fantasy regular on your hands.
Starting Pitcher
Erasmo Ramirez— Tampa Bay Rays
Yahoo: 17.0%
ESPN: 11.9%
Basic Numbers: 39.1 INN, 3 Wins, 3.66 ERA, 0.99 WHIP, 28 K
Like most pitchers of his ilk, you have to make sure you temper your expectations. It's easy to look at a WHIP under one and get overly excited. He is a career 28-29 pitcher with a 4.10 ERA. His .243 BABIP could be a harbinger of things to come, but for the time being is performing better than most end of the rotation fantasy regulars.
If there is any positive we can latch onto it is the fact that he has a career low 1.6 walks per nine innings going on so far this year. His home run rate is around league averages, so there is some hope that he will meet his career ERA marks. Fangraphs have his fielding independent pitching marks (3.80 FIP, 3.79 xFIP) below four, so he won't blow your skirt up, but he will likely get you through the tough times when your staff aces are on the disabled list.
Relief Pitcher
Felipe Rivero— Pittsburgh Pirates
Yahoo: 30.0%
ESPN: 14.9%
Basic Numbers: 28.7 INN, 2 WIN, 12 Holds, 0.63 ERA, 0.80 WHIP, 30 K)
Rivero was a part of the Mark Melancon deal and stands as a secondary example of why closers are often overrated. The Nationals got a little more than two months of Melancon and the Pirates will get at least four seasons of Rivero if they want it. He has three saves, but has a 3.04 career ERA to go along with the sparkling numbers you see above. Granted, he is pitching above his head right now, but even if you went with the FIP and xFIP you would still see a pitcher with an ERA below 3.00.
If you are in a league that does not count holds it could be difficult to justify such a transaction. I get that. However, if your choice is between carrying a strong middle reliever or two or a mediocre (or less than mediocre) starter then the middle reliever might be preferable. On days when you have no starters than can give you a strikeout or two with a clean inning. On days when your starter blows up they can offset that some.