2017 Fantasy Baseball: Third Base PECOTA Projections L-T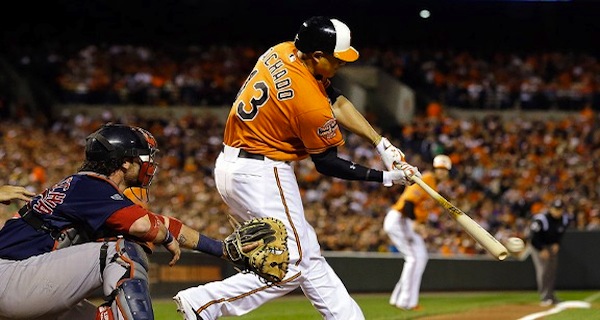 As we saw in the last edition, third base could be the deepest fantasy position on the diamond. For those that want to have quality at as many positions as possible, that means you can punt third base and reasonably expect to have a quality bat there later in the draft. If that's the case, you are looking for someone that comes close to the median at every position while excelling in at least one or two categories. The median is defined as the average between the 12th and 13th third baseman in each of the five major categories.

We didn't include walks this time around, but a player's relative patience is always considered in the background. A player who meets or exceeds the median in a particular category will have a green number. If a player does not meet the median, that number will be red. We also will look at the three year numbers for each player since the previous rankings this offseason were largely built on those.
Median: .267/21 HR/72 Runs/78 RBI/5 SB
Evan Longoria— Tampa Bay Rays
PECOTA: .258/25/76/87/3 (+3)
3 Year: .265/26/79/87/3
For the vast majority of players, PECOTA is really no mystery. Who that player has been is who they will likely be. That's the circle of life I suppose. In the case of Longoria, he is reaching the end of his prime, so we will see some slippage, but he is basically who he has always been. There was a time when he looked like a potential MVP candidate, but those days have passed. He is now a solid to good third basemen in an era with a lot of good third basemen.
Manny Machado— Baltimore Orioles
PECOTA: .283/25/80/88/8 (+5)
3 Year: .286/28/82/71/7
Greatness is a variable absolute. There is nothing Machado can't do on a baseball field. He even showed he could play short last season. Unfortunately, there is nothing that Machado does that is better than anyone else. Arenado is better with the glove and guys like Bryant and Donaldson are better with the bat. Others run better than him on the bases. When you put it all together you get a really good baseball player. Fantasy value may not completely match up with the real life value though.
Eduardo Nunez— San Francisco Giants
PECOTA: .265/9/65/53/31 (+1)
3 Year: .273/8/41/37/19
Nunez came out of nowhere to earn a regular job last year. 16 home runs and 40 steals later he is one of the more intruiging sleeper candidates on draft day. Truth be told, he wouldn't be a sleeper at all at any position but third, but given the depth at the position probably will not be a regular in most 12 man leagues. Still, the speed alone is intruinging enough to add to your bench.
Martin Prado— Miami Marlins
PECOTA: .275/10/69/56/2 (+1)
3 Year: .292/10/61/65/2
Prado has carved out a career for himself primarily by being able to play a few positions with enough proficiency to keep a job while making contact and keeping his average above average. Otherwise, he doesn't do anything else particularly well, but then again you can't have 30 all-star level third basemen can you?
Jose Ramirez— Cleveland Indians
PECOTA: .276/10/67/60/23 (+2)
3 Year: .275/6/54/40/14
Ramirez and Nunez are not literally dopplegangers. There are subtle differences between the two, but you can excuse most fantasy players if they couldn't pick either of them out of a lineup. Both won't kill your batting average and they will give you solid stolen base numbers. You could do a whole lot worse than either on your bench.
Anthony Rendon— Washington Nationals
PECOTA: .263/16/66/67/9 (+1)
3 Year: .274/15/82/64/10
Stat geeks (or seam heads) have gotten a bad wrap over the years and this is one of the reasons why. Sometimes you just have to damn the torpedoes and go with some dogged cockeyed optimism. The folks at BP aren't optimists. They are realists. A realist looks at Rendon's career and sees a lack of production. The optimist sees nagging injuries that will go away and reveal a truly gifted hitter. He was that guy last year. Maybe he can be that guy again.
Miguel Sano— Minnesota Twins
PECOTA: .240/31/79/90/2 (+3)
3 Year: .253/22/52/59/1
No two career arcs are exactly the same. The Twins tried Sano in the outfield and that probably messed with him a little when it came to his hitting. They are moving him back to his customary third base, so hopefully the contuinity will help him at the plate. If he can make it through a whole season he would seem to be a cinch to hit 30 home runs. The rest of the numbers will flow naturally from there.
Kyle Seager— Seattle Mariners
PECOTA: .266/26/83/91/6 (+4)
3 Year: .271/27/82/90/5
A fascinating discussion could be had about the Hall of Fame prospects of players like Seager. Fast-forward a decade and assume good health. Where does a player like Seager fit in the history of the game? He will likely never be the best player in the game at his position. Heck, he might not even be the best in his own division, but he's been a darn good one for a long time already and given another ten years he could have an interesting argument. He should be a top five third baseman on your board.
Travis Shaw— Milwaukee Brewers
PECOTA: .244/21/64/72/3 (+1)
3 Year: .256/15/47/54/3
How does the value of a good middle reliever compare to the value of a below average everyday player? That has changed relative to the times and the needs of various teams. For the Brewers, getting a player that could reasonably man third base was more important to them. That allows Jonathan Villar to move to second base and Orlando Arcia to slide in at short. As for your team, Shaw slides in well to your bench.
Yangervis Solarte— San Diego Padres
PECOTA: .273/16/65/72/1 (+1)
3 Year: .272/13/58/61/1
There are players like Solarte throughout baseball. They begin because the team has no one else eligible to play the position. A few seasons later and you realize that the same guy has been the regular for several seasons now. You slowly adjust to the idea of him being a regular and suddenly it doesn't seem all that bad. The same thing happens on fantasy teams. He is below the median, but not by enough to panic, so he should be a nice bench piece.
Eugenio Suarez— Cincinnati Reds
PECOTA: .252/20/67/71/8 (+1)
3 Year: .257/13/50/47/6
Teams don't come in last because their players relentlessly suck. It just doesn't work that way. Instead, most of them cut up a little short here and there and when you add it all up you get a last place team. They are still good enough to win 60 to 65 times after all. Suarez fits that mold. He's okay in most categories, but just not quite good enough to be a fantasy regular.
Justin Turner— Los Angeles Dodgers
PECOTA: .278/19/72/77/5 (+3)
3 Year: .303/17/60/64/5
Turner got a rich four year contract this offseason. His ship finally arrived. Up until a season or two ago, he was simply a utility guy that seemed to be making good. Somewhere along the way he eased into the role of frontline player. The numbers may not look it, but he is comparable to the likes of Matt Carpenter. He should be a top ten fantasy third baseman.