2017 Fantasy Baseball: Three to Add, Three to Keep, Three to Drop– Starting Pitchers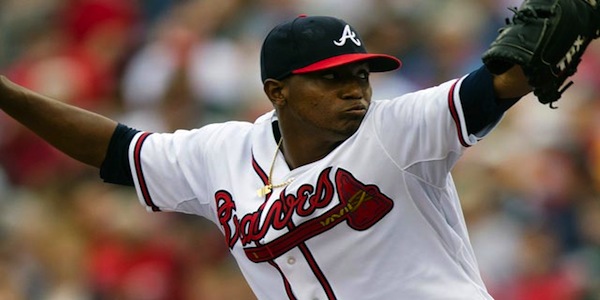 Pitching is the hardest thing to gauge throughout the baseball season. So much of it is dependent on the work of teammates. A bad fielding team behind the pitcher can render him ineffective. A bad hitting team behind can render his good efforts as useless. The same is true of a bad bullpen. Usually, everything regresses back to the mean, but that can seem a long way off in June. We are past Memorial Day, so it is far past time to utter the mantra, "it's still early."
That being said, sometimes the best moves are the ones that aren't made. In April, it looked like Adam Wainwright was finished as a frontline starter. His numbers still aren't pretty, but a series of good starts have brought him back to within normal ranges. On the flip side, guys that looked great in April have slid back to their norms as well. It makes picking players hard.
Three to Add
Kyle Freeland— Colorado Rockies
What is happening?
The Rockies are the surprise team in the National League. They are battling with the Dodgers and Dbacks for playoff berths and at this point all three would be in the playoffs. Surprise players are often part of these evolutions and Freeland is certainly that. At press time, he is sporting a 7-4 record with a 3.57 ERA. There are some troublesome numbers we will get to in a minute, but overall he is logging innings and winning games. That's not half bad for a end of the rotation guy.
Barriers to Launch
Freeland has a 1.388 WHIP and has only fanned 47 guys in 75 innings. That combination spells regression. However, as long as you don't expect too much, Freeland can be a serviceable guy for you.
Antonio Senzatala— Colorado Rockies
What is happening?
I swear I'm not a closet Rockies fan. There are numerous starters that fit this bill, so some guys will have to shake their fist in disgust. Like Freeland, Senzatala has thrown innings and benefitted from the Rockies offense and revitalized bullpen. At 8-2, he has the best record of anyone still seeking fantasy work. Unlike Freeland, he has a respectable 1.216 WHIP and a few more strikeouts (54).
Barriers to Launch
The issues for both pitchers is that they will pitch half of their games in a hitter's paradise. The expectations have to ratched down as it is unlikely that he will sport a 3.84 ERA all season.
Alex Wood— Los Angeles Dodgers
What is happening?
There's probably no team more uniquely qualified to deal with the modern disabled list than the Dodgers. They seemingly have a twelve man rotation with half of those guys on the DL at any one time. I exaggerate of course, but Wood was an afterthought coming into the season. Now, he is their best starter statistically. At 6-0 and a 2.01 ERA it might be a miracle for him to be available in your league, but miracles sometimes happen.
Barriers to Launch
He hasn't pitched heavy starters innings for a couple of seasons now, so he might tire down the stretch.
Three to Keep
Jake Arrieta— Chicago Cubs
What is happening?
Making the call between a struggling starter and one that is cooked is hard to make. The numbers may look similar, so you have to go with your gut. Arrieta seems to have solid starts, but he just can't seem to sustain it for multiple starts. The WHIP (1.33) is higher than you'd like, but he is averaging more than a K per inning, so the stuff is still there.
Drop if…
The Cubs don't seem to come out of their funk by July. You expect that they will, but you just never know.
Jose Quintana— Chicago White Sox
What is happening?
I'm dating myself, but back in 1998, Randy Johnson spent most of the first four months in a malaise before busting out following his trade to Houston. Quintana has been rumored to be on the move since December. So, the 5.30 ERA and 1.39 WHIP seem disastrous, but he is avering more than a strikeout per inning and everything seems normal velocity wise. His mind just might not be in it, but that will likely change before July 31st.
Drop if…
He stays on the White Sox all season.
Julio Teheran— Atlanta Braves
What is happening?
Teheran was supposed to anchor the Braves new rotation this season and he has in some ways. He is averaging nearly seven innings a start and he has a winning record. It's a testament to his grit that he is winning games (6-4) despite a 4.86 ERA. He isn't missing as many bats as he used to (57 Ks in 79.2 innings) but he is eating innings and that has some value.
Drop if…
The Braves stop hitting for him.
Three to Drop
Matt Harvey— New York Mets
What is happening?
What hasn't happened this season for Harvey? Officially, he is 4-3, so there is some positives, but he has been suspended by the team and pulled early for arm fatigue a couple of different times. The latest happened this week and he is rumored to be on the shelf for over a month. He's been lost since losing Game 6 of the World Series two years ago.
Keep if…
He suddenly discovers the fountain of health.
Masahiro Tanaka— New York Yankees
What is happening?
It happens with pitchers every now and then. I wouldn't give up on him for his entire career, but maybe 2017 is just a lost season. His fielding independent pitching numbers are slightly better than his 6.07 ERA, but that's of little consequence to people that bought him early.
Keep if…
Unlike Harvey, he is seemingly healthy, so maybe you can afford to stash him on your bench for awhile to see if he turns it around.
Jordan Zimmermann— Detroit Tigers
What is happening?
If you sunk a draft pick in Zimmermann you may feel bad, but imagine if you are the Tigers. They are sunk for years. He got off to a great start in 2016, but got hurt and has never been the same. He has been durable this season and I suppose there is something to be said for that, but a 5.35 ERA with a low strikeout rate won't help anyone.
Keep if….
You are really desperate for the innings.