2017 Fantasy Baseball, Toronto Blue Jays Team Preview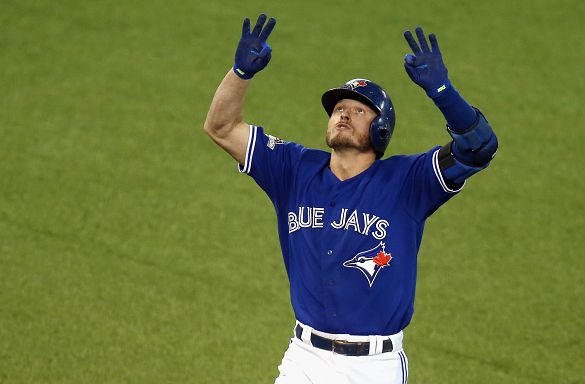 Offseason Overview
The Blue Jays were coming off of two consecutive seasons of competing for the AL Pennant. They had one of the best lineups in all of baseball, but all of that was in jeopardy when Edwin Encarnacion, Jose Bautista, and Michael Saunders all became free agents. The Jays eventually re-signed Bautista and then added Kendrys Morales and Steve Pearce to cover up for the departures of Encarnacion and Saunders. It may not sound sexy, but the end result is still one of the better lineups in the American League.
Top Picks
Josh Donaldson is still in the fold and is still on the short list of MVP candidates in the American League.  He has four consecutive seasons of 20+ home runs, 90+ runs scored, and 90+ RBI. There is no reason why that shouldn't continue for a fifth season. Third base is a crowded position in fantasy baseball, but he is on the short list for that top slot. Some will peg Nolan Arenado and others will peg Kris Bryant. A selection of Donaldson is not indefensible.
Troy Tulowitzki used to be the top shortstop on the board. He's been passed by a trio of young guns, but he should not be forgotten on draft day. Last season, he proved the power was not simply a Coors Field mirage and the lineup is still deep enough to expect good run production. The question with him has always been his ability to stay on the field. If he can get between 500 and 600 plate appearances he should remain a top five shortstop.
High Upside
Most of the Blue Jays lineup is solid. Veteran bats Jose Bautista and Russell Martin narrowly missed out on the top picks category, but we will get to them eventually. So, for this category we shift our attention to the mound. Marcus Stroman is not one of the elite arms in fantasy baseball, but maybe he should be in that next grouping. Last season was his first full season as a big league starter and he struggled to a 9-10 record with a 4.37 ERA. Baseball Prospectus had their deserved run average at 3.43 and Fangraphs had their SIERA at 3.62. Either way, he was a lot better than what the basic numbers showed.
Francisco Liriano is the girl with the curl. He's either been really good or really bad in his career. He quietly put up a 2-2 record with a 2.92 ERA in eight starts following his trade to the Blue Jays. Maybe he was motivated to earn a spot. Maybe he was motivated by being in a pennant chase. Maybe the coaches found something and made a mechanical adjustment. Either way, he was the good Liriano between 2013 and 2015. Maybe he will be the good Liriano again.
High Downside
Russell Martin will be 33 years old on Opening Day and will turn 34 before the end of the season. I can't definitively say he will fall off a cliff in 2017. If I could do that I'd quit my day job. What we can say is that catchers that approach their mid thirties are prone to falling off a cliff. If he were 27 or 28 he would easily be a top three or four catcher. Someone in your league will treat him that way on draft night. Go ahead and let them.
Similarly, Jose Bautista will be 36 throughout the 2017 season. Notice that no one offered him a multi-year contract on the open market. At least, no one offered him one he was willing to sign. The Blue Jays smartly gave him a one year deal with vesting options. That hedges their bets. If he bounces back then they get a year or two more of his services. If he suffers through another injury riddled season then they can let him go. As for you, I would keep him on my draft list. He does have rare skills, but I would bump him down a few pegs.
Closer Situation
Roberto Osuna has settled in the Blue Jays closer and as closers go, he's one of them. I've never been a huge closer guy. Sure, someone has to do it and when you can hold down the job that's worth something, but Osuna isn't special. He has the fortunate place of having no one there to really challenge him for the job. Jason Grilli is a nice guy and I'm sure he's a riot at parties, but he isn't a legitimate candidate to hold down the closer's role at this stage of his career. The rest of the bullpen is a group of no names that haven't distinguished themselves one way or the other.
Impact Minor Leaguers
The Blue Jays have three prospects in the MLB top 100, but none of them are projected to make an impact in 2017. The first guy on that list is catcher Reese McGuire. When you consider the aforementioned conversation about Martin then his name becomes a lot more interesting. In fantasy terms, McGuire isn't much of a prospect. Scouts rate his hit tool and his power tool below the 50 mark where big league regulars normally reside. He is an excellent catch and and throw prospect though.
Harold Ramirez has a chance to make an impact in the outfield this season. The Jays acquired Ramirez and McGuire along with Liriano in one of those "take my wife, please" kind of trades. The numbers don't excite anyone, but he has an advanced hit tool and decent speed. He could develop into a .300 hitter at the next level.
Surprising Statistic
J.A. Happ and Aaron Sanchez combine to go 35-6 in 62 combined starts last season. Neither finished in the top five in the Cy Young voting.